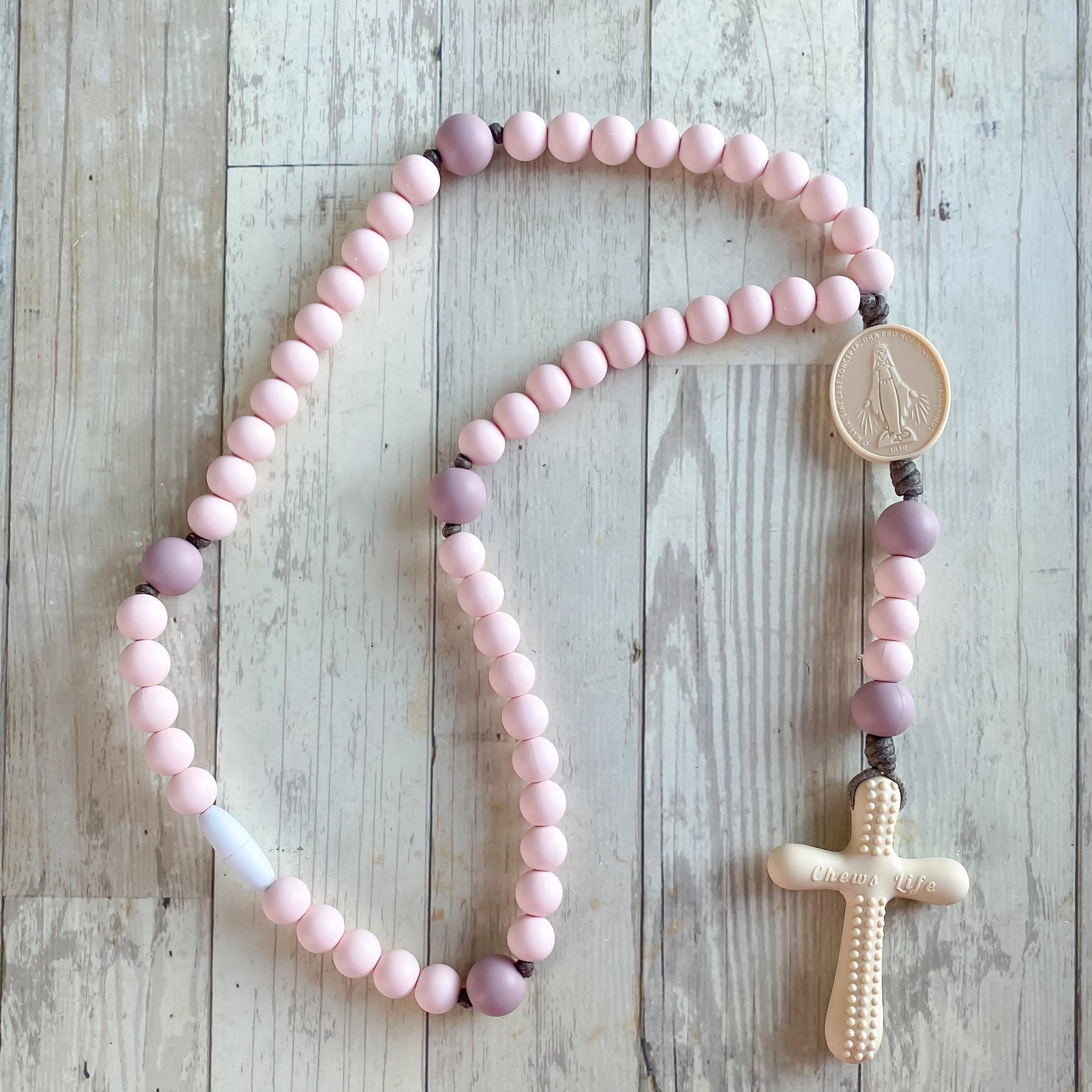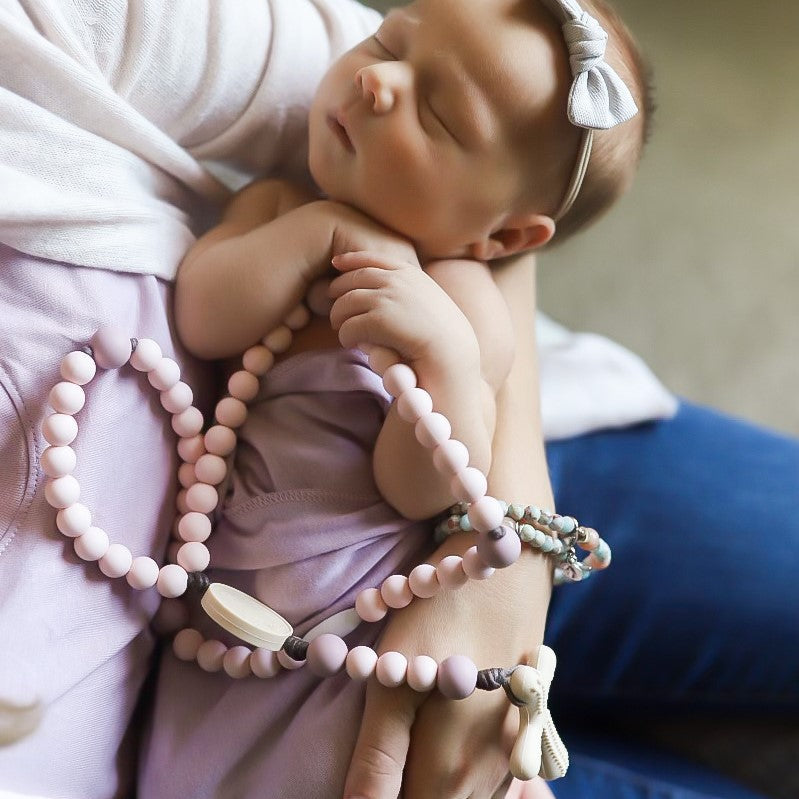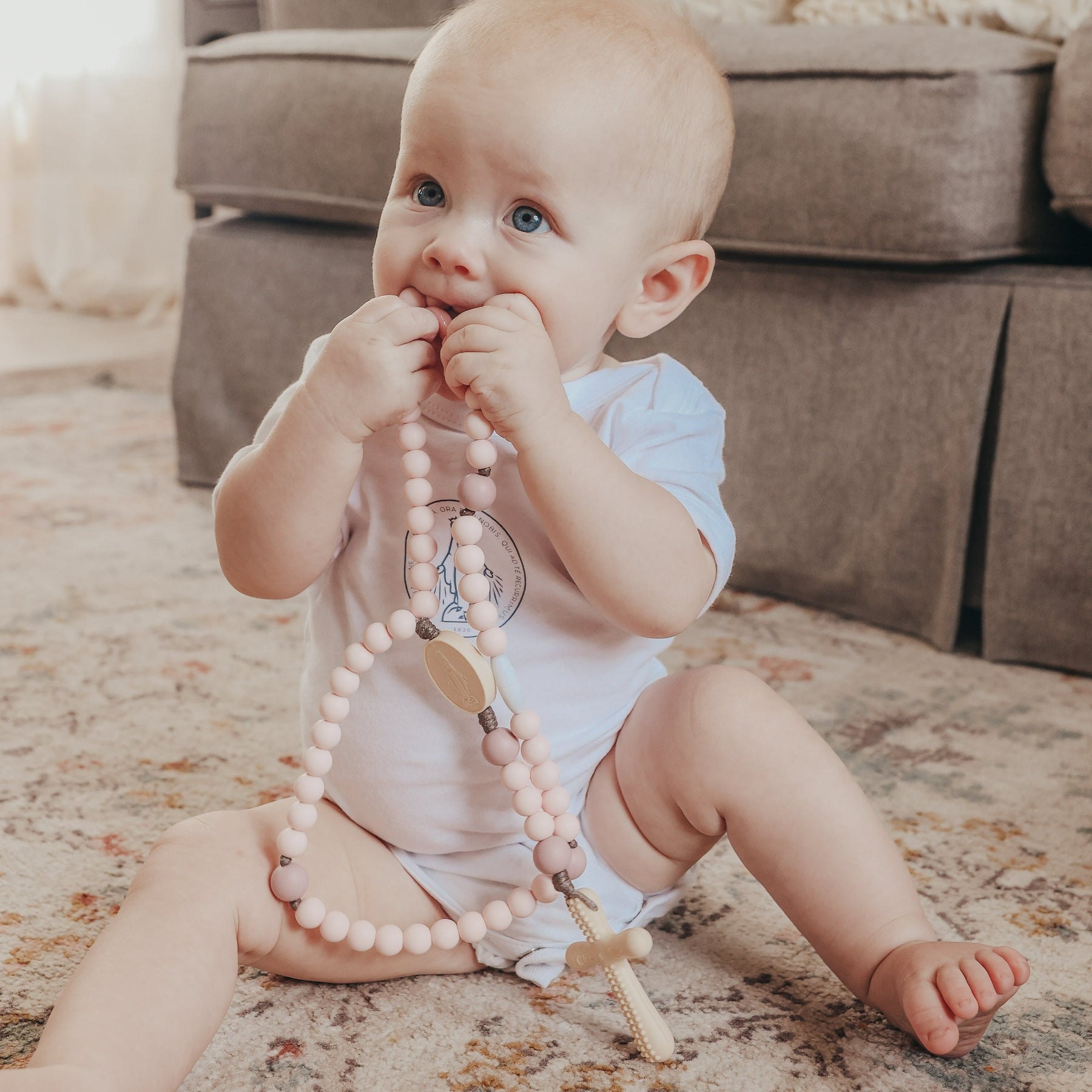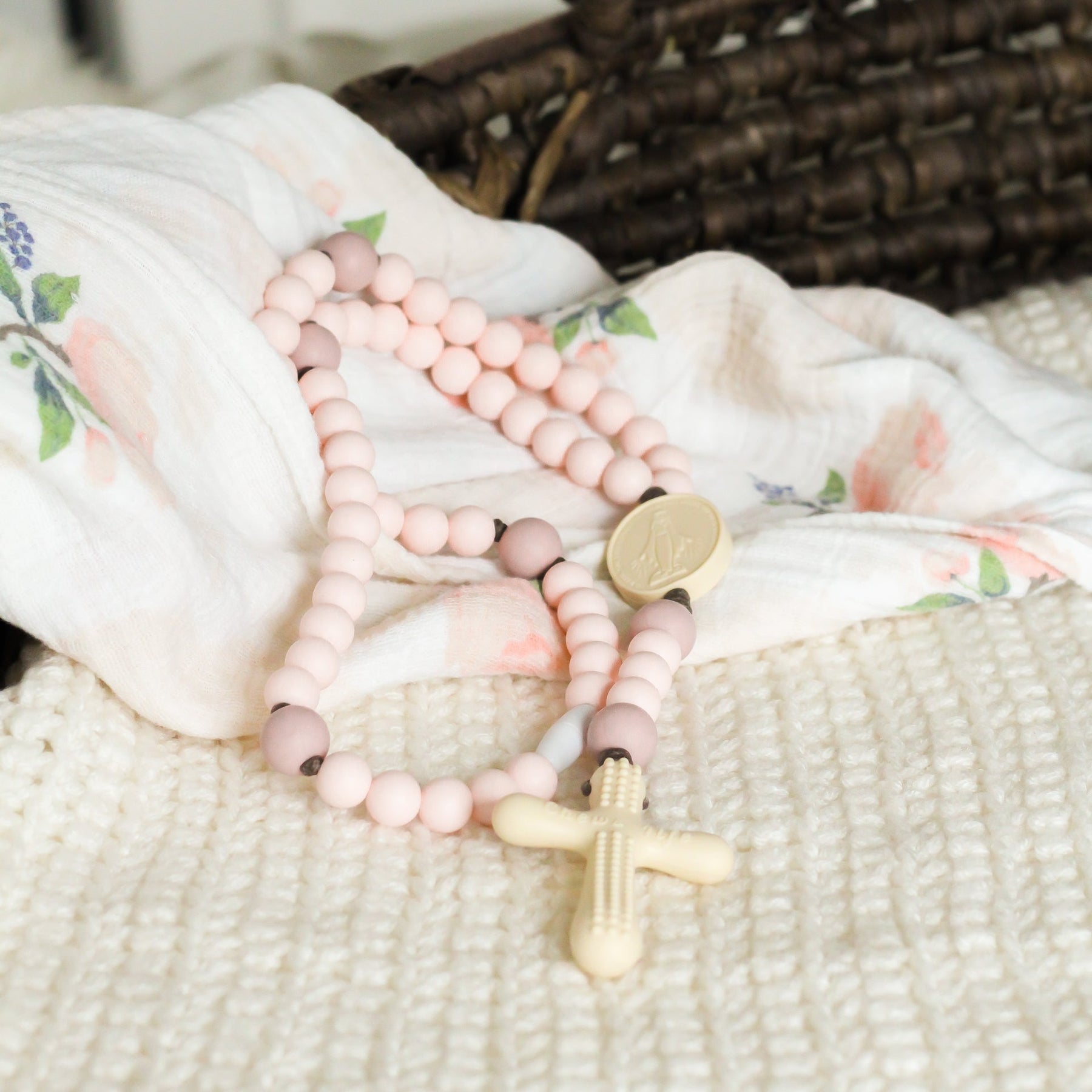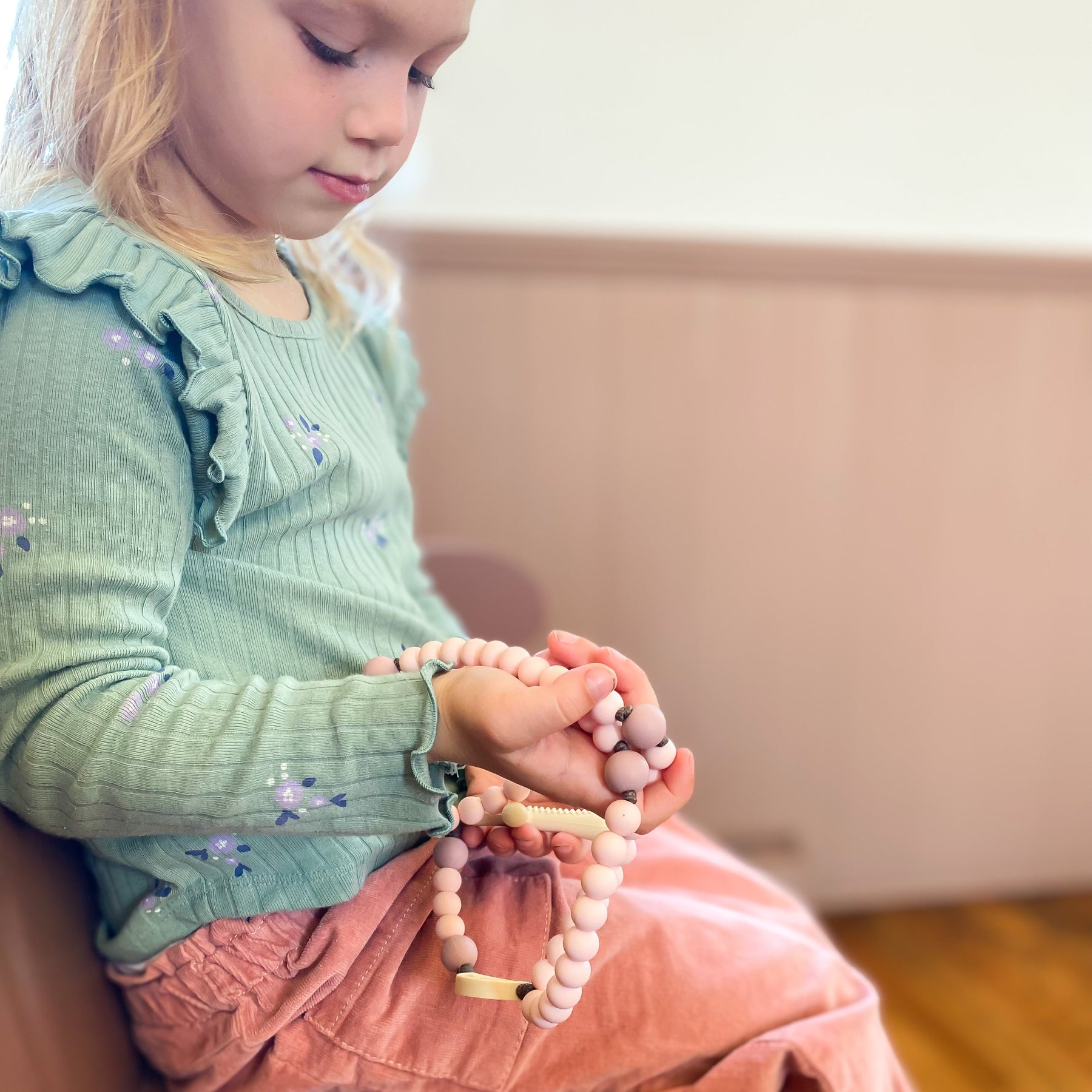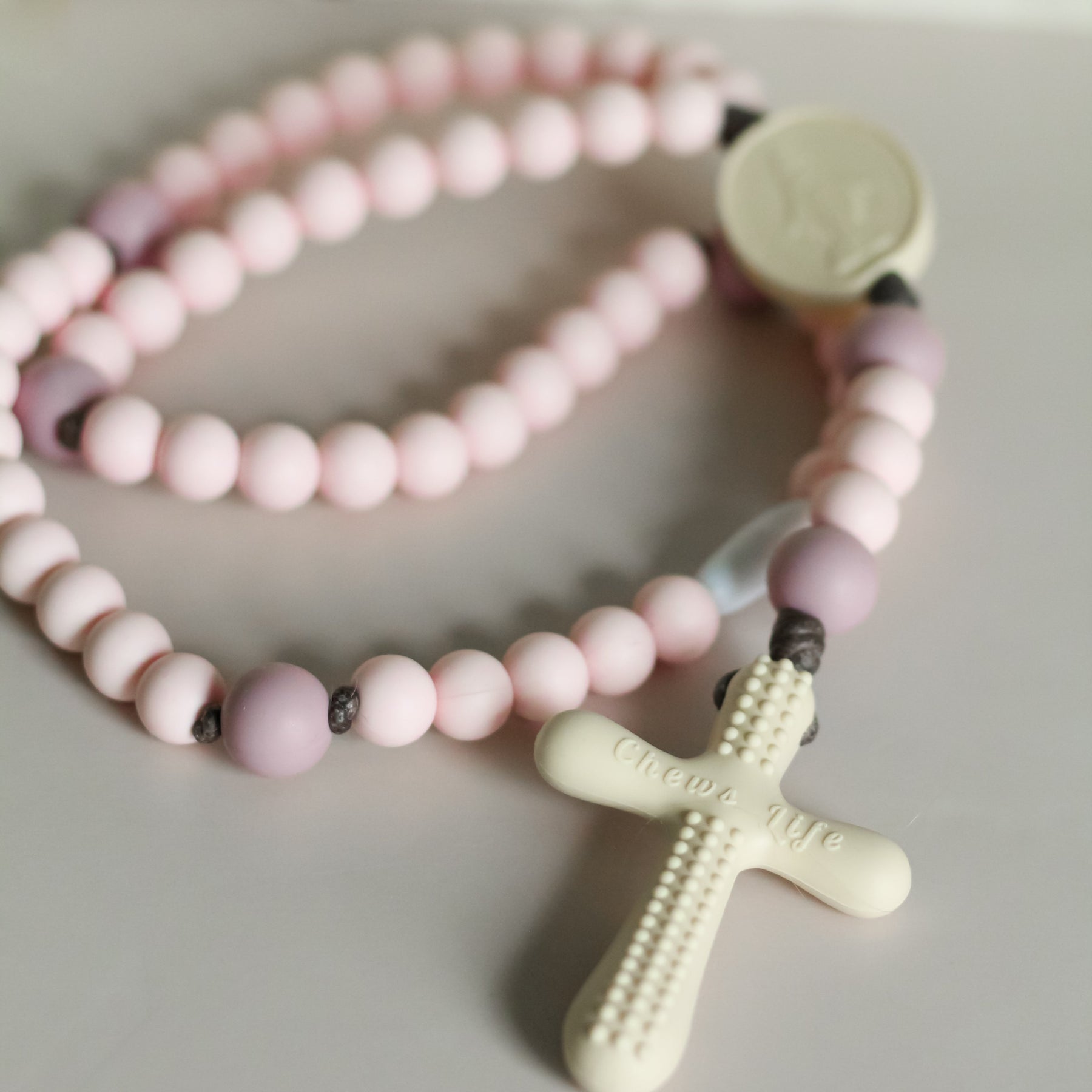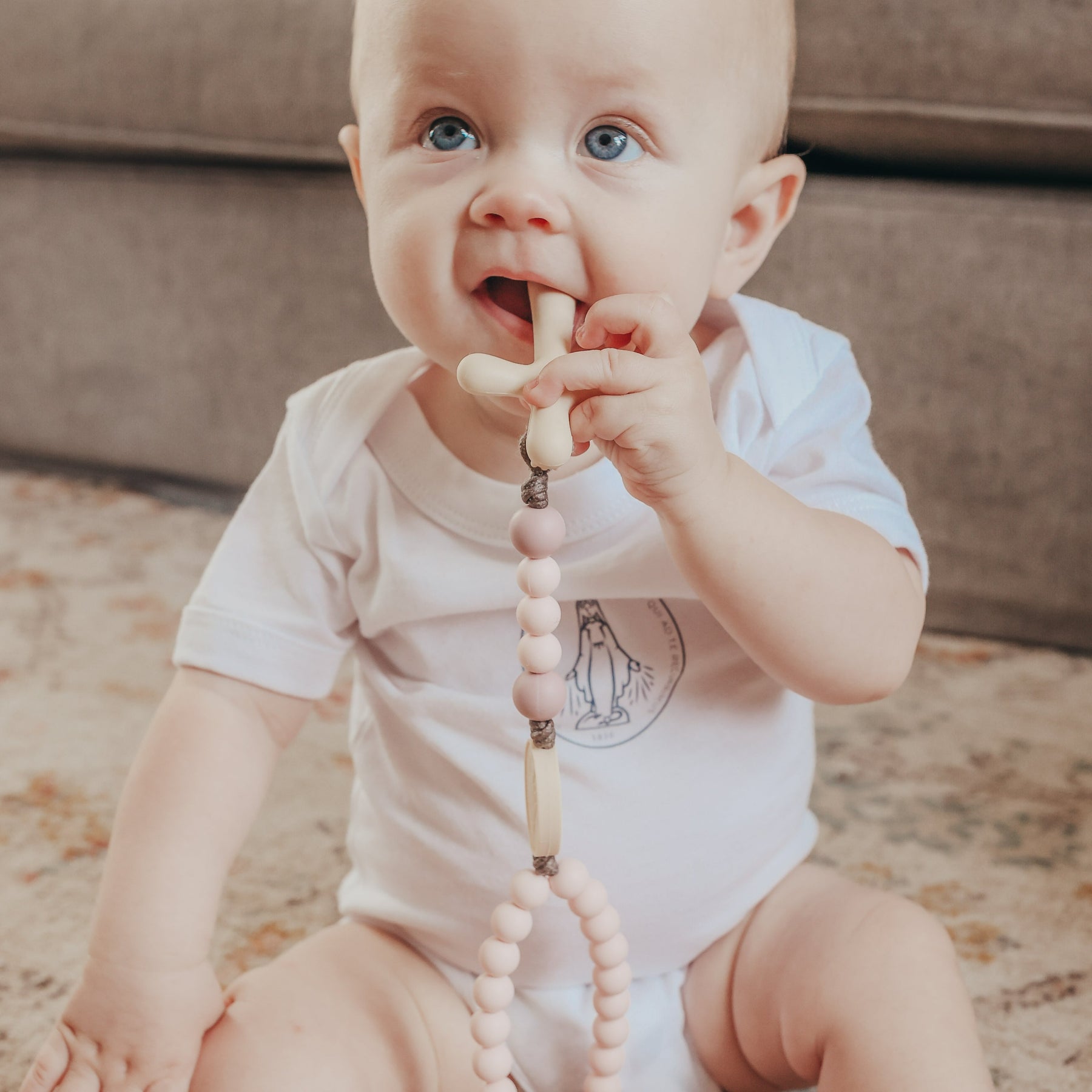 Cecilia | Chews Life Rosary
This beautiful silicone rosary is sure to bring joy to your home.  This multicolored teething toy is not only soothing for your little one but it is also sure to help build wonder and love for the rosary.  Watching your child hold this Silicone Rosary is like watching them hold the hand of Mary.
Our Silicone Rosaries feature: 
Our own chewy cross

Sturdy organic cotton cord

Snap clasp

FDA-certified, food-grade silicone

CPSIA Certified

Lifetime guarantee

Artisan-made in Michigan, USA
Not suitable as a chewable toy for children ages 4+ and not intended for children to sleep with.
This silicone rosary is named after St. Cecilia. St. Cecilia is one of the most famous virgin martyrs. She lived during the 3rd and 4th century in Rome when the Christian's were being heavily persecuted. Cecilia was from a wealthy family and as was common during that time, entered into an arranged marriage. Cecilia had made a vow of chastity to God unbeknownst to her family. Valerian, her husband, was a pagan at the time of their wedding. During her wedding ceremony she was said to have sung in her heart to God and after the ceremony she told Valerian that she had taken a vow of chastity and an angel of the Lord protected her. Valerian asked to see proof of the angel, Cecilia told him he would have to have eyes that could see and would need to be baptized. Valerian traveled to Pope Urbanus and was baptized. When he returned he could see the angel at her side and saw the angel crown her with a chaplet of rose and lily. When Valerian's brother heard about the angel and his brother's baptism he too was baptized and the brothers spent their days burying the martyr saints of that time. Soon both brothers were martyred by the city perfect because they would not offer a sacrifice to the pagan gods. Cecilia lived out the rest of her days preaching and is said to have converted over 400 people. St. Cecilia was martyred and is regarded as the patroness of music, because she heard heavenly music in her heart when she was married, and is represented in art with an organ or organ-pipes in her hand. Her body was exhumed in 1599 and found to be incorrupt, the first of all incorrupt saints. They also reported a "mysterious and delightful flower-like odor which proceeded from the coffin." St. Cecilia's feast day is celebrated on November 22nd.
So great!
Bought one for my 9 month old as a Christmas gift. It's much bigger than I thought and will work wonderfully! My daughter Cecilia likes to chew on her mother's rosary beads when we say the rosary together, I think she will greatly enjoy having her own to chew on.
Cecilia | Chews Life Rosary
Grand baby's best teether!
We purchased the Saint Cecilia rosary for our grand daughters baptism, and she loves it. It is the best teether ever! Her favorite by far. We are hoping it will lead her to a love of the rosary when she is older.
My daughter's favorite toy!
Early rosary exposure
Love the rosary for my grandchildren. They are all teething and are going crazy with the cross! Hopefully devotion starts here! Love them!