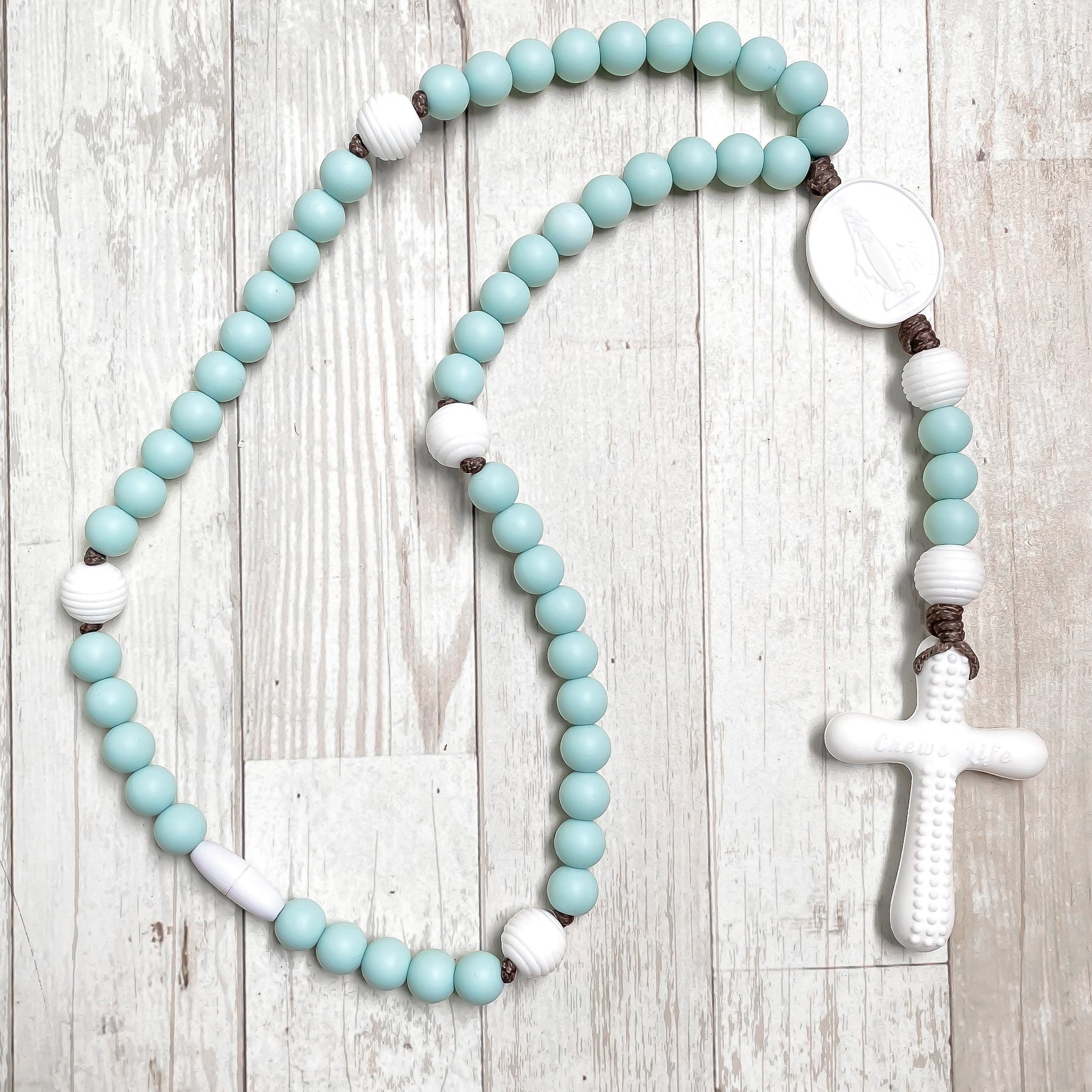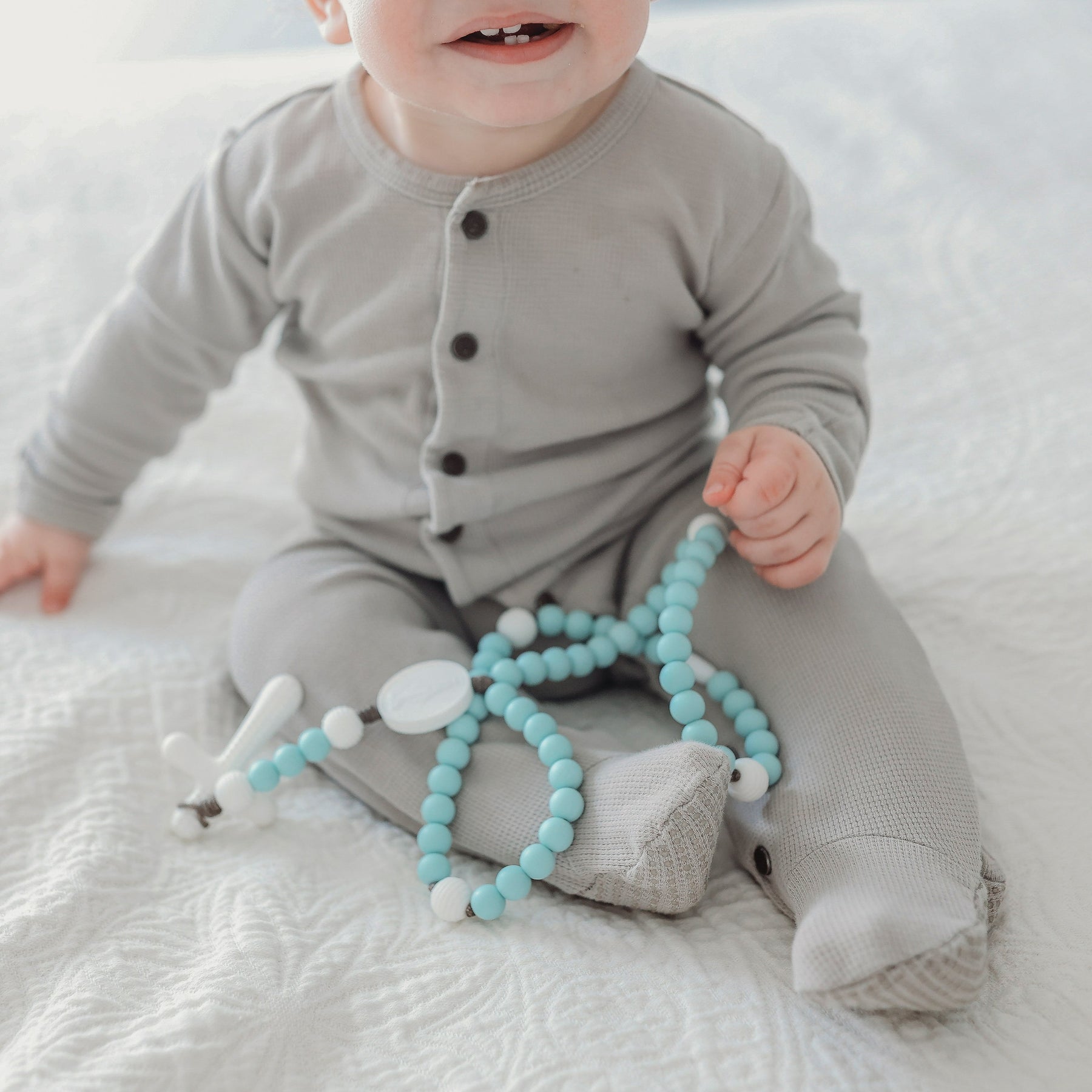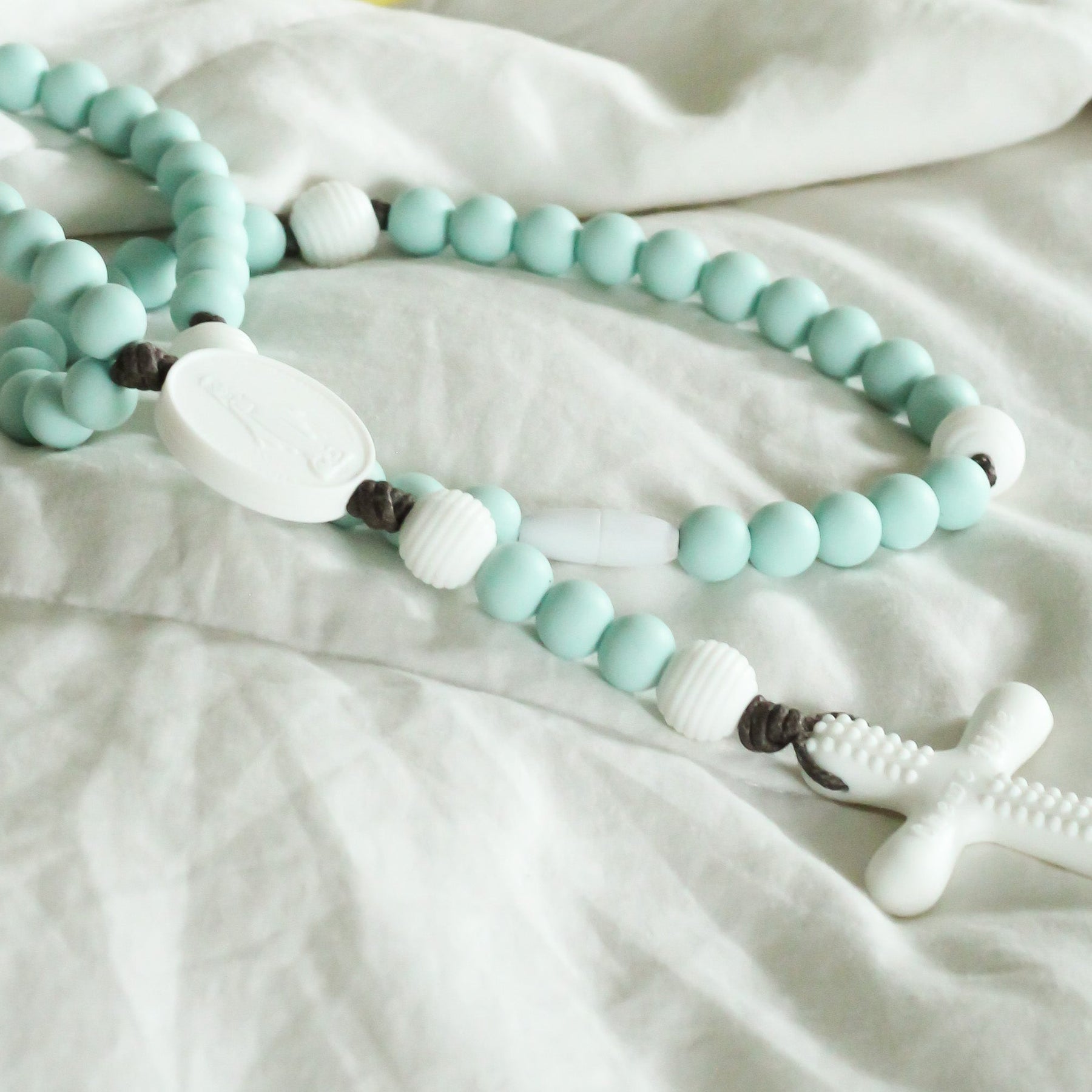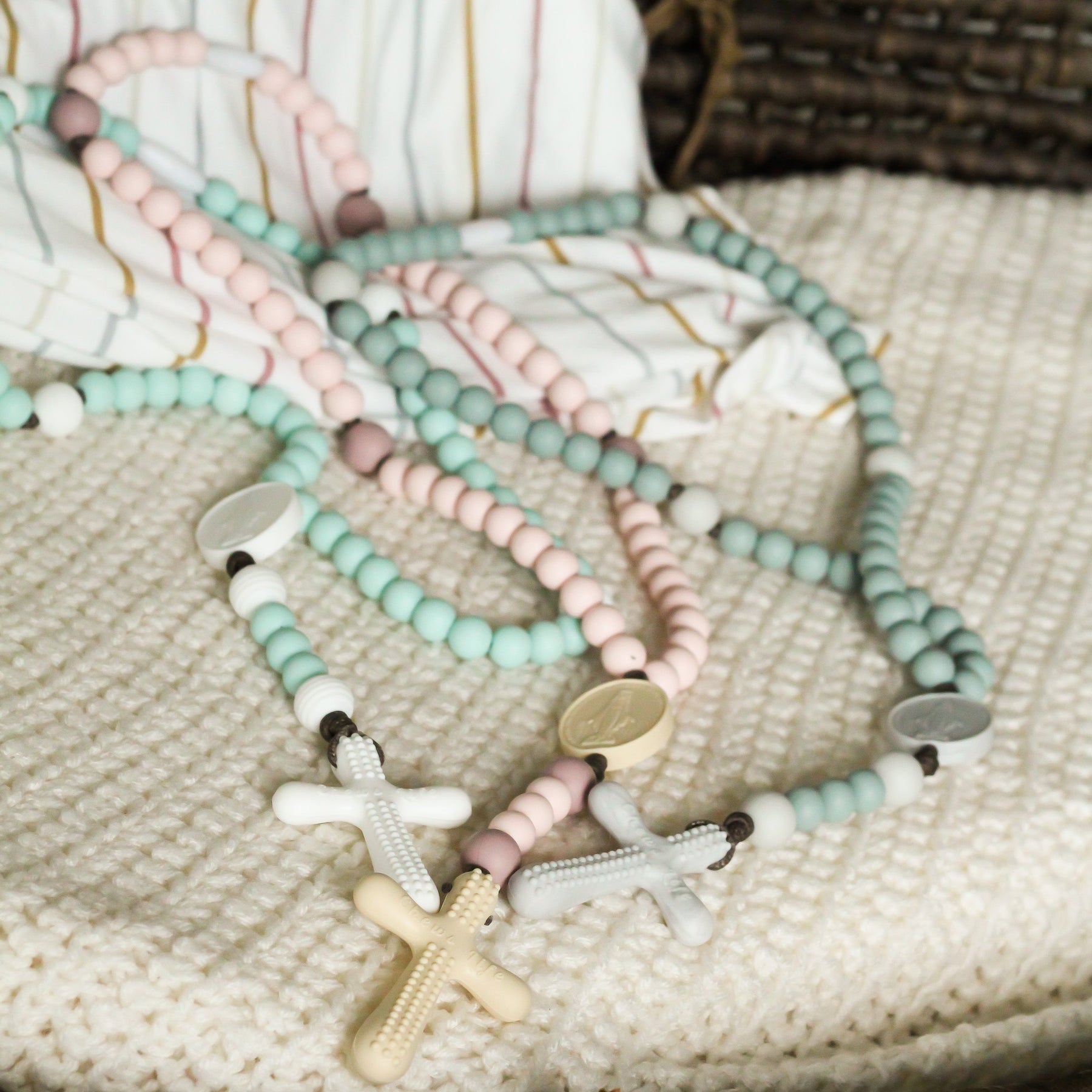 John the Baptist Silicone Rosary | Chews Life Rosary
This beautiful silicone rosary is sure to bring joy to your home.  This teething toy is not only soothing for your little one but it is also sure to help build wonder and love for the rosary.  Watching your child hold this Silicone Rosary is like watching them hold the hand of Mary.

Our Silicone Rosaries feature: 
Our own chewy cross

Sturdy organic cotton cord

Snap clasp

FDA-certified, food-grade silicone

CPSIA Certified

Lifetime guarantee

Artisan-made in Michigan, USA
Not suitable as a chewable toy for children ages 4+ and not intended for children to sleep with.
This silicone rosary is named after St. John the Baptist. John, the cousin of Jesus is known for his evangelization and the baptizing of the Lord. He was born through the intercession of God to Zachariah and Elizabeth, who were otherwise too old to have children. When Mary came to help Elizabeth, John left for joy in her womb when hearing her speak as he knew the Christ child was near. Not much is known about his younger years and his public ministry began when he was about 30 years old. He attracted large crowds calling for repentance and baptism by water. Jesus himself came to John to be baptized, and after, the heavens opened up and the Spirit of God was seen as a Dove and the voice of God was heard saying "This is my beloved Son, in whom I am well pleased." John had his followers follow Christ and these were among the very first Christians. John's popularity grew and finally caught the attention of King Herod. King Herod had John arrested and thrown into jail. John met and spoke with Herod many times and when the conversation turned to his wife, John was quick to condemn the marriage as unlawful. This condemnation ultimately led to his death. He died by beheading between 33-36AD. John the Baptist is also known as John the Forerunner and his feast day is June 24th. He is the patron saint of Jordan, Puerto Rico, Knights Hospitaller of Jerusalem, French Canada, Newfoundland, Cesena, Florence, Genoa, Monza, Perth (Scotland), Porto, San Juan, Turin, Xewkija, and many other places
A baby shower gift
My friend, who is expecting, loves John the Baptist silicone rosary! Made a really great baby shower gift!
Nephew loved it!
I got this rosary for my nephew as a Baptism gift. He loves it so much! I appreciate how durable they are and how kids can enjoy them for so many years.
It's perfect
Bought this for a baptism gift and it's perfect. The recipient and the family loved it. It's so wonderful to be able to show our faith with useful, meaningful, and beautiful items at a young age. Thank you 🙏
Perfect Way to Share the Faith with Littles
This the perfect rosary for my little boys to hold at mass! I love bringing religious items for them to look at and learn about during the mass.
Have not given to recipient yet, but I am excited to do so. I can say your customer service is awesome
I love your products
Thank you Chews life