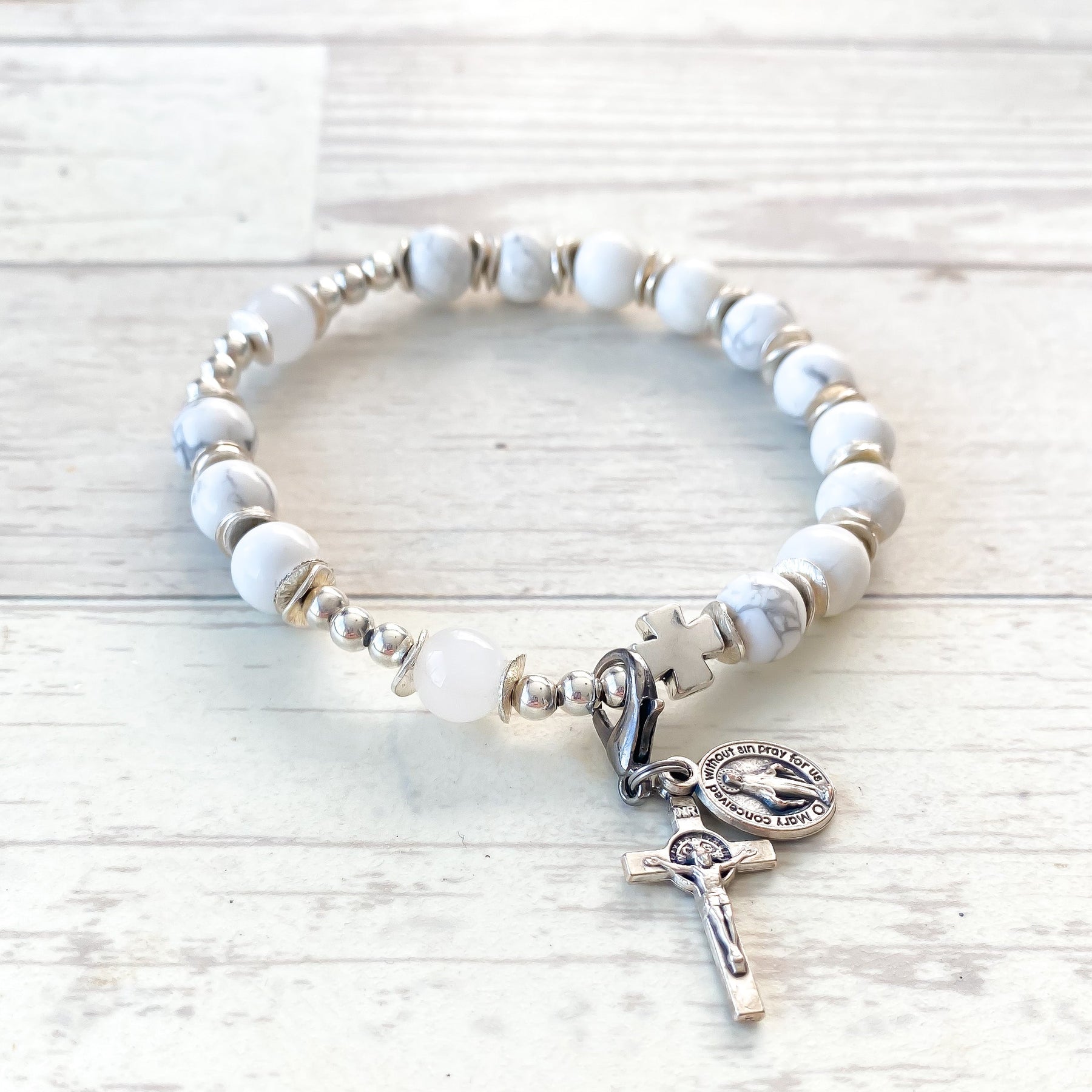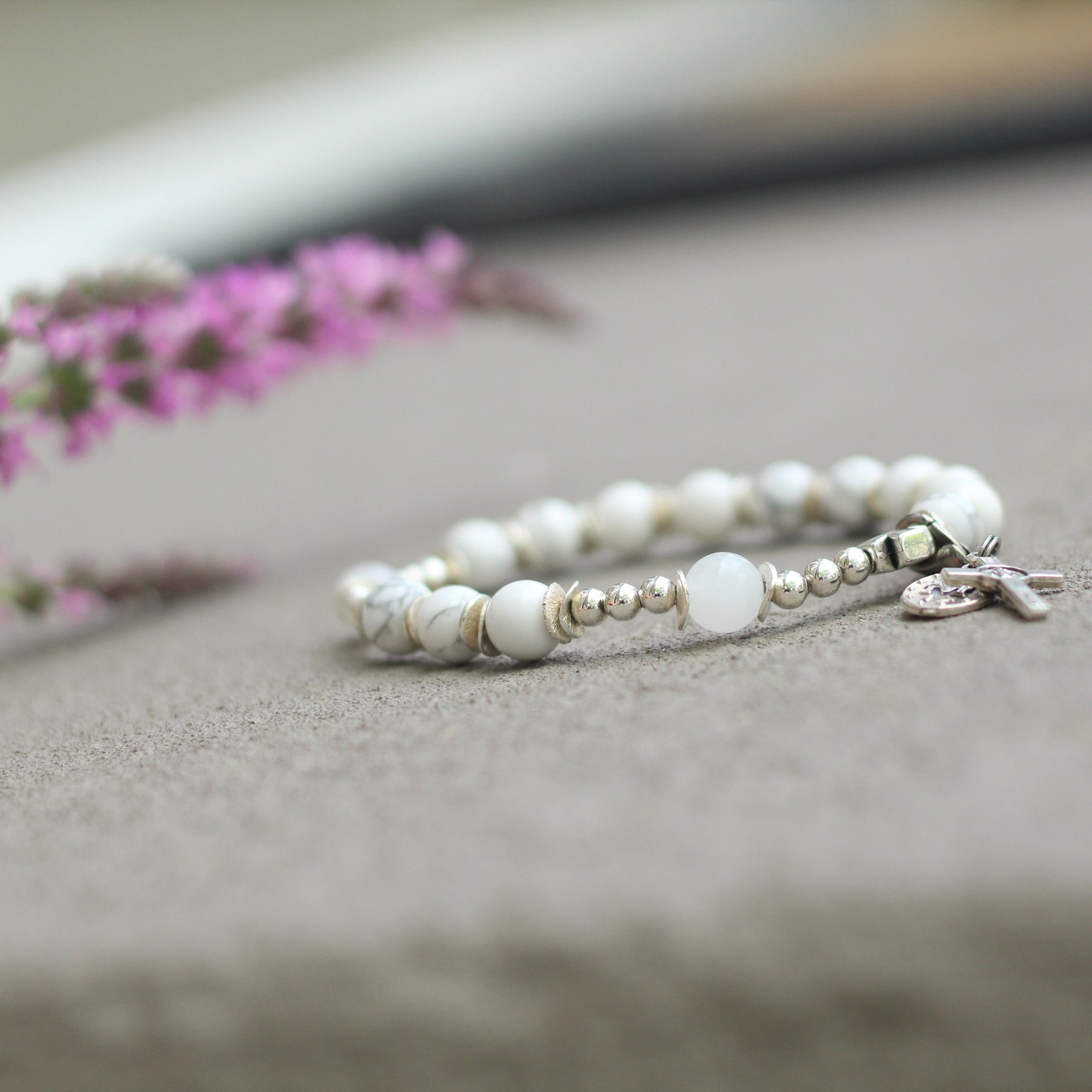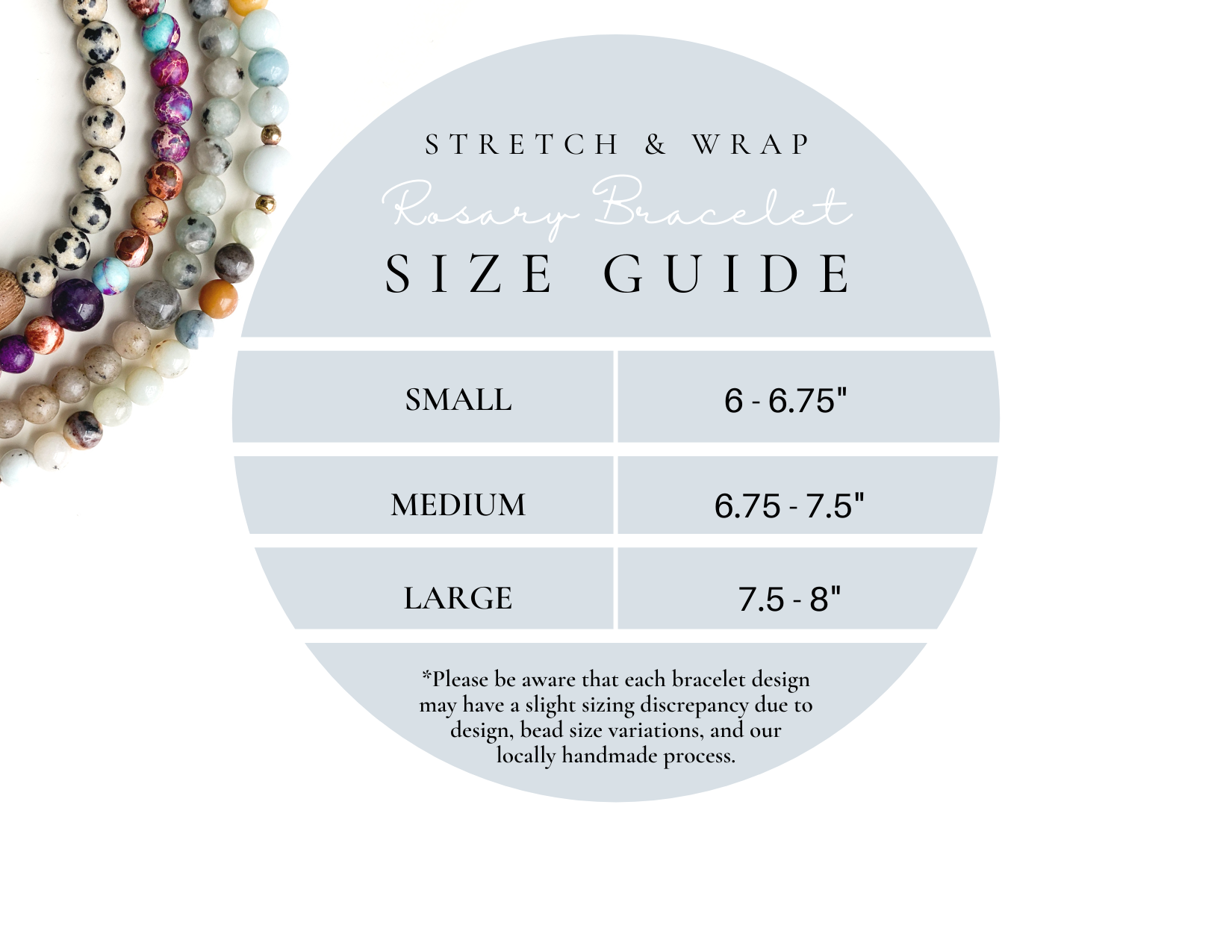 Katharine Decade Bracelet | Medium
See more Rosary Bracelets here.
This beautiful gemstone decade bracelet features Snow Quartz beads as the paters and white Howlite  beads as the aves. Each bracelet also includes a "bookmark" crucifix charm.  This charm is moveable and can help you keep track of where you are at in your rosary as you pray throughout your day.
Each bracelet is strung on durable elastic making it easy to stretch and wrap around your wrist without fear of snapping it.
St. Katharine Drexel is the 2nd American-born saint to be canonized. Her life is nothing short of amazing. She was born November 26th, 1856 in Philadelphia to a wealthy family. Her mother passed when she was just 5 weeks old.  Her father remarried and had a daughter. The Drexel children had a wonderful upbringing. Her parents were both spiritually and financially well endowed. They were devot in their faith and often practiced the spiritual and corporal works of mercies. Katharine grew up seeing her father pray for 30 minutes each evening. On Fridays her mother would open their home and care for the poor. They distributed clothing, food and provided rent assistance to those who needed it. 
In 1884 while her family was visiting out west, Katharine saw the troubling and poor situation of the Native Americans and she desperately wanted to help.  Her father passed a year later and his 15.5 million dollar estate was left to his 3 daughters and a few charities.  As one of their first acts the sisters donated money to assist the St. Francis Mission of South Dakota's Rosebud Reservation. 
In 1887 while traveling the sisters had a private audience with Pope Leo XIII. They were seeking missionary help with the Native American reservations they were financing. The Pope looked at Katharine and suggested that she, herself should become a missionary. 
Katharine began her 6 month postulancy at the Sisters of Mercy Convent in 1889. On February 12th 1891 she took her vows and dedicated herself to working for the American Indians and African Americans in the Western United States.  Taking the name Mother Katharine, she established a religious congregation called the Sisters of the Blessed Sacrament for Indians and Colored, whose members would work for the betterment of those they were called to serve. 
From Age 33 until her death in 1955 she dedicated her life and fortune to this work. In 1894, Mother Katharine took part in opening the first mission  boarding school in Santa Fe, New Mexico. Other schools quickly followed for Native Americans west of the Mississippi and African Americans in the southern parts of the United States.  In 1897 she asked the friars of St. John the Baptist Province of the Orders of Friar Minors to help staff the mission for the Navajos in Arizona and New Mexico, and would help finance their work with the Pueblo Native Americans. 
In 1910 Katharine financed 500 copies of the Navajo-English Catechism of the Christian Doctrine for use by the Navajo Children.  In 1915 she founded St. Xavier University in New Orleans, the first Catholic University in the United States for African Americans. 
She suffered a heart attack at 77 and spent the remainder of her years in intense prayer. Katharine died at 96 years old on March 3, 1955. She is remembered for her intense love of the Eucharist and desire of unity of all people. She was canonized by St. Pope John Paul II on October 1st, 2000.
Katharine Decade Bracelet | Medium
Gift
Gift for a beautiful friend named Katherine who absolutely loves it!!
Very happy with this bracelet!
I love having bracelets with holy medals to wear, no less rosary bracelets (I have several). This bracelet is very well made and white can be worn always. Highly recommend. I came to buy a baby gift but ended up buying this wonderful bracelet for myself as well! I was so happy to see a St. Katherine Drexel bracelet as she is my favorite saint. A question: the crucifix, is the image in the center of the reverse St. Benedict or St Katherine or some other saint?
**Small note on your description above, St. Katherine was born on November 26, 1858 (you have 1856 in paragraph 3) https://www.katharinedrexel.org/st_katharine_drexel_overview/ She is my patron saint and we share a birthday, so the date jumped out at me.
Katharine Decade Bracelet | Medium
Received as a Gift and then purchased 1 to Gift
Very beautiful and so enjoy praying with this decade Rosary Bracelet. I am wearing it most all the time and it is very durable. I received from my daughter for my birthday in honor of my mom, Kathryn, that died when I was just 2 years old...but I know through the power of the Lord, I have felt her love in my life and with my family. And I then purchased this and gifted it to my older sister that was 4 when our mom died. Thank you for these prayerful pieces that bring hope, faith and joy to our lives.