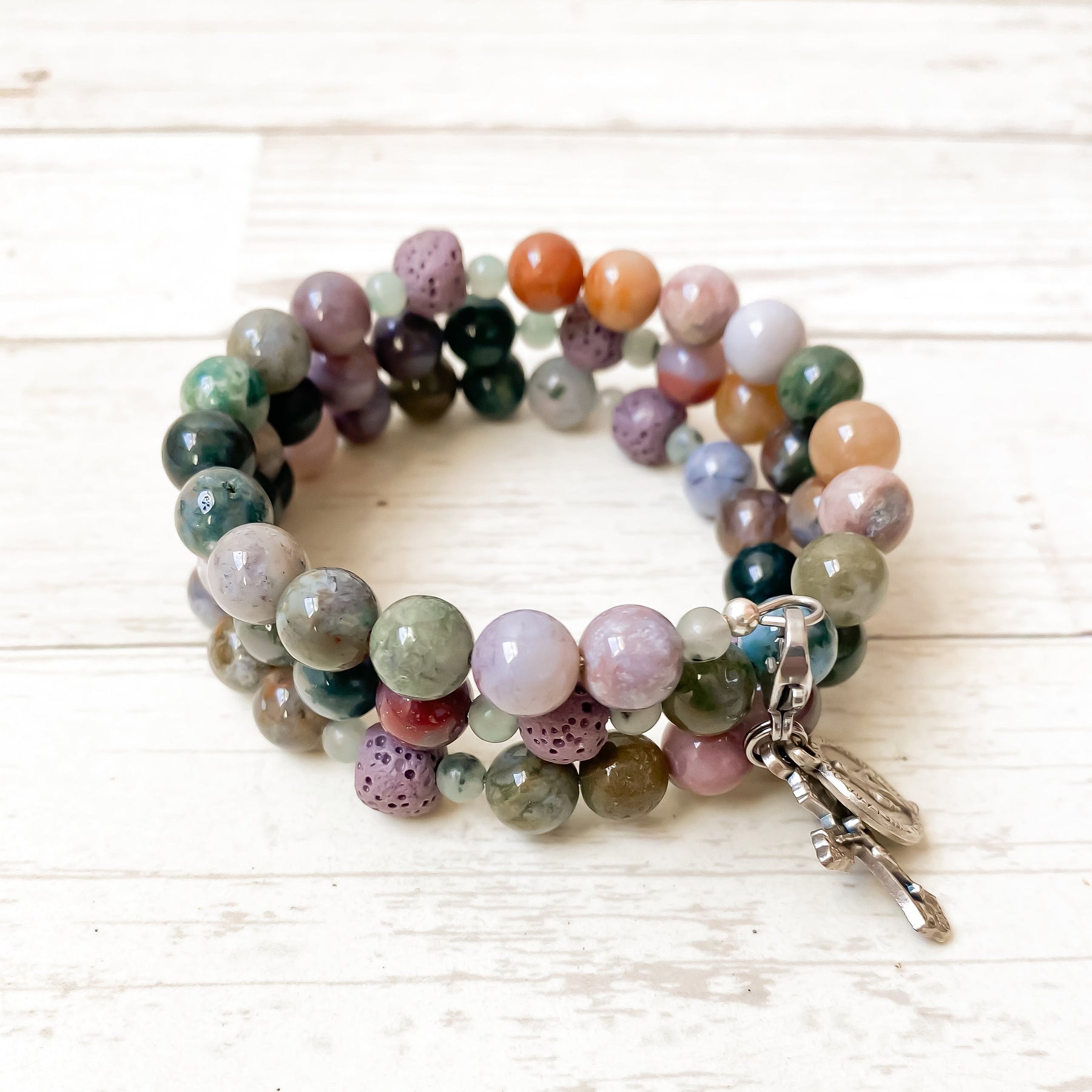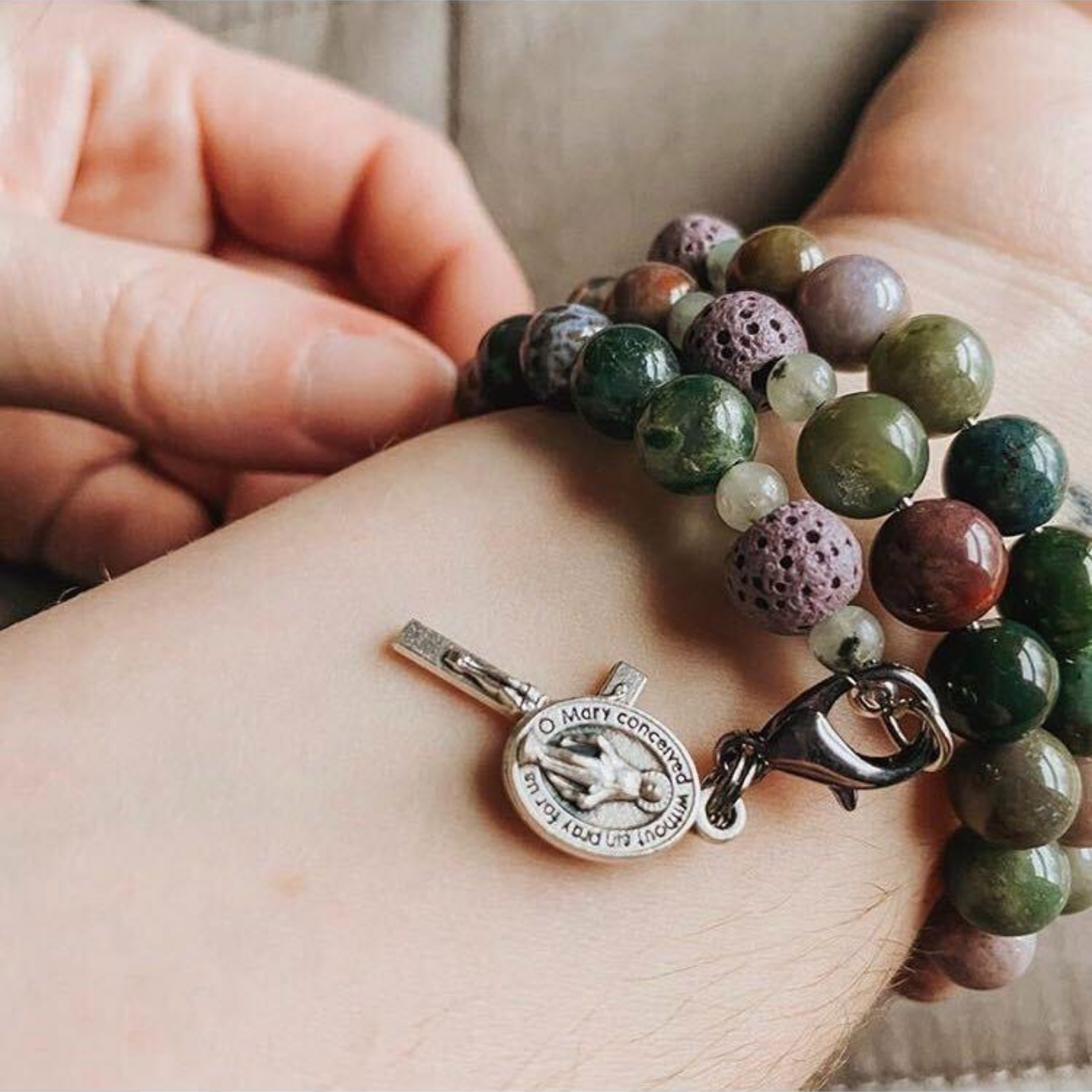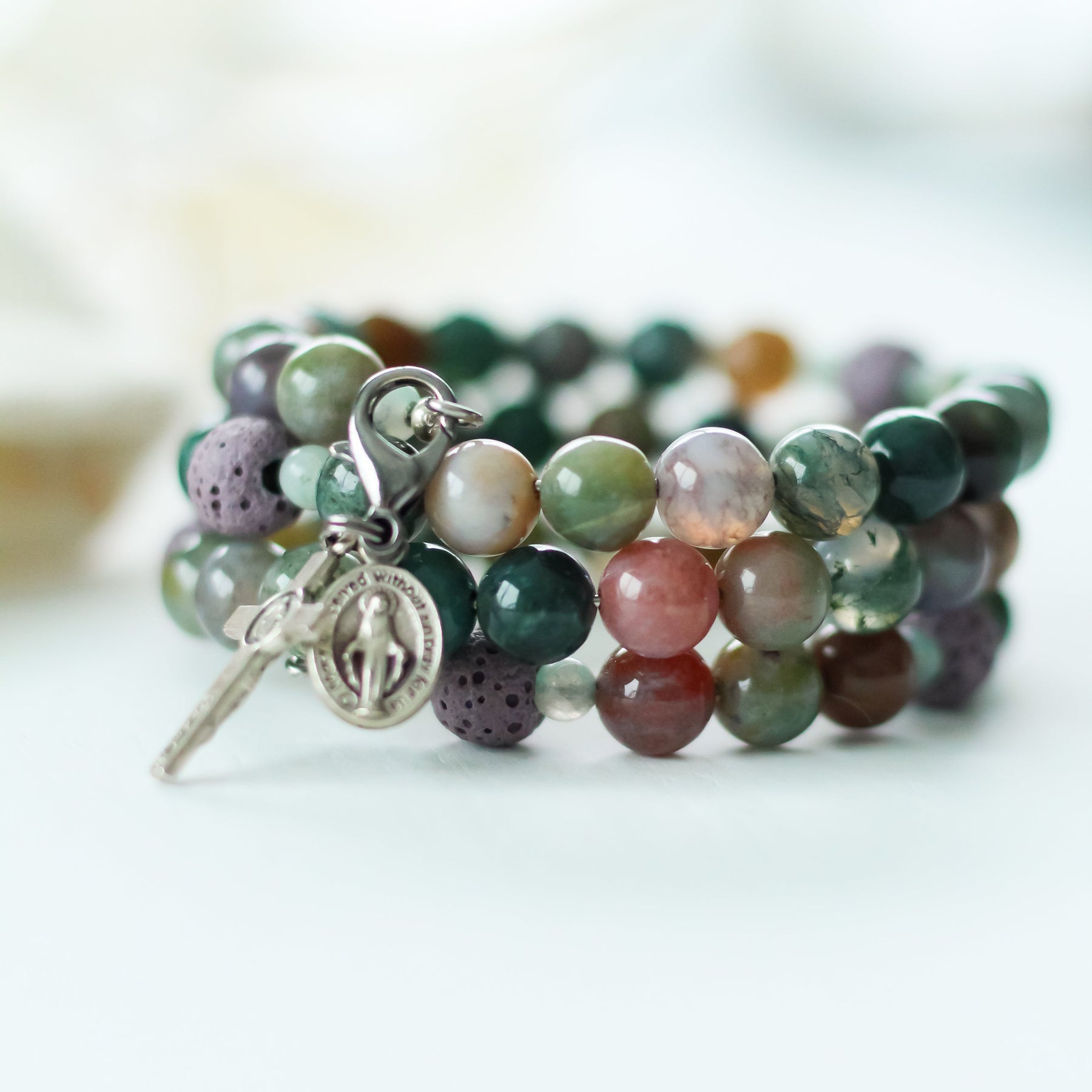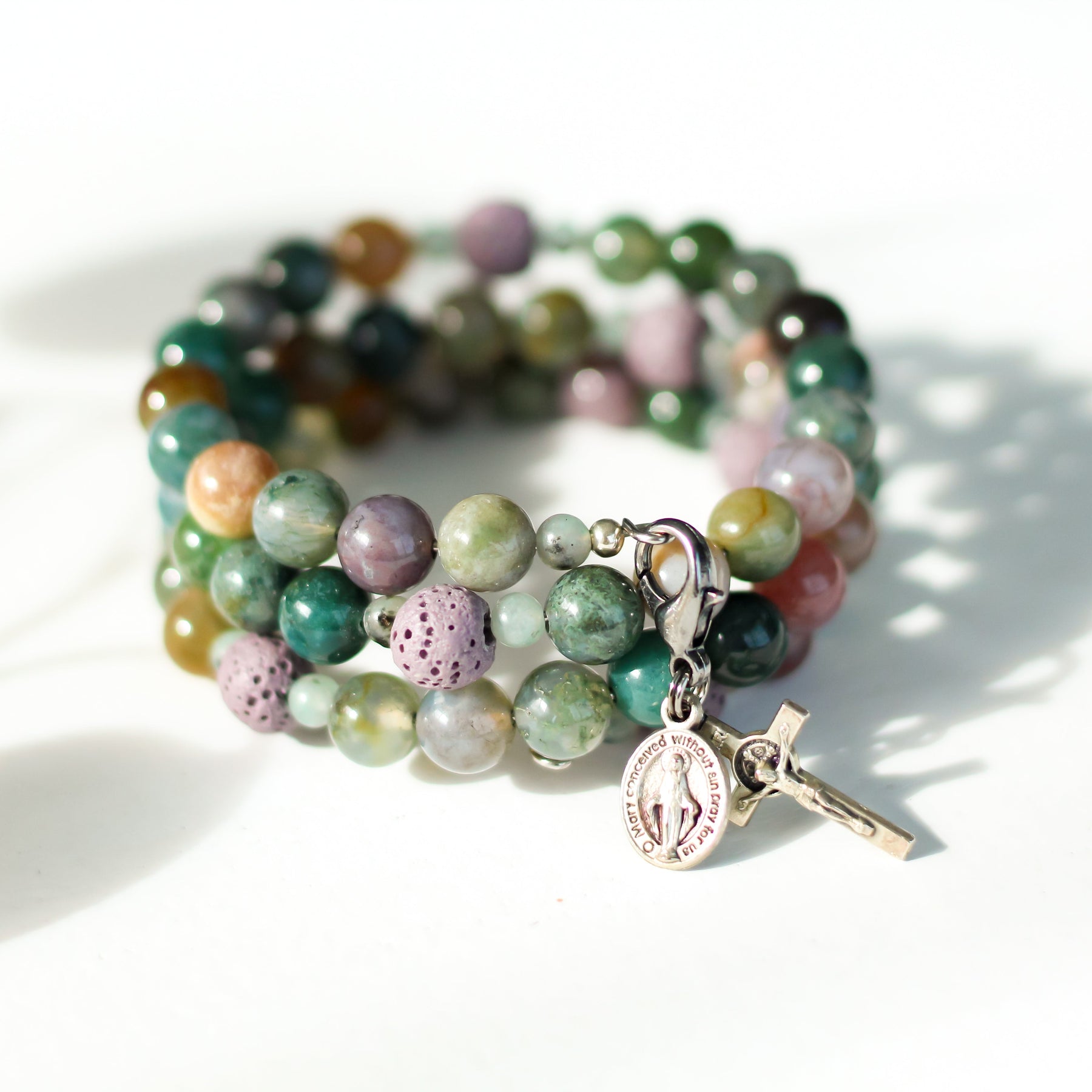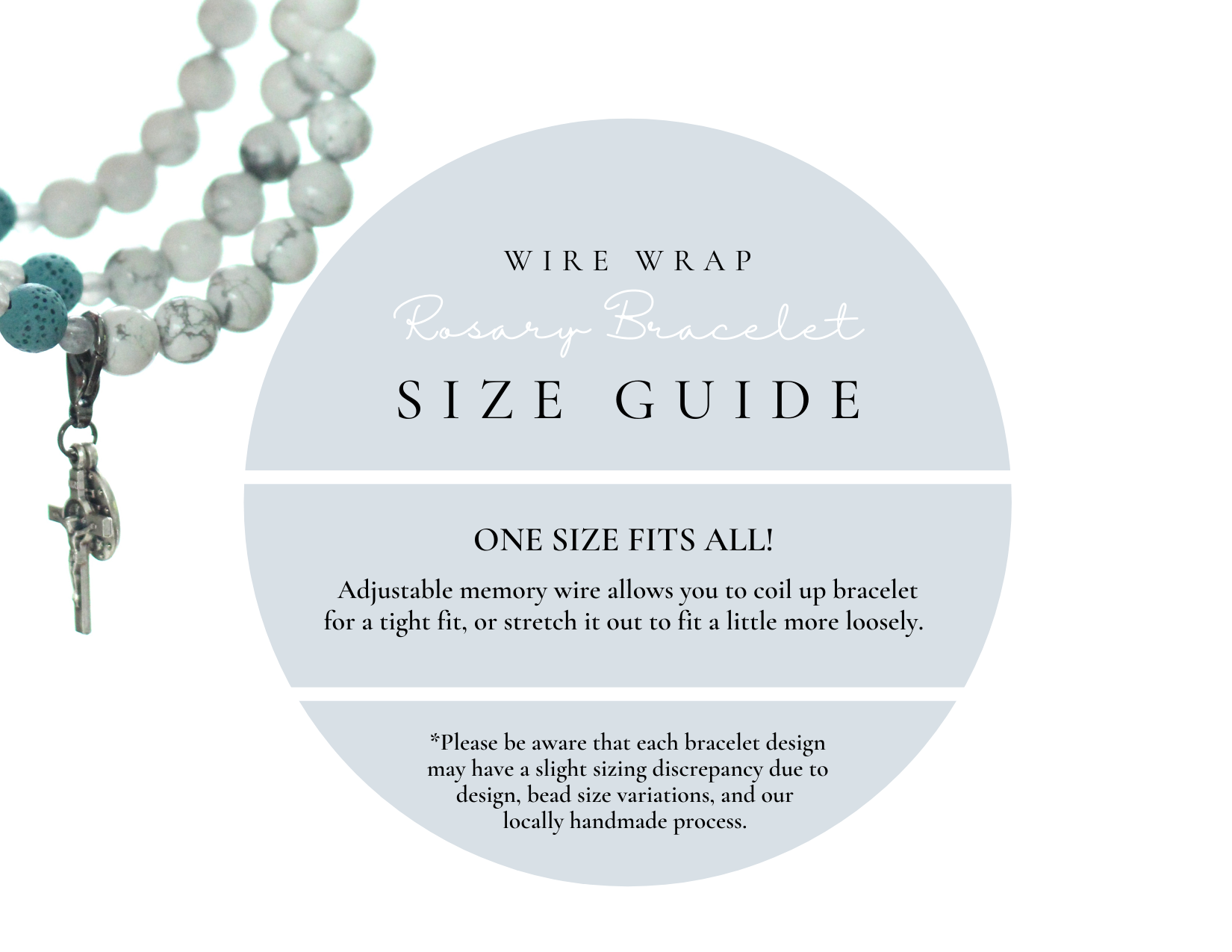 Our Lady of Lourdes | Memory Wire Rosary Bracelet | Essential Oil Diffuser Beads
"I've never had such a beautiful bracelet! I love the cool feel of the stones as well as the weight of the bracelet. My wrist is a little larger because I'm a plus-sized gal but the bracelet fits very well. It doesn't dig into my wrist & sits comfortably on my arm all day. I love looking down at my arm throughout the day & seeing my rosary." ~ Dana
We really couldn't say it any better...
This beautiful gemstone rosary bracelet features:
purple Lava beads as the

pater

s and Fancy Jasper beads as the

ave

s.

Each of our memory wire rosary bracelets is a full rosary. 

Each bracelet also includes a "bookmark" crucifix

medal

. 
This

medal

is moveable and can help you keep track of where you are at in your rosary as you pray throughout your day.

These bracelets are strung on memory wire which makes them easy to fit your desired size.
*Due to the color variations in the Fancy Jasper beads, each bracelet will have a unique look.
See more Rosary Bracelets here.
Rediscover the history of Our Lady of Lourdes by clicking here.
Quality rosary bracelet
I first purchased from someone else a stretch bracelet that broke with beads going everywhere. I knew my next bracelet had to be wire. It has a good amount of weight to it. Feels like this is secure and made to last. I wear it every day and I am so happy with this purchase. It is just what I wanted. I love it.
Amazing
The pictures don't do it justice, it's exactly what I was looking and hoping for!!!
The gemstones are prettier in person! This is a graduation gift and I know she will love it.
I love my rosary bracelet
I love that the bracelet is not cumbersome and uncomfortable on my wrist and is also easy to pray with. I also love the very tranquil and calm colours of the beads. Best of all I love that I can dab a few drops of my lavender essential oil on the diffuser beads and the sent is long lasting. In all I do not regret this purchase at all.
Blessed
St Bernadette is my Patron Saint. I absolutely adore Lourdes memorabilia. It's a gorgeous rosary that I can wear everyday! I blessed it with Lourdes water & appreciate being able to have my Patron Saint by my side. So far no stretching or disfigurement. Really adore it!!!