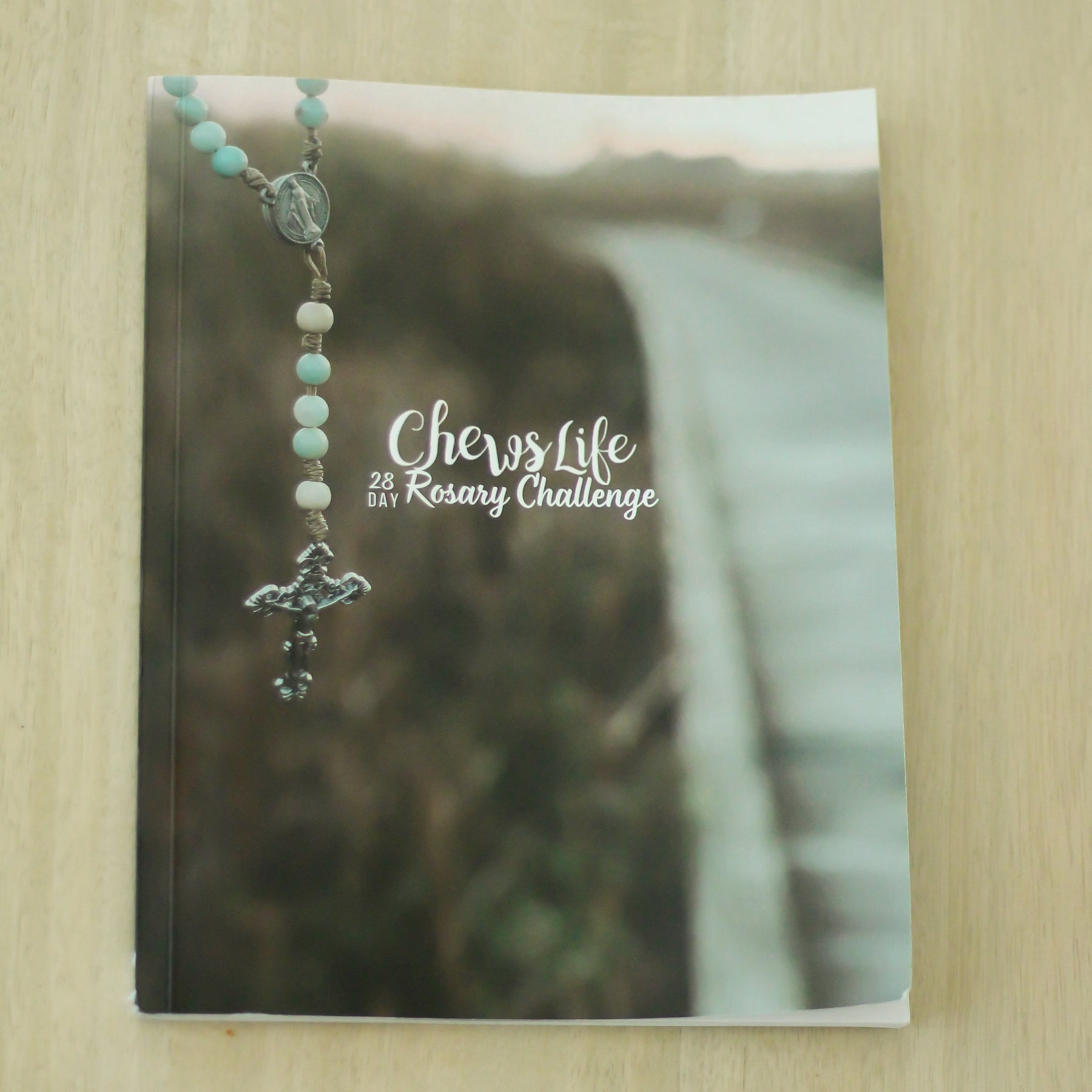 28 Day Rosary Challenge | Book
Spend 28 days drawing nearer to the Lord while developing a stronger devotion to the daily Rosary that will change your life and your family.
In this book, you will find 28 daily reflections on the rosary, 15 of which highlight the 15 Promises of the Rosary. With each reflection comes intimate and personal stories from different members of the Chews Life team, all edited with careful detail by Taryn DeLong. You'll also see beautiful photography by Cailin Valente featuring some dear friends of Chews Life, each using our favorite faith tools that help draw us nearer to Our Lord…the Rosary, and the Rosary Bracelet! Along with beautiful imagery, you have plenty of space to keep notes and save your personal thoughts to pray with or come back to later.
Inspired to Pray
I loved this book! I had neglected praying my daily rosary and this book helped bring me back!!! It was inspiring and made it clear to me that praying the rosary is easy, fruitful, and just SO good in so many ways. I will be buying more copies for my friends! Everyone should read it, especially those struggling in their prayer life.
Wonderful!!
Love them I was very happy.
I like it!
Great book for beginning to pray the rosary! Great way to learn about the promises of the rosary as well. This way I can pray the whole rosary even a few times a day with this method intentionally throughout the day. I would love a rosary book and prayers with modern imagery for the mysteries.
28 Day Rosary Challenge Book
I like the book very much, especially the rosary promises that I don't usually hear about elsewhere. It's given me a new perspective on praying the rosary. I always thought that you had to pray it all at one time. It's taught me that I always have some quiet moments in my day and to use them constructively.
Rosary book
I don't quite get how helpful it is supposed to be. I know the rosary, know the mysteries. So I am not sure I needed the book.
I also got the app thinking someone would go through the whole rosary. I am disappointed in that too. I enjoy the woman talking about what we should meditate on. I wish she would say the whole rosary each day.