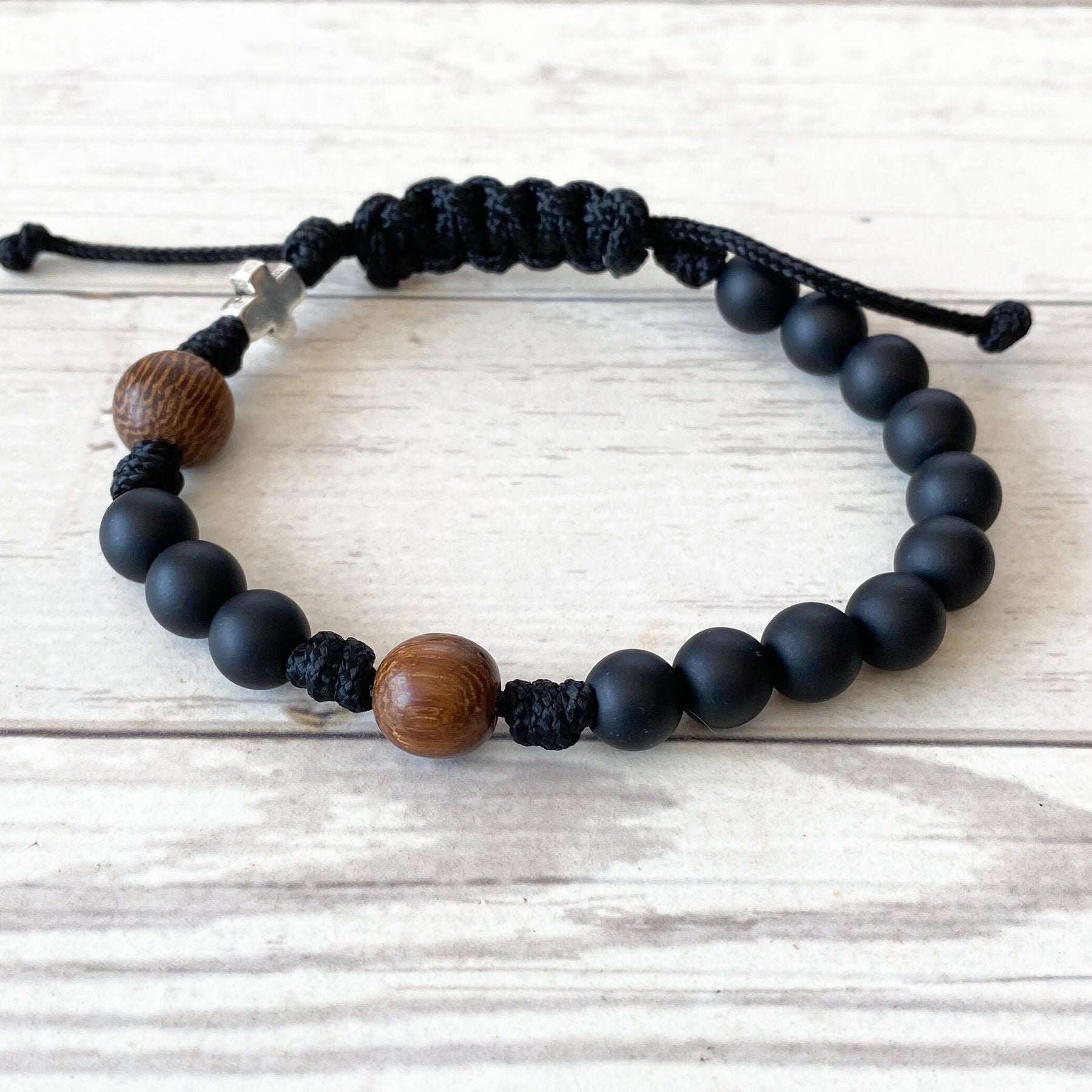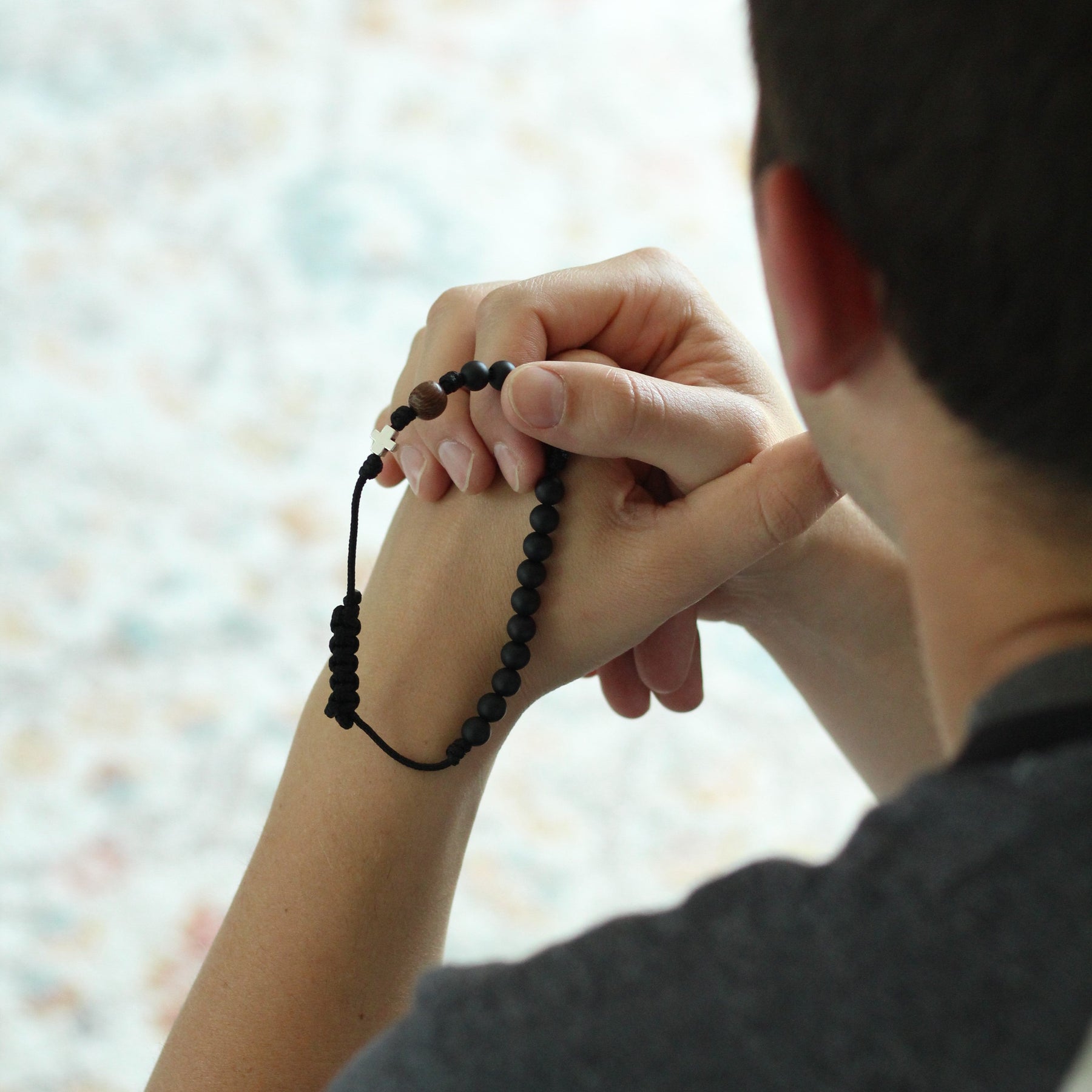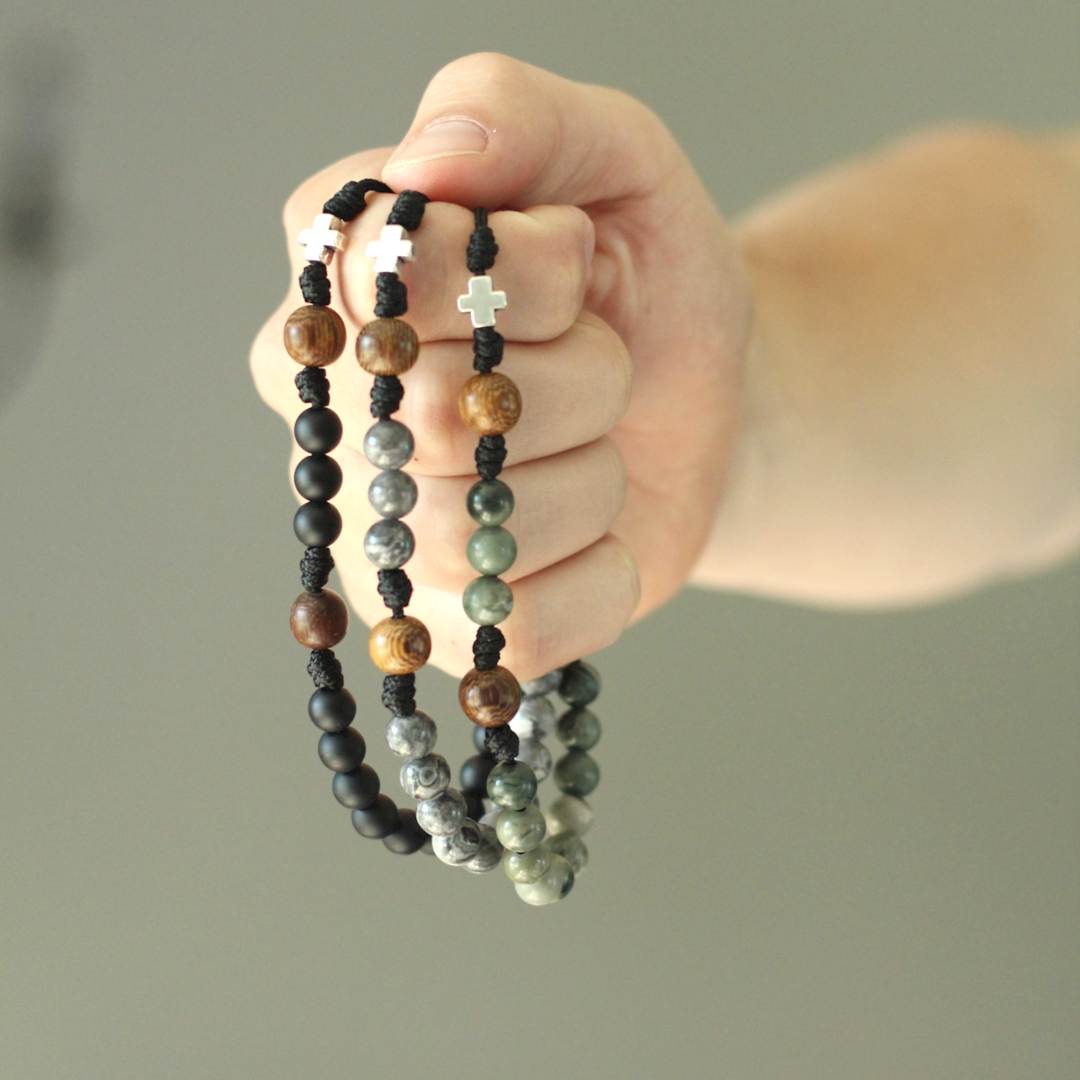 Ambrose | Paracord Rosary Decade Bracelet | One Size
See more Men's Bracelets here
This paracord decade bracelet features black Onyx Agate beads as the aves and round wooden  beads as the paters. This bracelet is strung on paracord which makes it incredibly durable while also giving it a very comfortable fit. This bracelet can be loosened or tightened to fit exactly right. 
This bracelet is named after St. Ambrose of Milan. He was born in 340 AD into a Christian family. From a young age, he showed promise of being an influential speaker. He was sent to study law, literature, and rhetoric in Rome. After completing his studies, he received a place on the council and was made governor of Milan. He remained governor until 374 when the Bishop of Milan died. Ambrose attended the election in order to help maintain peace between opposing groups in the Church at the time. After his address to the committee, there were shouts for him to be elected bishop.
Ambrose did not want to become bishop and attempted to flee and hide. However, he was eventually found and he agreed to become bishop. In one week, Ambrose was baptized, ordained, and consecrated bishop of Milan. 
As bishop, Ambrose gave all of his belongings away and lived simply. He furthered his knowledge by studying Theology in Rome. His preaching attracted many including the young Augustine. Ambrose played an important role in Augustine's conversion. Ultimately, Ambrose was the one who baptized him.
Perhaps, one of the most significant events of Ambrose's life was his years-long struggle with Arianism. He stood his ground against it and spoke against it countless times. 
Ambrose was one of the original four Doctors of the Church. St. Ambrose, pray for us!
The bracelet is a gift for my grandson. He lives in another Florida city and I have not been able to get it to him. I sent him a picture. He was appreciative and he is looking forward to receiving it.
(I personally liked to look of it.)
Bought this for myself and I love it!
Great quality and I love that it can be loosened or tightened.
I highly recommend the Chews Life Rosary Bracelets
I have ordered many Rosary Bracelets from other sources. But the Chews Life are the best, the quality is better than the rest. I haven't been disappointed with any of them. I purchase for myself and as gifts and the recipients also love them.
Love love love.
I was kinda wanting the Ambrose rosary bracelet for myself but my husband and teenage son fought over it. My son won! My husband got the paracord rosary decade bracelet which he also loves. Now my teenage daughter wants one too. So happy to see my family wearing them (and out in public too).
Great gift for my husband!
My husband loved it and he isn't a bracelet wearer!