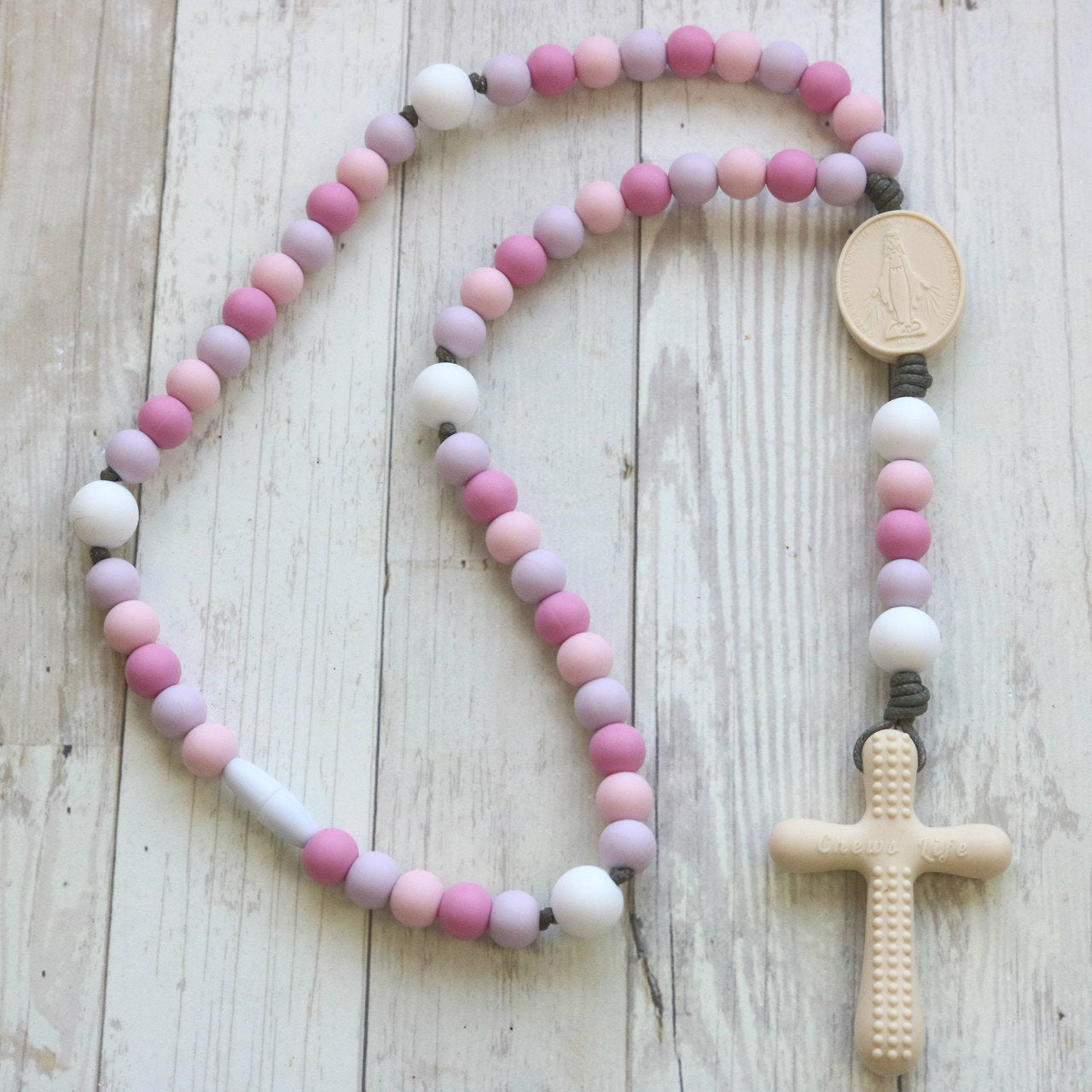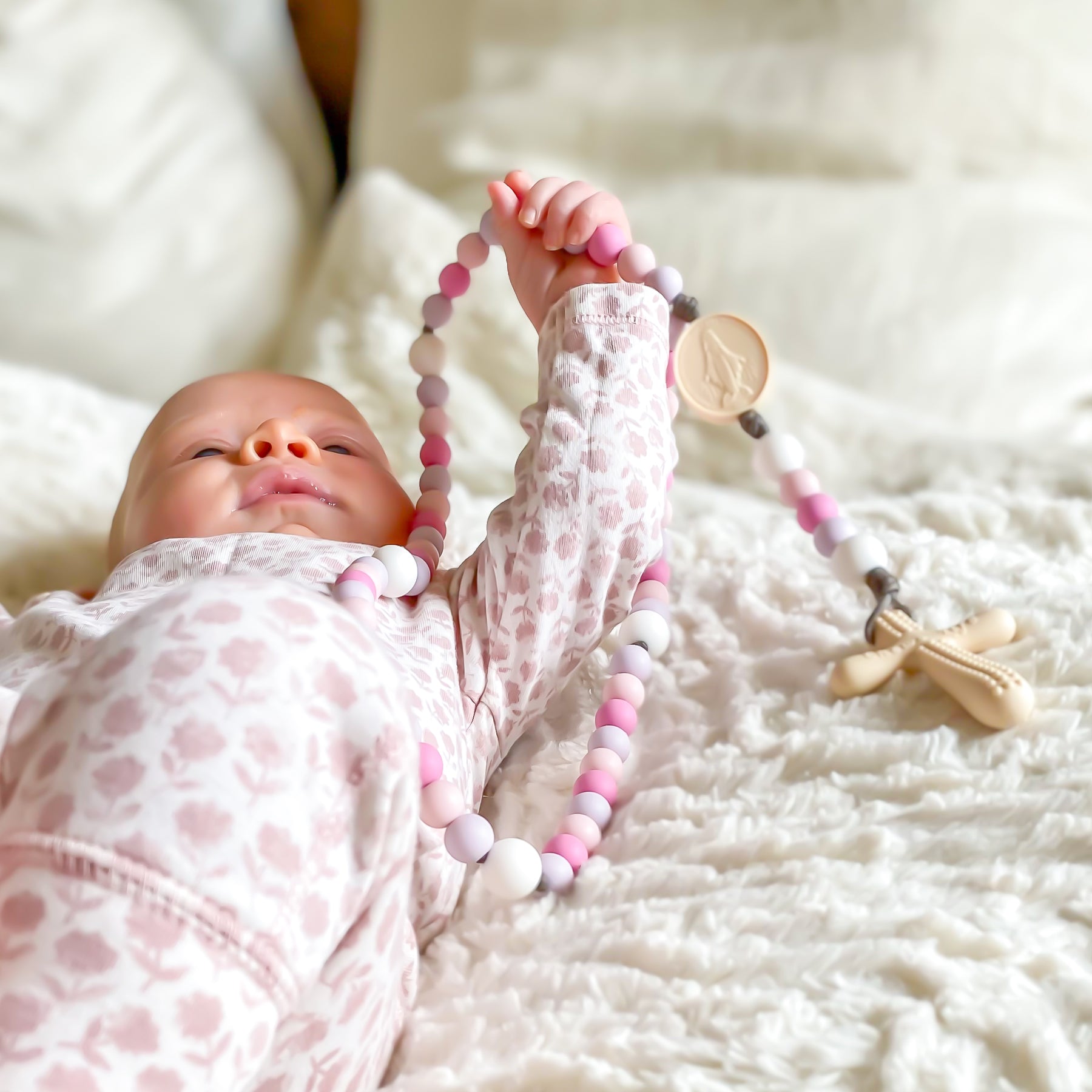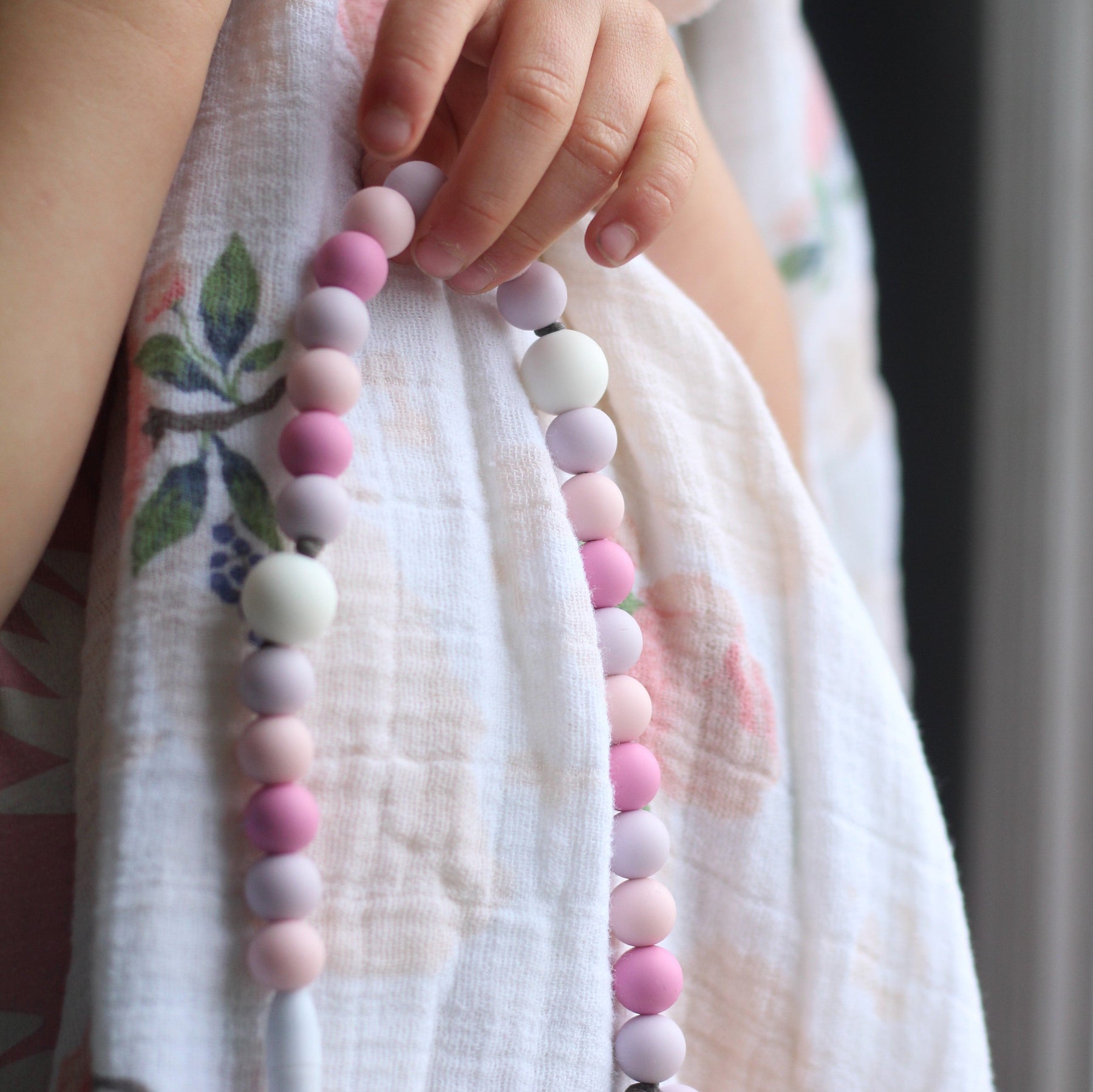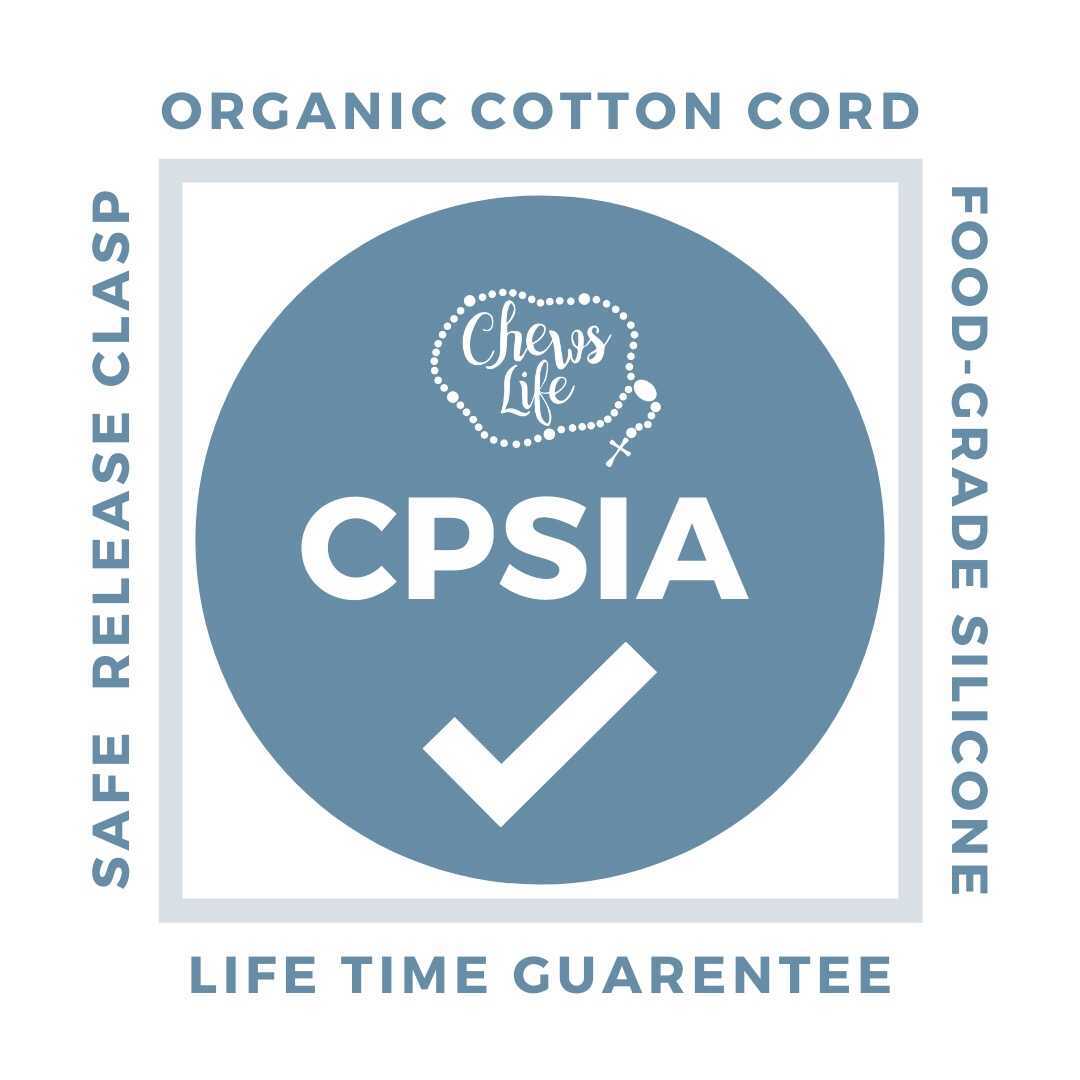 Little Flower | Chews Life Rosary
See more Silicone Rosaries here.
This beautiful silicone rosary is sure to bring joy to your home.  The vintage bloom beads of this teething toy are like the different shades of light pink roses.  It is soothing and will also help to build wonder and love for the rosary.  Watching your child hold this Silicone Rosary is like watching them hold the hand of Mary.
Our Silicone Rosaries feature: 
Our own chewy cross

Sturdy organic cotton cord

Snap clasp

FDA-certified, food-grade silicone

Lifetime guarantee

Artisan-made in Michigan, USA
Not suitable as a chewable toy for children ages 4+ and not intended for children to sleep with.
This silicone rosary is named after St. Thérèse of Lisieux, the Little Flower.  Thérèse was born in 1873.  She was the youngest child of Sts. Zelie and Louis Martin.  With the extraordinary example of her parents' faith, she developed a love for God and a strong habit of prayer at a very young age.
Although her faith was quite mature, Thérèse struggled not to act childish.  She had a habit of being somewhat selfish and overly emotional when she did not get her away.  She struggled with these things until one Christmas when she asked for Jesus' help to be more grown up.  From then on, Thérèse always did her best to be humble and generous.
After facing many obstacles, Thérèse was allowed to enter the convent at the young age of 15 years old.  As a carmelite nun, she experienced a much more challenging life than what she had known in the comforts of her family home.  She also experienced the hardship of not being able to be with her father as he suffered through many health challenges.  
Although she was young and didn't have the most extensive instruction in Theology, St. Thérèse is a Doctor of the Church.  Her autobiography Story of a Soul has impacted thousands and continues to bring more people deeper into their spiritual lives.
St.Thérèse died at the young age of 24 in 1897.  In 1925, Pope Pius XI canonized her. 
Perfect gift!
I bought this for my friends' daughters baptism. It's a high quality material, and they really loved it. I also appreciated how quickly it came in.
Precious
Cutest baby gift to give!
2nd Purchase!
I bought one of these Rosaries for my grandson when he was baptized 3 yrs ago. He carries it to Mass with him and it looks brand new. My little granddaughter is getting baptized this next week and I didn't even have to think about what I'd get her. She needs her own Rosary to carry to Mass. They are perfect for little ones.
Perfect Baptism Gift
This rosary was the perfect Baptism gift for our new niece! Mom loved it and baby will too, the perfect chew and play item for Mass.
Super cute
I purchased one of the large rosary for my niece's upcoming baptism and the quality is outstanding and so cute. I have since made additional purchases and have received all products quick and orderly