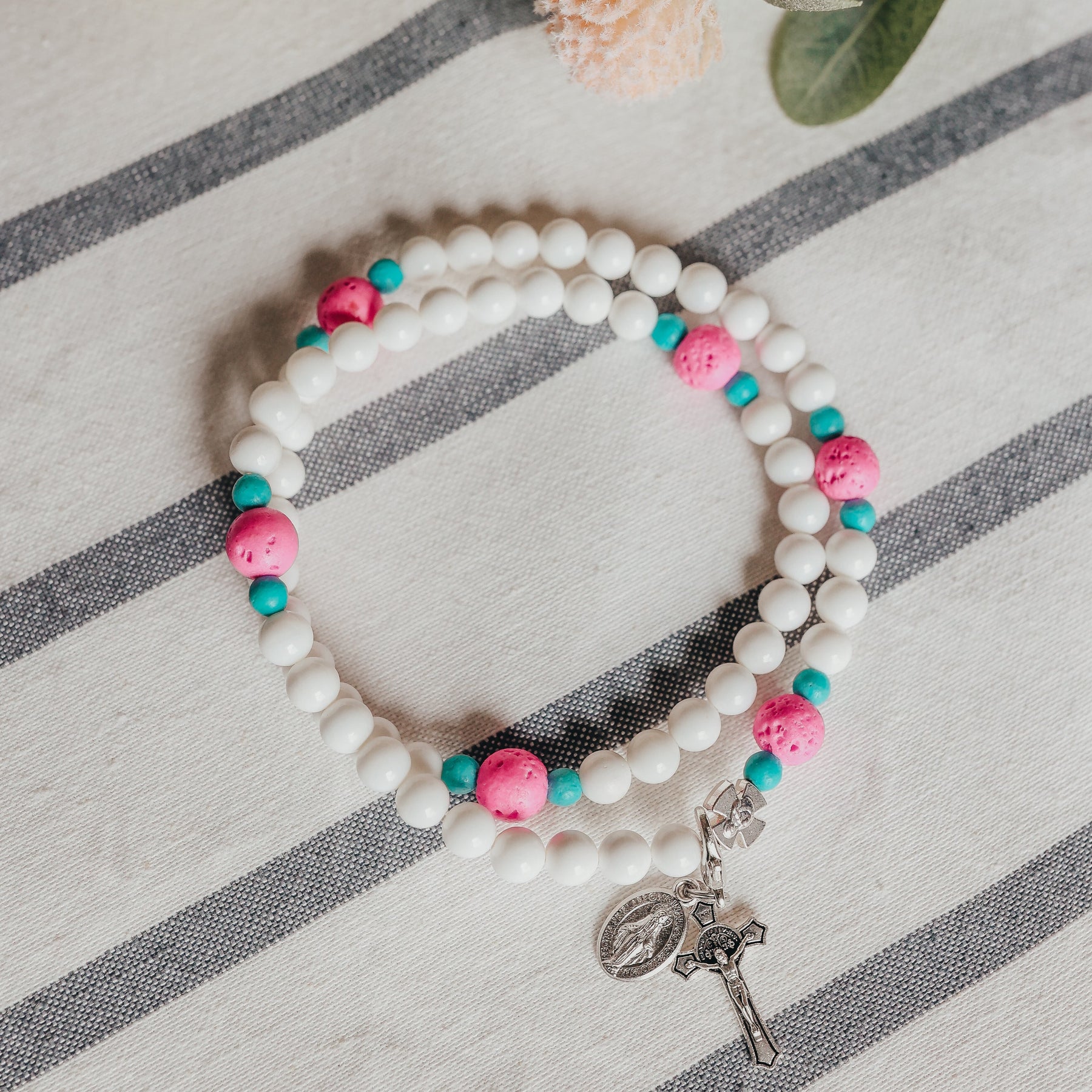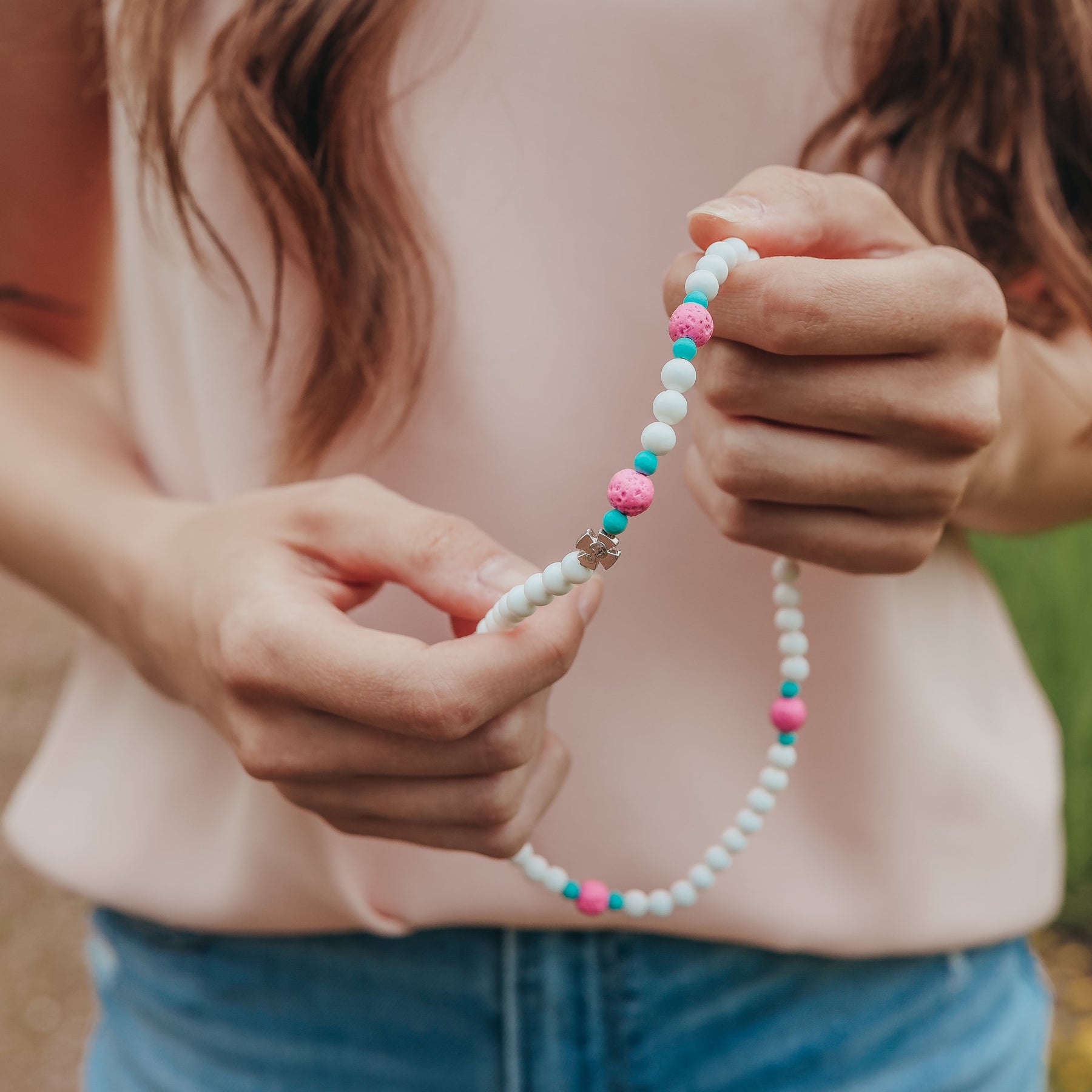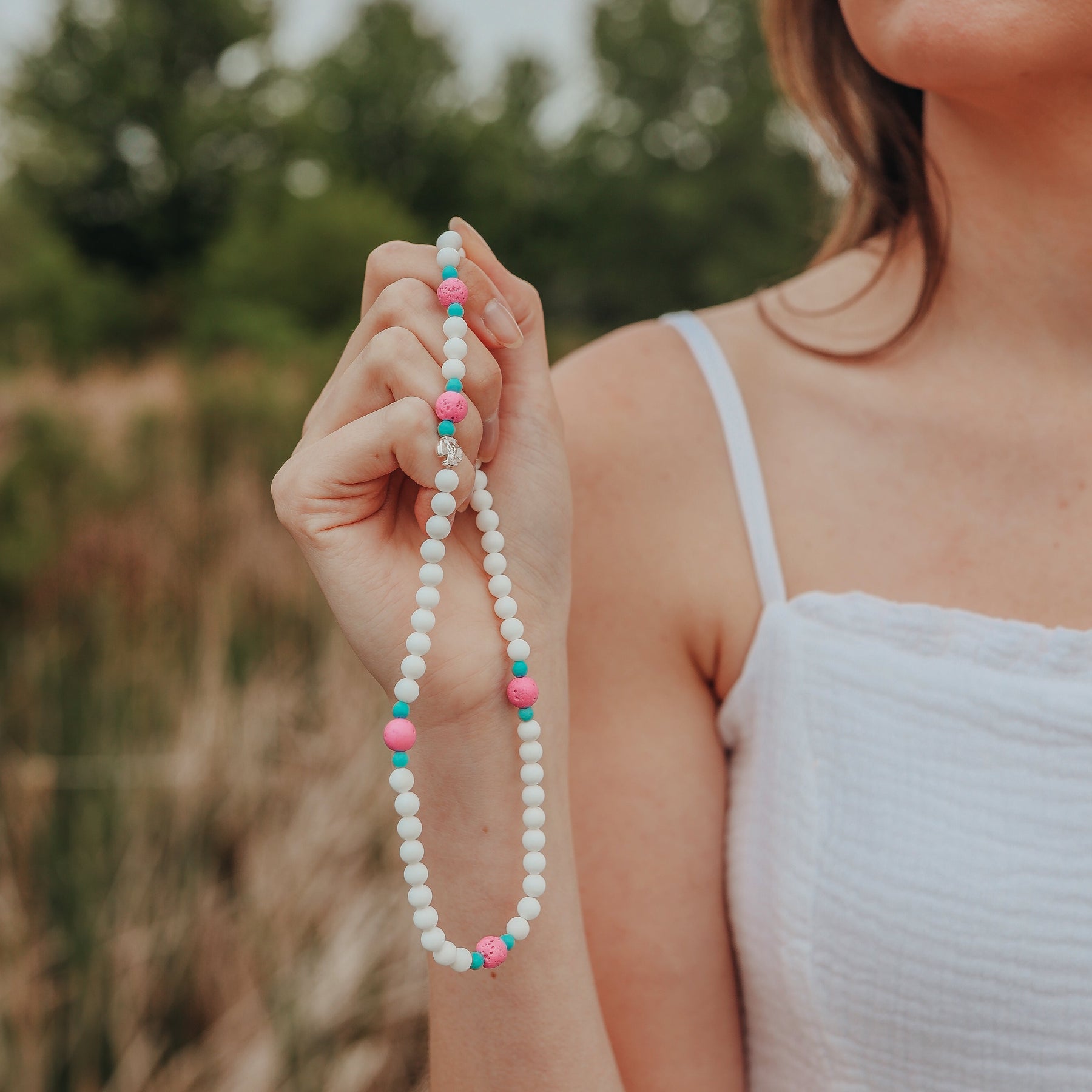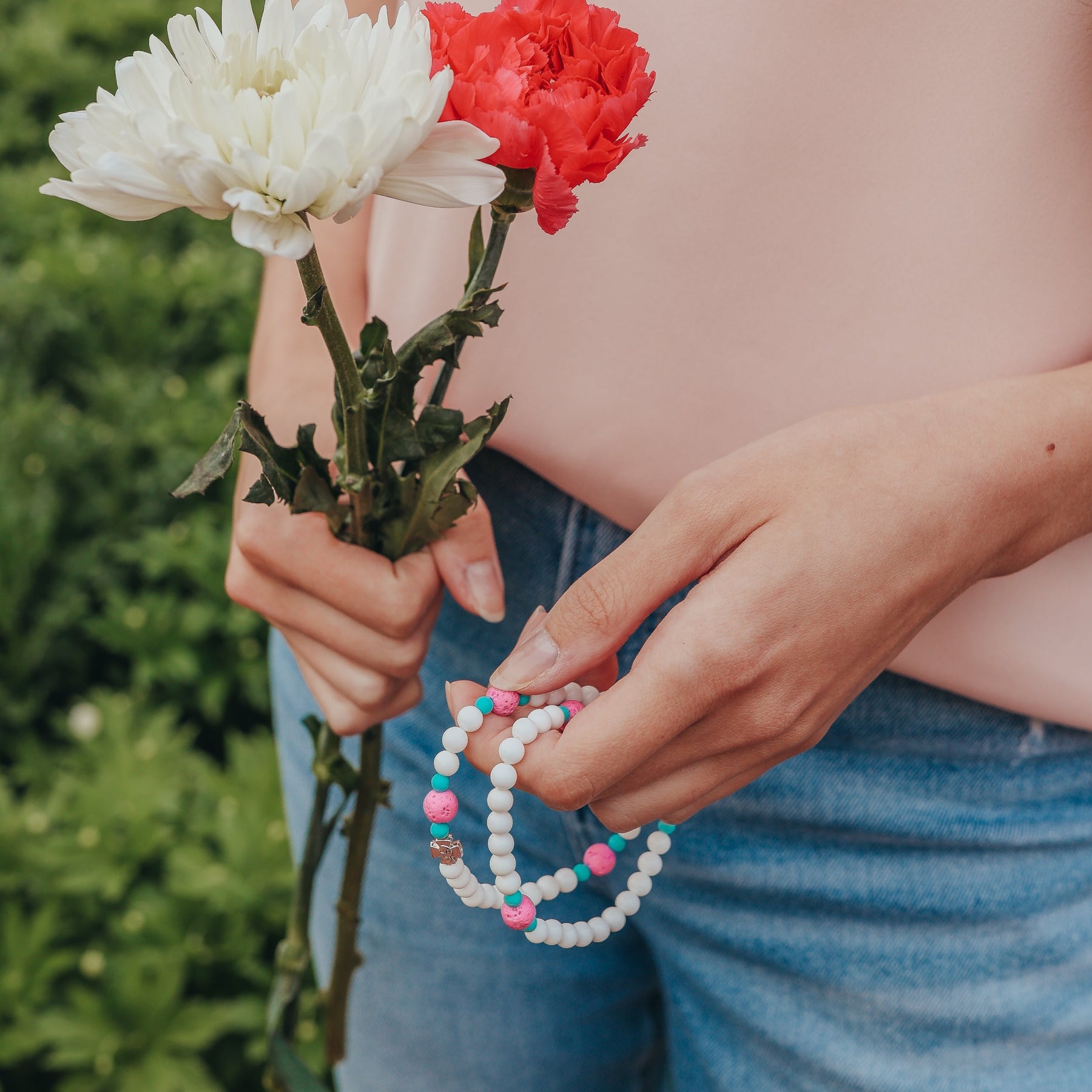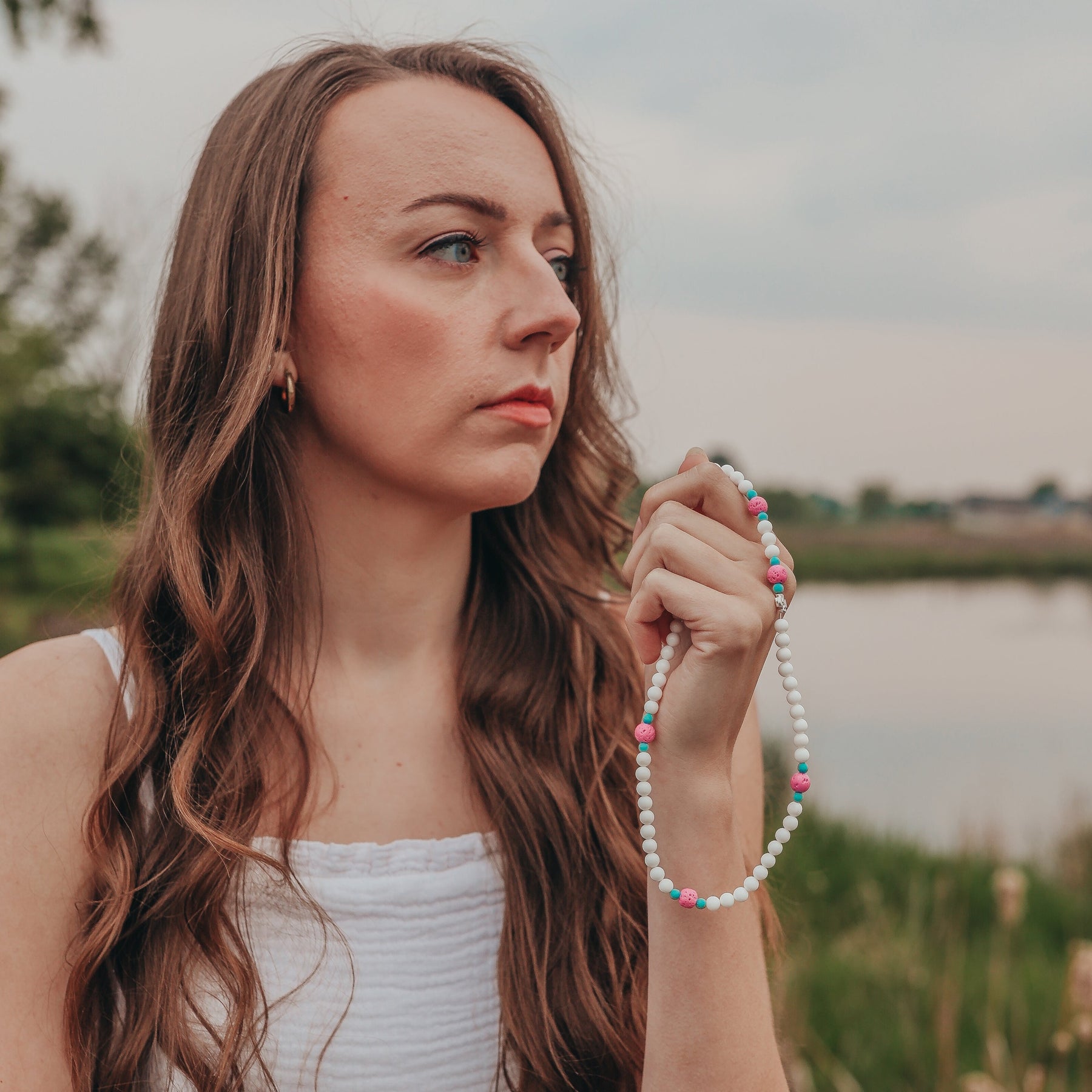 St. María | Stretch & Wrap Rosary Bracelet | Summer Exclusive
This beautiful gemstone rosary bracelet features bright pink lava beads as the paters, crisp White Clam beads as the aves and cool turquoise spacer beads. Each of our stretch and wrap rosary bracelets is a full rosary. Each bracelet also includes a "bookmark" crucifix medal.  This medal is moveable and can help you keep track of where you are at in your rosary as you pray throughout your day. 
Each bracelet is strung on durable elastic making it easy to stretch and wrap around your wrist without fear of snapping it. In order to maintain the sizing below the Medium of this bracelet omits the first three ave's.  
Sizing is as follows: 
M: 7"7.25"
LRG: 8"
About St. Maria 
Maria Natividad Venegas de la Torre was born in 1868 in Mexico as the last of twelve children. As a teen she lost both of her parents within a 4 year time, leaving her under the guardianship of a paternal aunt. She was a pious child who spent most of her time giving religious classes to the neighbors and caring for the poor.
This piety eventually led her to entering religious life in 1905 and taking final vows 5 years later. 

Maria established the Daughters of The Sacred Heart of Jesus of Guadalajara, and in 1921 was selected as the Superior General. Upon establishing the order she assumed the new name "Maria of Jesus in the Blessed Sacrament." 
It was here in her order that she lived out her life of service to the poor as well as catering to the needs of priests and seminarians. 

Maria died in 1959 at the age of 90. She is celebrated on her feast day of July 30th and is recognized as the first female Mexican Saint. She is the patron of the Daughters of the Sacred Heart of Jesus of Guadalajara and of nurses.
Perfect rosary for the summer
I love the colours of this rosary so much! It's perfect!
I ordered it in size "Large", because "Medium" wasn't available anymore. Size "Large" is a little bit too big for me but I wear it nevertheless by wrapping it multiple times.
Summer fun
This bracelet is so fun! A pop of color on your wrist. The pink lava beads are beautiful. I hope they make more bracelets with lava beads.
Rosary bracelets
Beautiful bracelets!! I have 3!
Stretch & wrap rosary bracelet
It's so pretty! I absolutely love it. I will be ordering again.
Gorgeous colors!
I already have another stretch and wrap rosary so I know I love them, but this one has absolutely stunning colors, they work so well together and are truly beautiful.