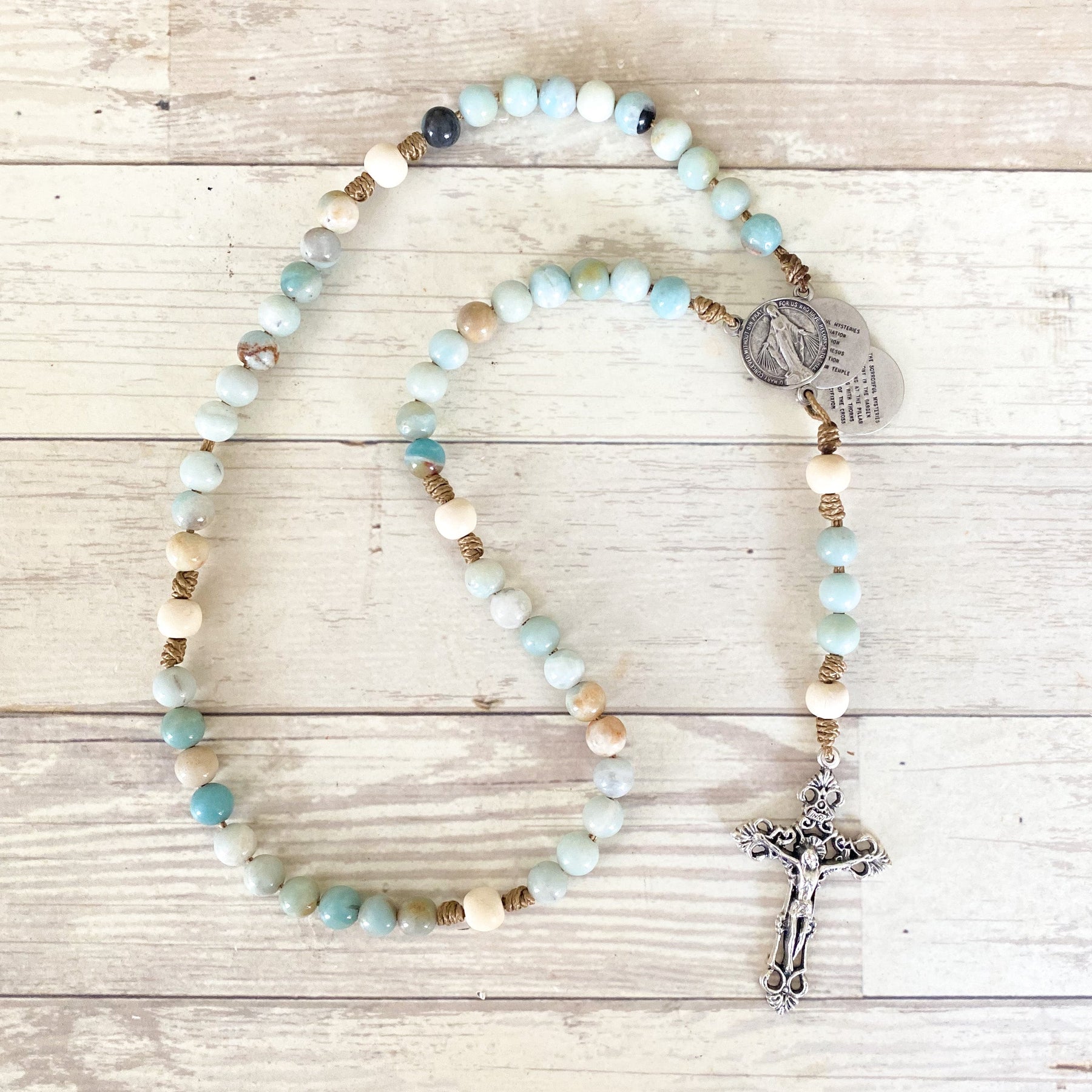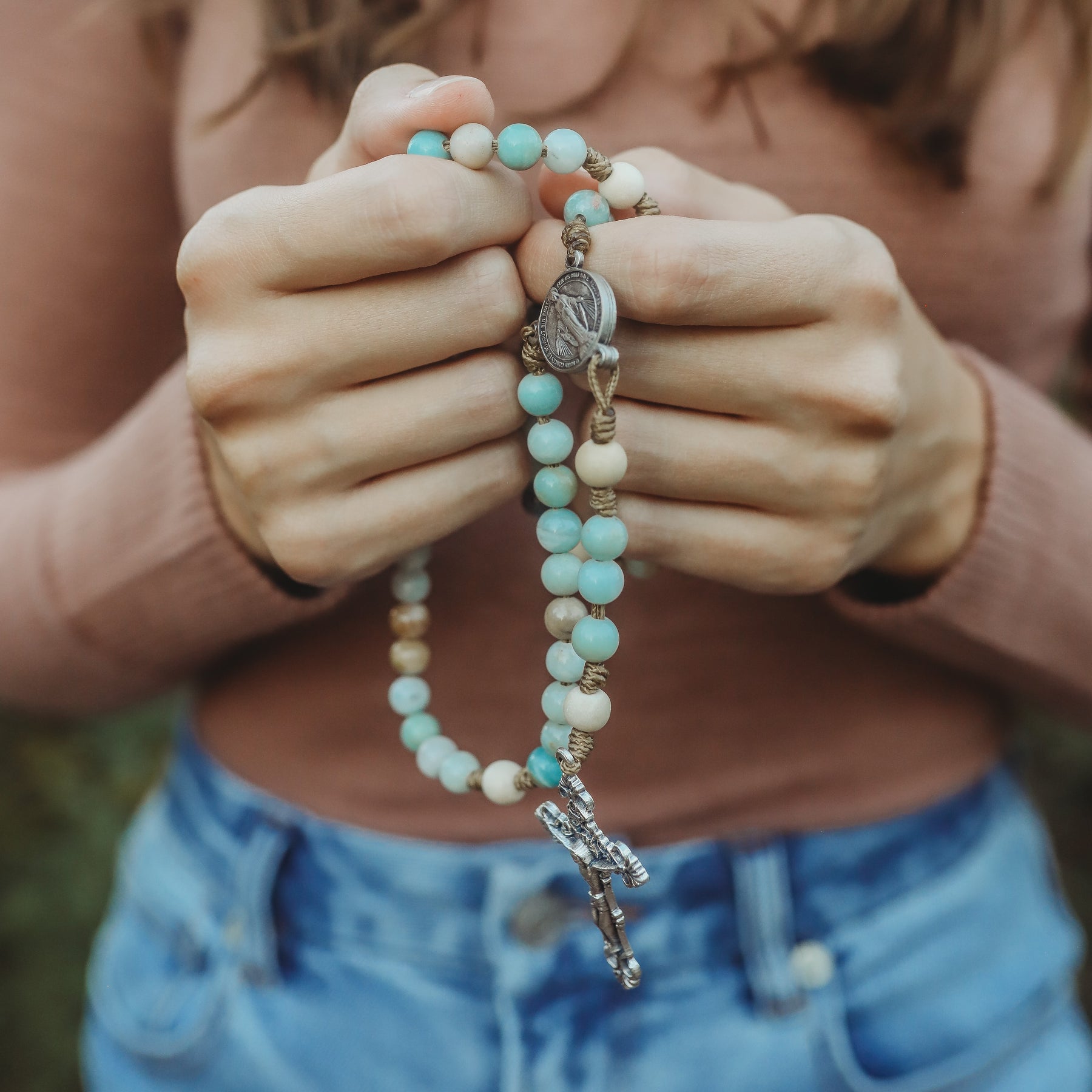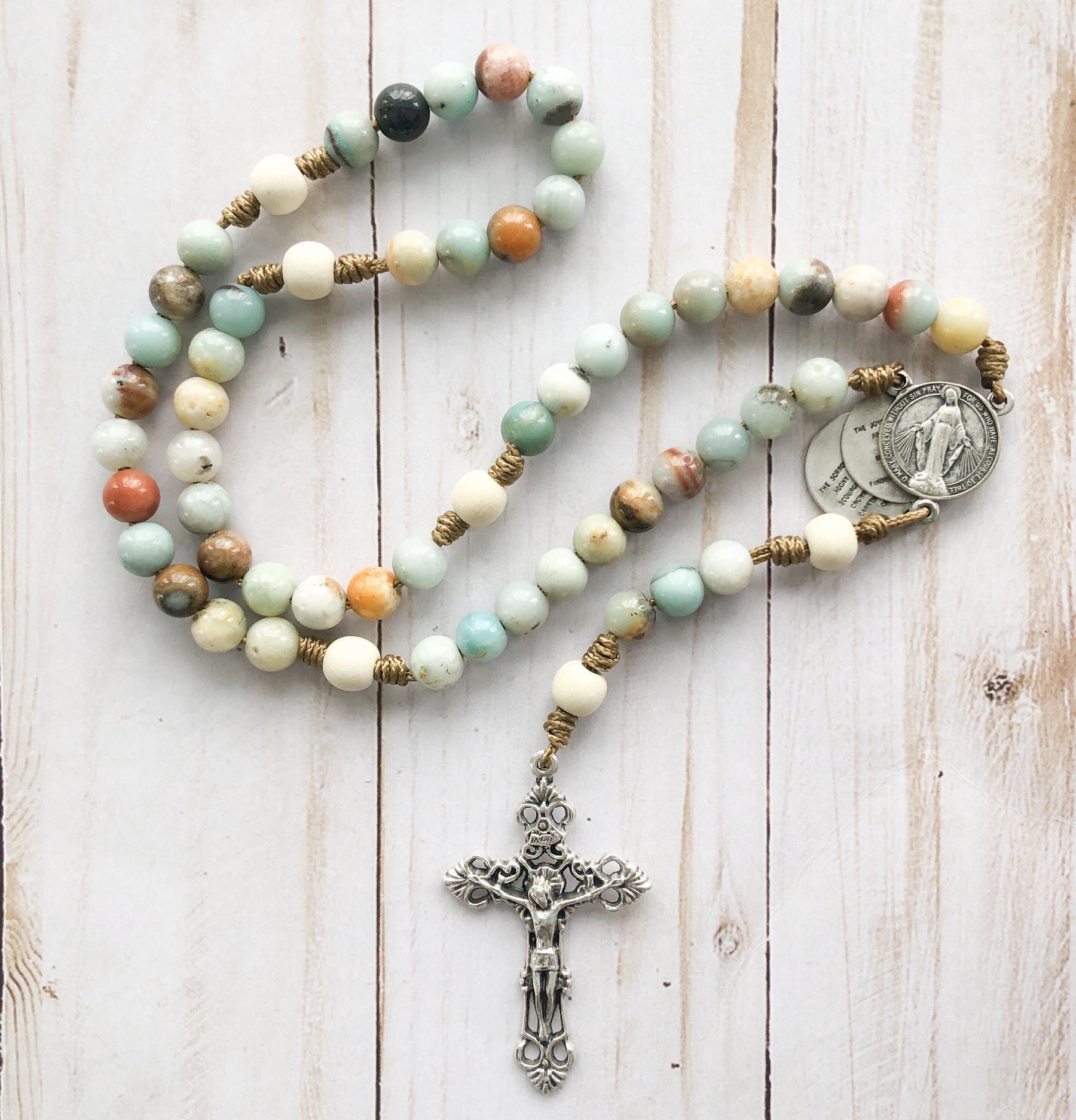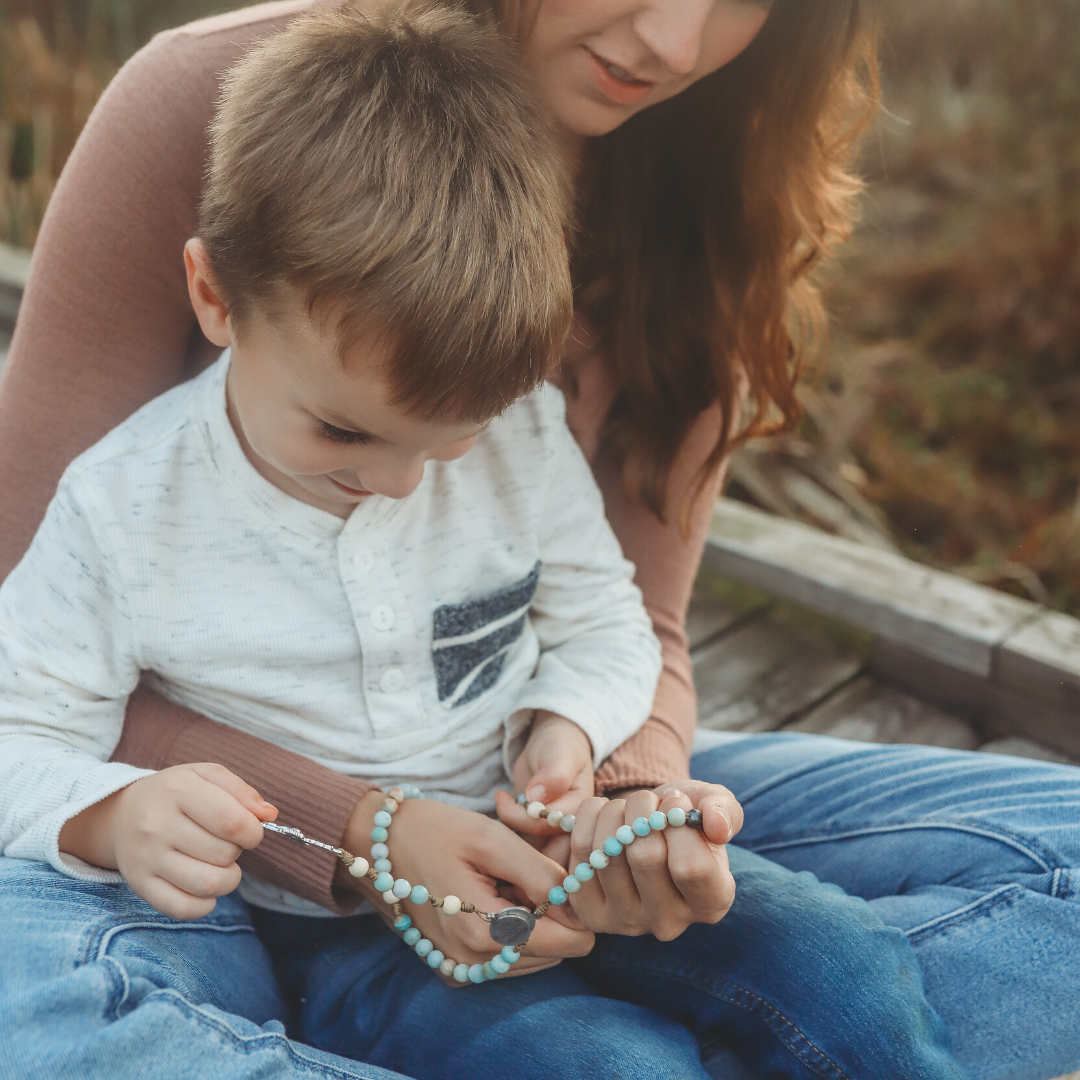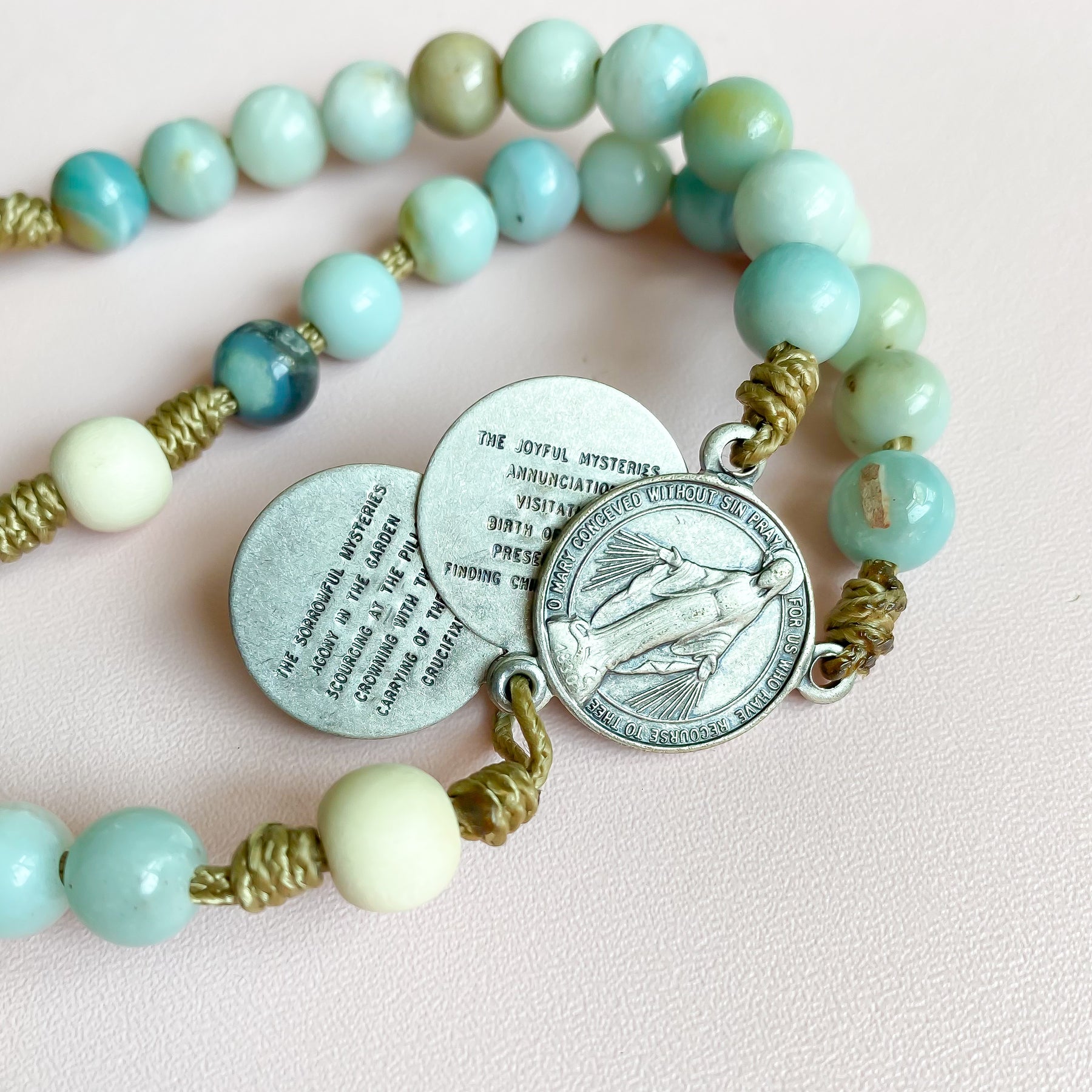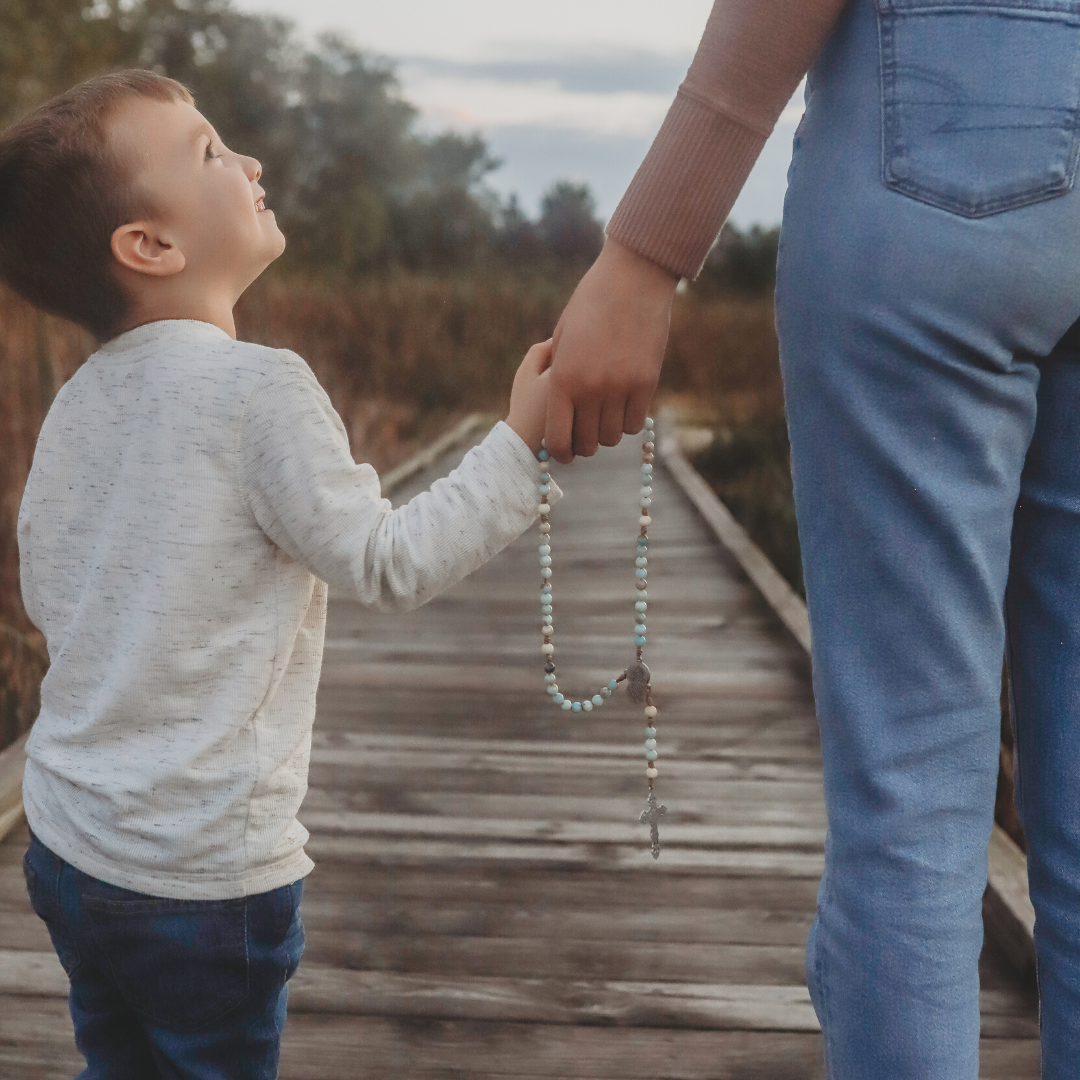 Gianna | Traditional Gemstone Rosary
This beautiful full-size rosary is strung on a durable but flexible paracord.  The gemstones are Amazonite and Cheesewood.  Not only is this rosary stunning, but it is sure to last!  This rosary also features a beautiful Miraculous Medal that expands to show the different sets of mysteries and which days to pray them on.
The gold accent pieces will oxidize, creating an antiqued, rustic look. Lotions and perfume usage does speed up the oxidization look
This rosary is named for St. Gianna Beretta Molla.  Gianna was born in 1922 in Magenta, Italy.  She grew up in large Catholic family and enjoyed skiing and mountain climbing.  She studied medicine and eventually specialized in pediatrics.  In 1955, Gianna married Pietro Molla.  Together they had three children and suffered two miscarriages.  When Gianna became pregnant for the fifth time, her doctor discovered a tumor in her uterus.  A hysterectomy was recommended, but Gianna refused in defense of her unborn baby's life.  The tumor was removed without performing the hysterectomy.  In April 1962, Gianna's daughter was born.  However, complications from delivery caused an infection in Gianna.  The following week, Gianna passed away.  Her daughter named Gianna Emanuela Molla became a doctor herself and travels the world sharing the story of her mother.
Gianna was canonized in 2004.  St. Gianna, pray for us!
Absolutely beautiful!
The stones are bigger than the double wrap rosary bracelets which I loved! Color combo is beautiful and you can feel the love and care from the one who made it! Quality rosary, and I find myself reaching for this one tons!! I also love how every single rosary or bracelet is a one of a kind due to the nature of the gemstones!
Gianna | Traditional Gemstone Rosary
Exactly what I was looking for
I have a pile of broken rosaries from falling asleep on them once or twice (not a high impact activity). This one will never do that to me. The large beads also make it easy to hold onto. Plus, it's beautiful. I've had it in my coat pocket pretty much every day since it arrived.
Beautiful rosary
Purchased as a gift. It's substantial and very beautiful. Fulfillment was quick and correct.
Stunning!
This is my first rosary and it's absolutely stunning. Beautifully well made!