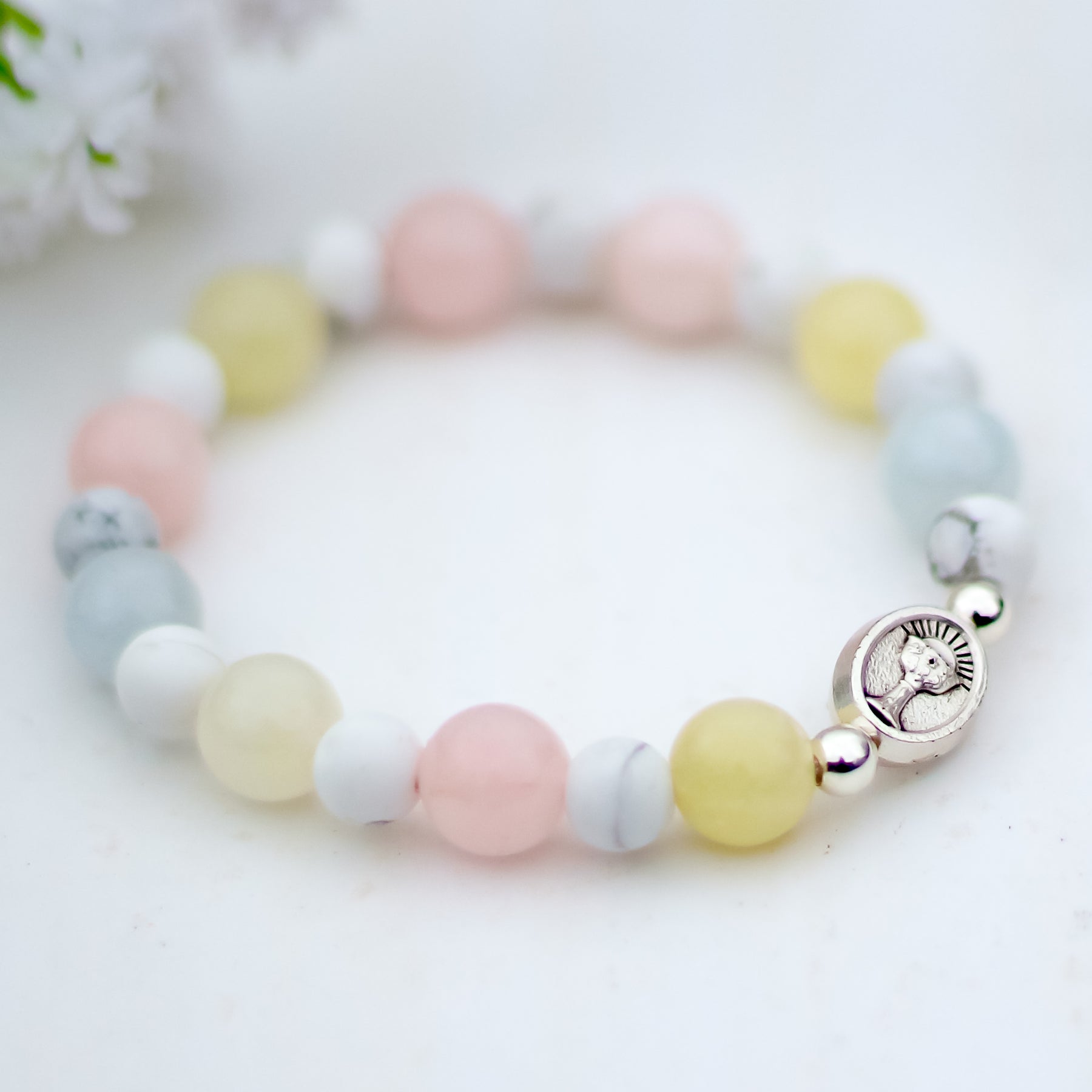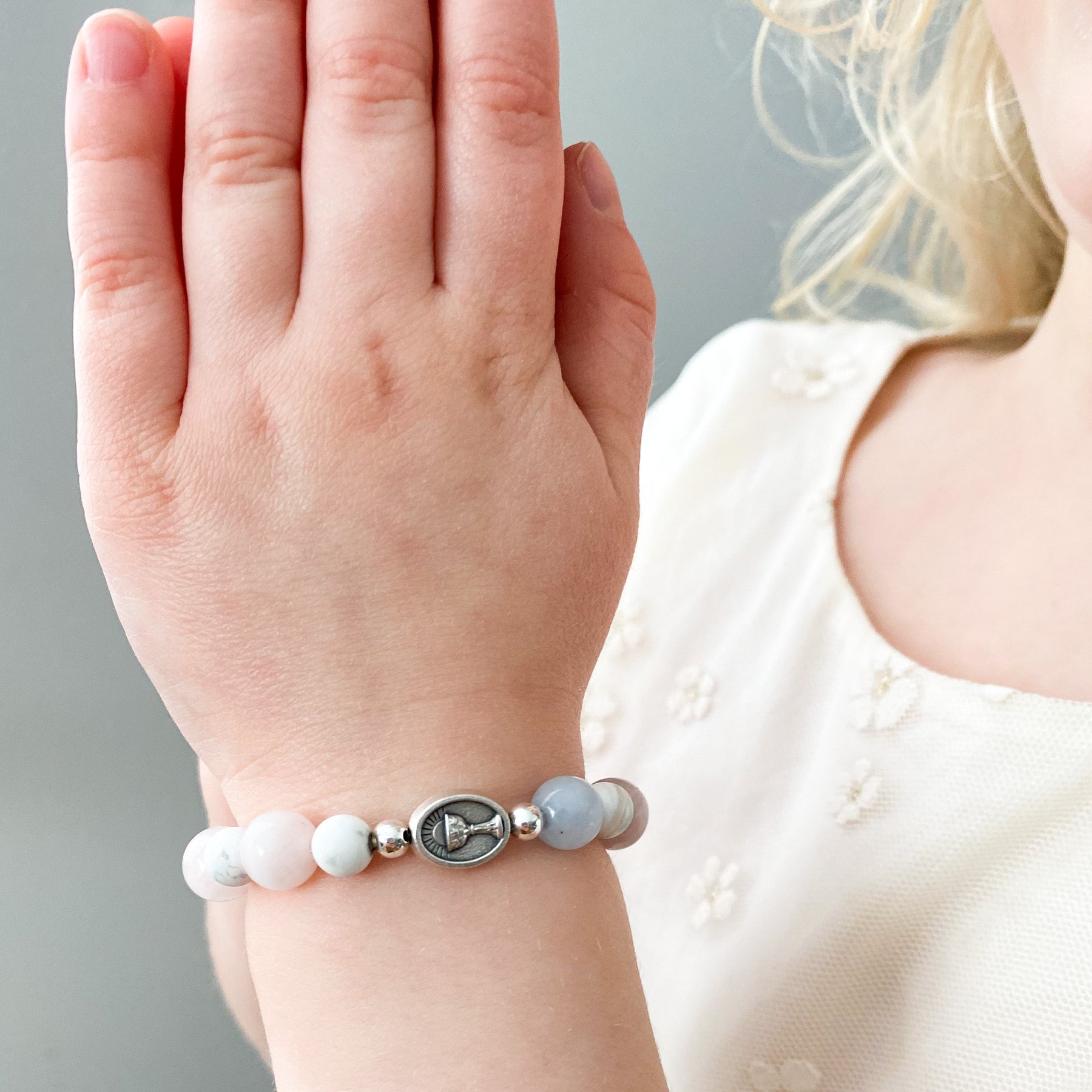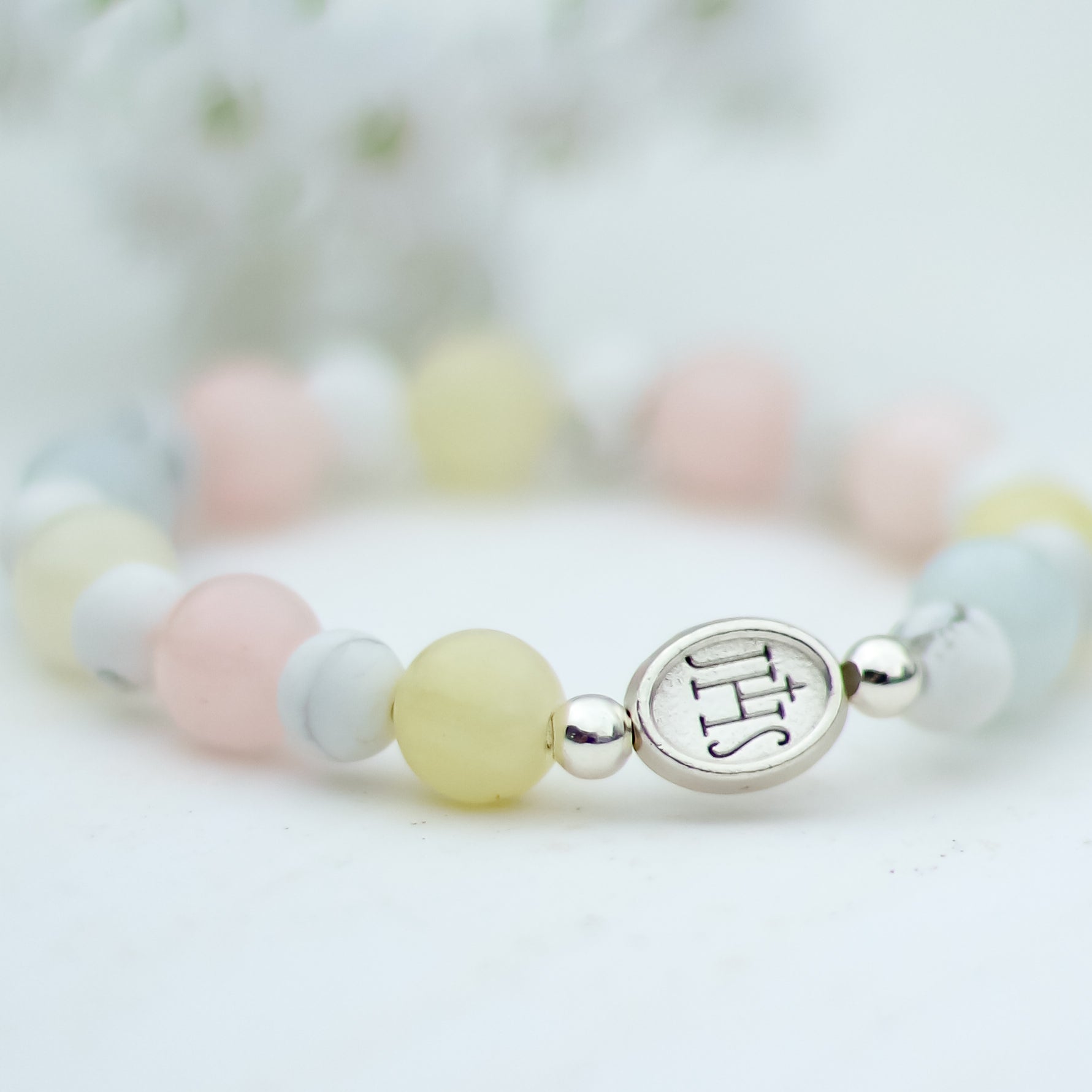 Imelda | Girl's First Holy Communion Decade Bracelet
This beautiful gemstone decade bracelet features Morganite beads as the paters and matte white Howlite beads as the aves.
Each bracelet is strung on durable elastic making it easy to stretch and wrap around your wrist without fear of snapping it.
This decade bracelet is named after Blessed Imelda Lambertini. Imelda was born in Bologna, Italy in 1322 to a noble family. From a young age, Imelda's faith and love for God were extraordinary. Her understanding was well beyond her years.  
She greatly desired to receive her First Communion, but at that time, First Communion was not received until the age of 15. When Imelda was nine years old, her parents entrusted her spiritual formation to the Dominicans at Val di Pietra. It is not certain what Imelda's status at the convent was, but it seems that she lived rather seamlessly with the nuns. She wore the Dominican habit. She prayed with them. She had chores.
Imelda frequently requested permission to receive her First Communion but continued to be denied. When she was eleven years old on the eve of the Feast of the Ascension, something extraordinary happened. After Mass, one of the nuns was clearing the altar when she heard a noise and looked up. She saw Imelda kneeling with a consecrated Host floating above her head. The chaplain was called at once and he gave Imelda her First Communion.
After awhile, the nuns thought it was time for Imelda to stop praying and return to her normal duties. When they approached her, they found that she was dead. Imelda had died of pure joy upon receiving her First Communion.
Imelda is the Patroness of First Communicants.  Blessed Imelda, pray for us!
The circumference of this bracelet is approximately 6 inches.
Beautiful Gift for little girl!
What a special and symbolic gift. It is very age appropriate for a 2nd grader receiving her first communion. I will definitely bookmark this site for future gifts!
Imelda | Girl's First Holy Communion Decade Bracelet
Perfect Gift
I purchased the Girl's First Holy Communion Decade Bracelet for my granddaughter's First Holy Communion. I can't wait to give it to her. It is just beautiful.
Great Services
I got this bracelet for my daughter's first communion. It is a beautiful bracelet. It broke after a month of her wearing it. They sent me a mailing lable for me to mail the bracket back and have it fixed at no additional cost. They were very efficient. My daughter was excited to get her fixed bracelet in the mail :)