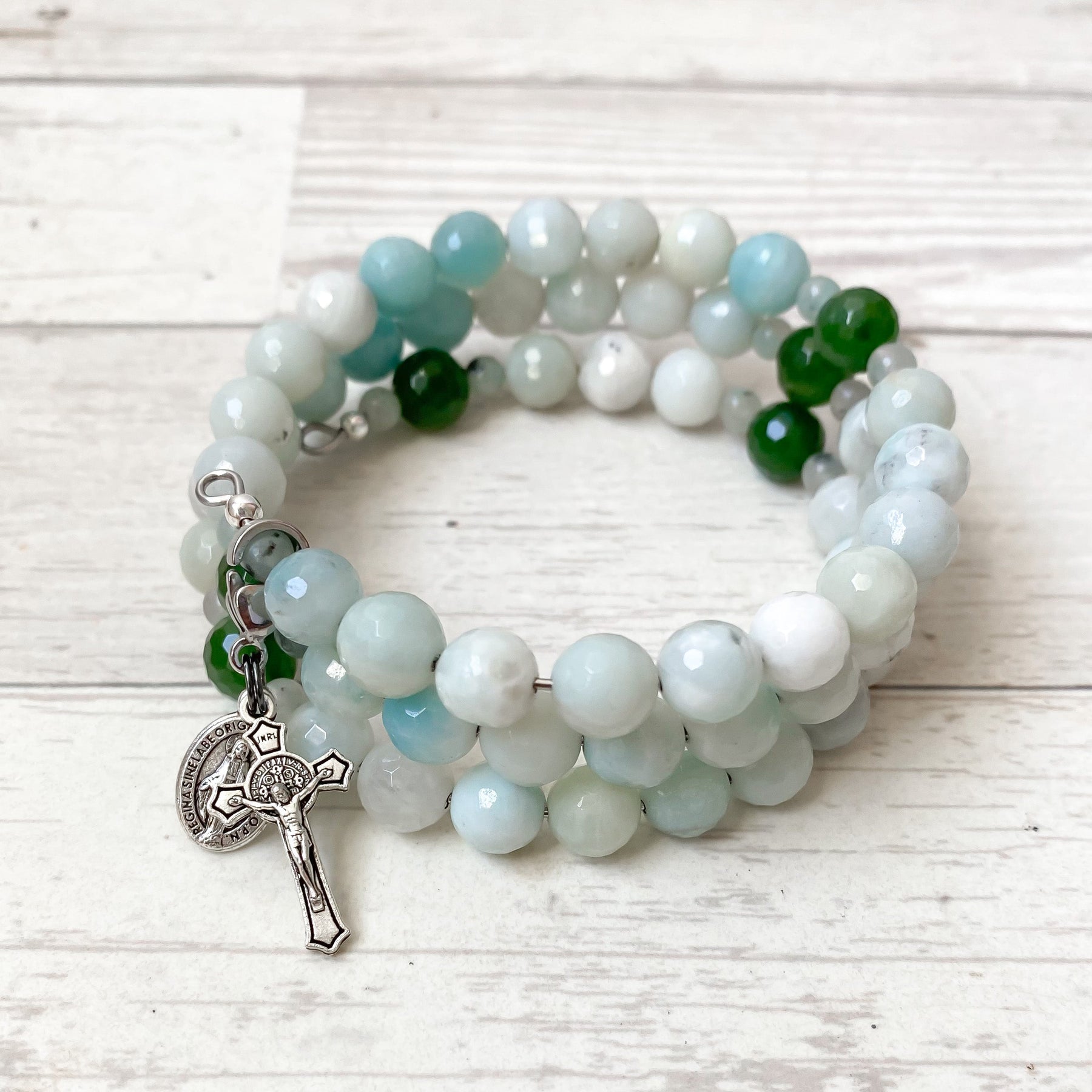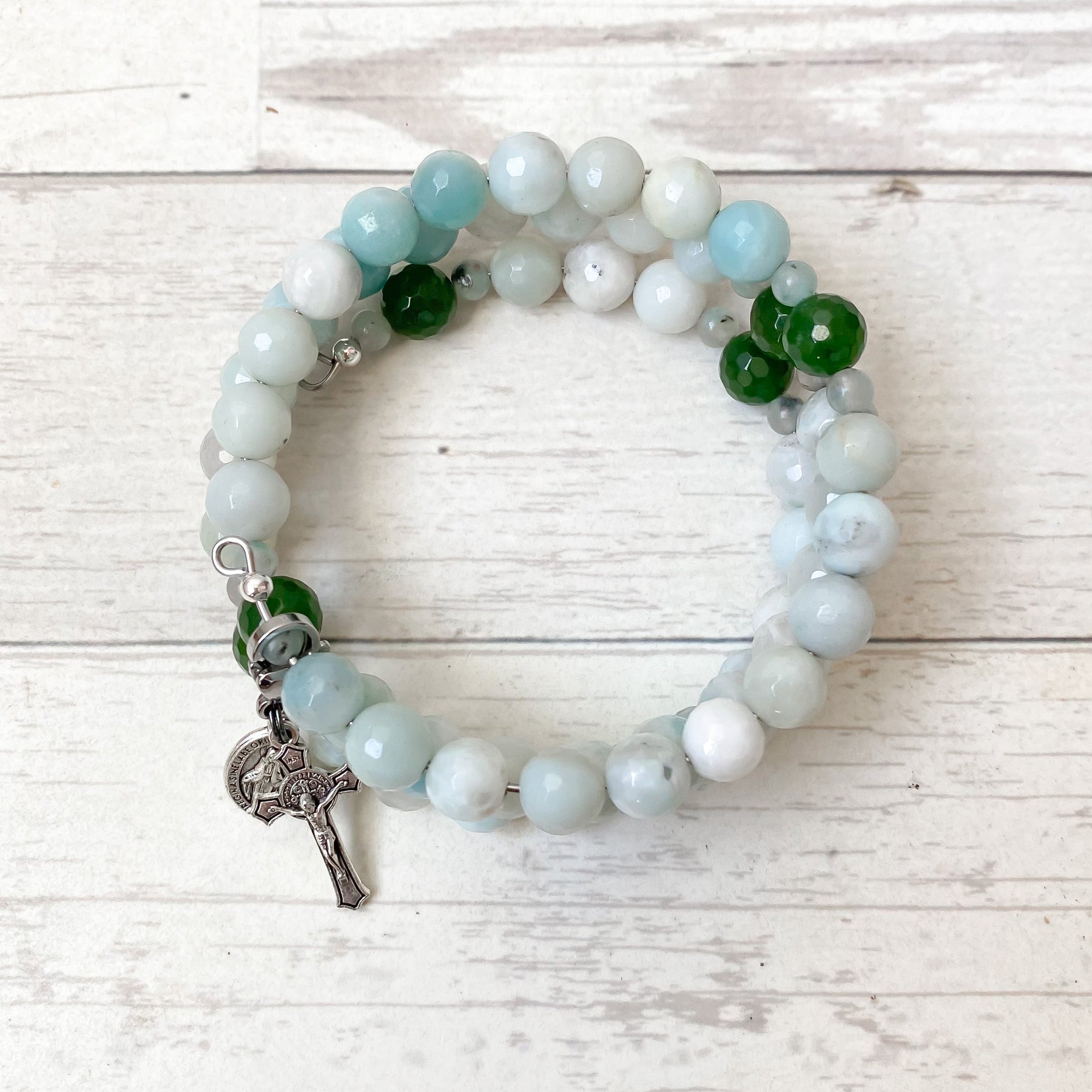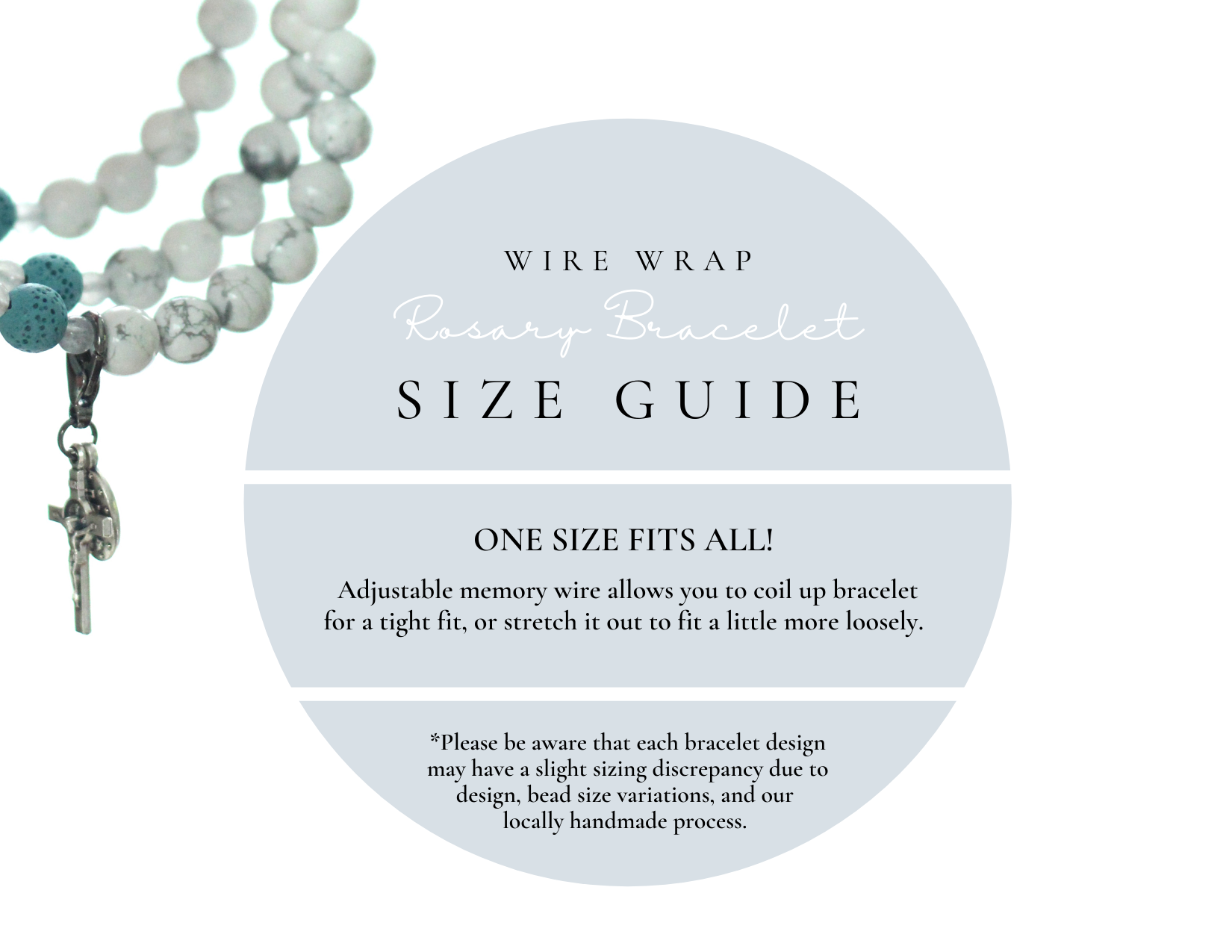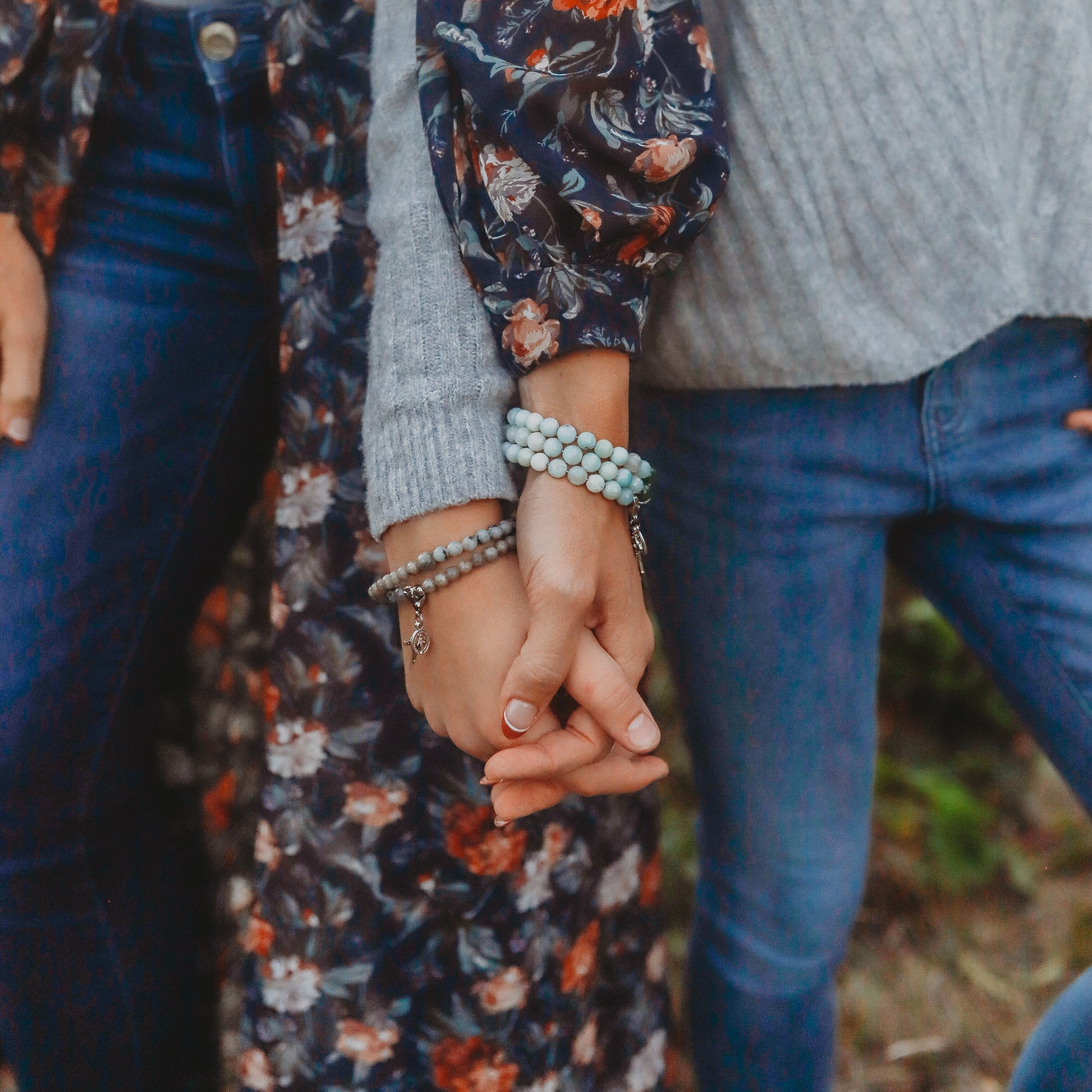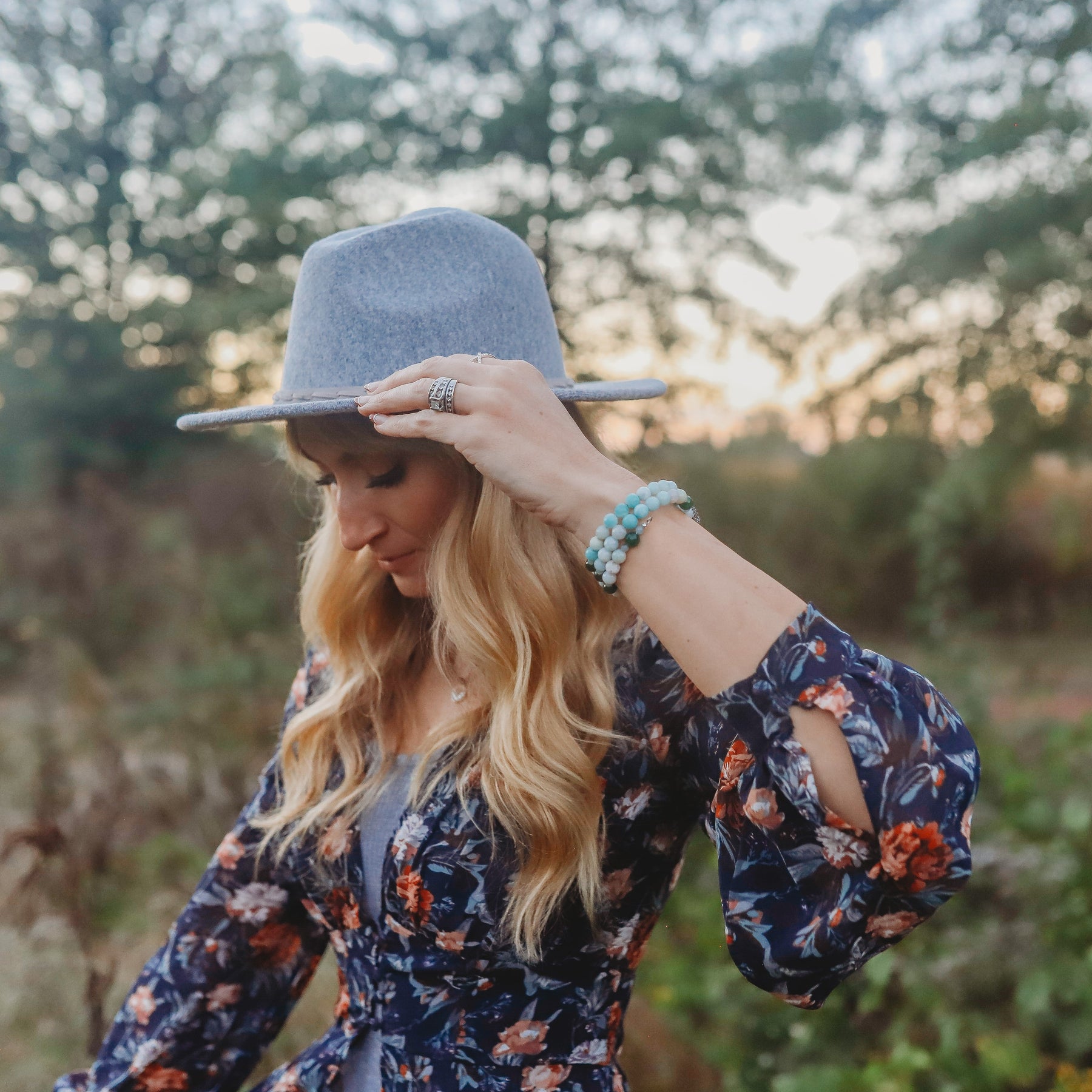 Our Lady of Loreto | Memory Wire Rosary Bracelet
This beautiful gemstone rosary bracelet features Mylasia Jade Quartz beads as the paters and Amazonite Faceted beads as the aves. Each of our memory wire rosary bracelets is a full rosary.  Each bracelet also includes a "bookmark" crucifix charm.  This charm is moveable and can help you keep track of where you are at in your rosary as you pray throughout your day.
These bracelets are strung on memory wire which make them easy to fit to your desired size.
This bracelet is named after Our Lady of Loreto. Our Lady of Loreto is a devotion to Mary that is linked to Mary's home in Nazareth as well as the city of Loreto in Italy. What is believed to be Mary's home from Nazareth is now in Loreto, Italy housed within a basilica. The story of how it got there has two different versions.
The preface of both stories is that it was a time of great conflict in the Holy Land. There was fear that many of the Christian holy places would be destroyed. The first story holds that angels carried Mary's house from the Holy Land to first Croatia and then to Loreto. It also holds that many visions of Mary at the house occurred. The second story tells that a wealthy family named Angeli (Italian for "angel") paid to have the home dismantled and moved from the Holy Land to Loreto. 
Regardless of how it got there, there are many things to note about the holy place. Via modern technology, it is confirmed that the manner in which the stone is cut is consistent with other homes in Nazareth. Also, the building technique is similar to a common building technique found throughout the Holy Land. The house has no foundation which means it was not originally built in its current location. FInally, many miracles have occurred at this holy site.
Our Lady of Loreto, pray for us!
Love it! Daily reminder and tracker in one beautiful bracelet
This is my 2nd memory wire rosary bracelet and I love the enhancement in this bracelet. While my earlier one had the full 5 decades and the "bookmark" had a Pater bead - this updated bracelet has the 5 decades and the initial Pater and 3 Aves. The color is gorgeous and is a beautiful reminder and gentle prod to keep going and "Pray without ceasing."
More than anything though you have amazing customer service. My littles like to bring in the mail and this package was misplaced for a week. I contacted Chewslife team to get a description of what to look for and when we still couldn't locate it were willing to send out a replacement. Thanks be to St. Anthony I found it that night. Thank you for your beautiful work!
Our Lady of Loreto Wire Rosary
The Rosary is beautiful but I don't like the wire wrap so I contact the Chews Life and the customer service is excellent they help me to exchange for a different one. Thank you
Gifted
Bought for gifts for CHRISTMAS
Very nice rosary bracelet
The rosary looked very nice. I gave it as a gift so I am not able to speak to the quality. I was disappointed in the packaging. I would have liked a nice box.