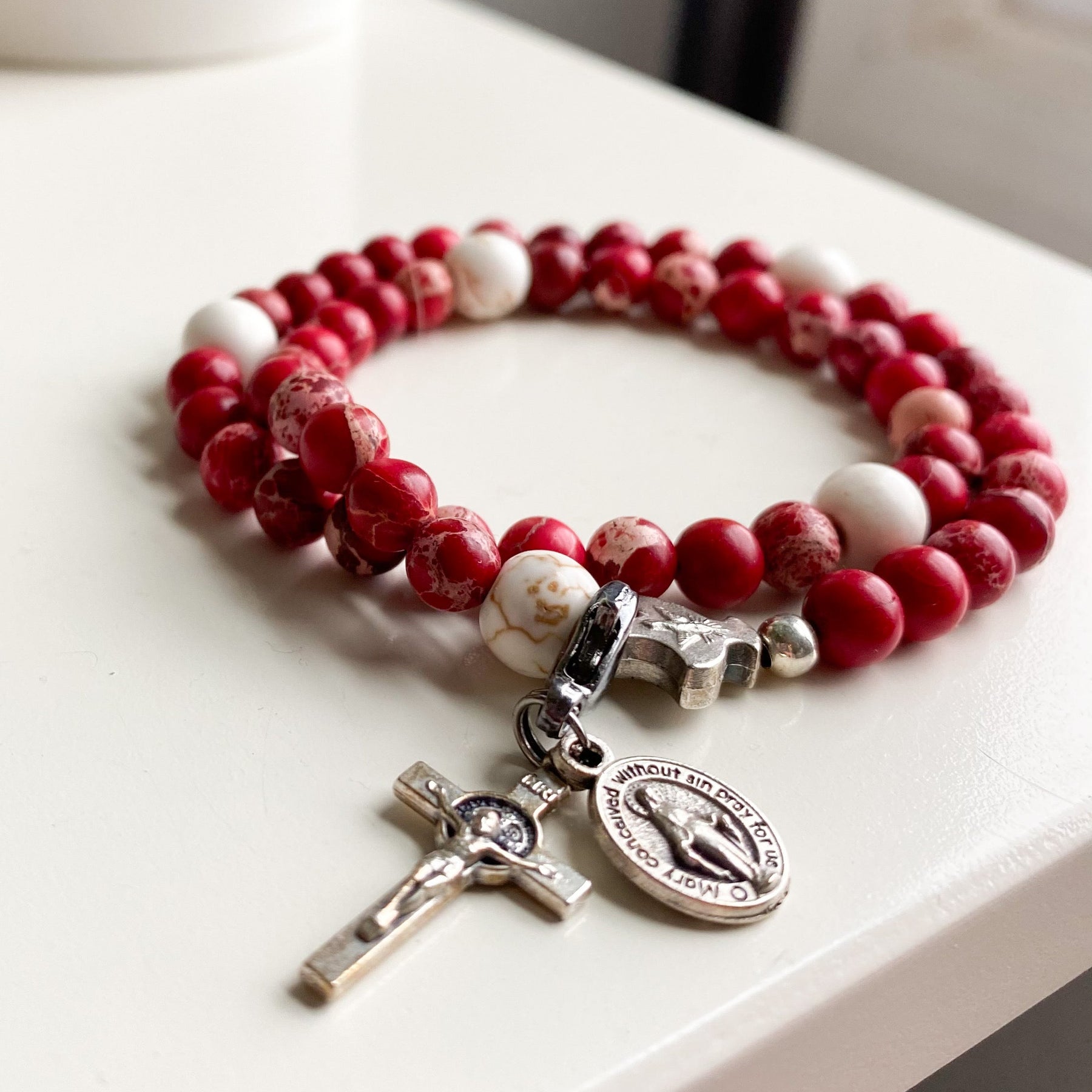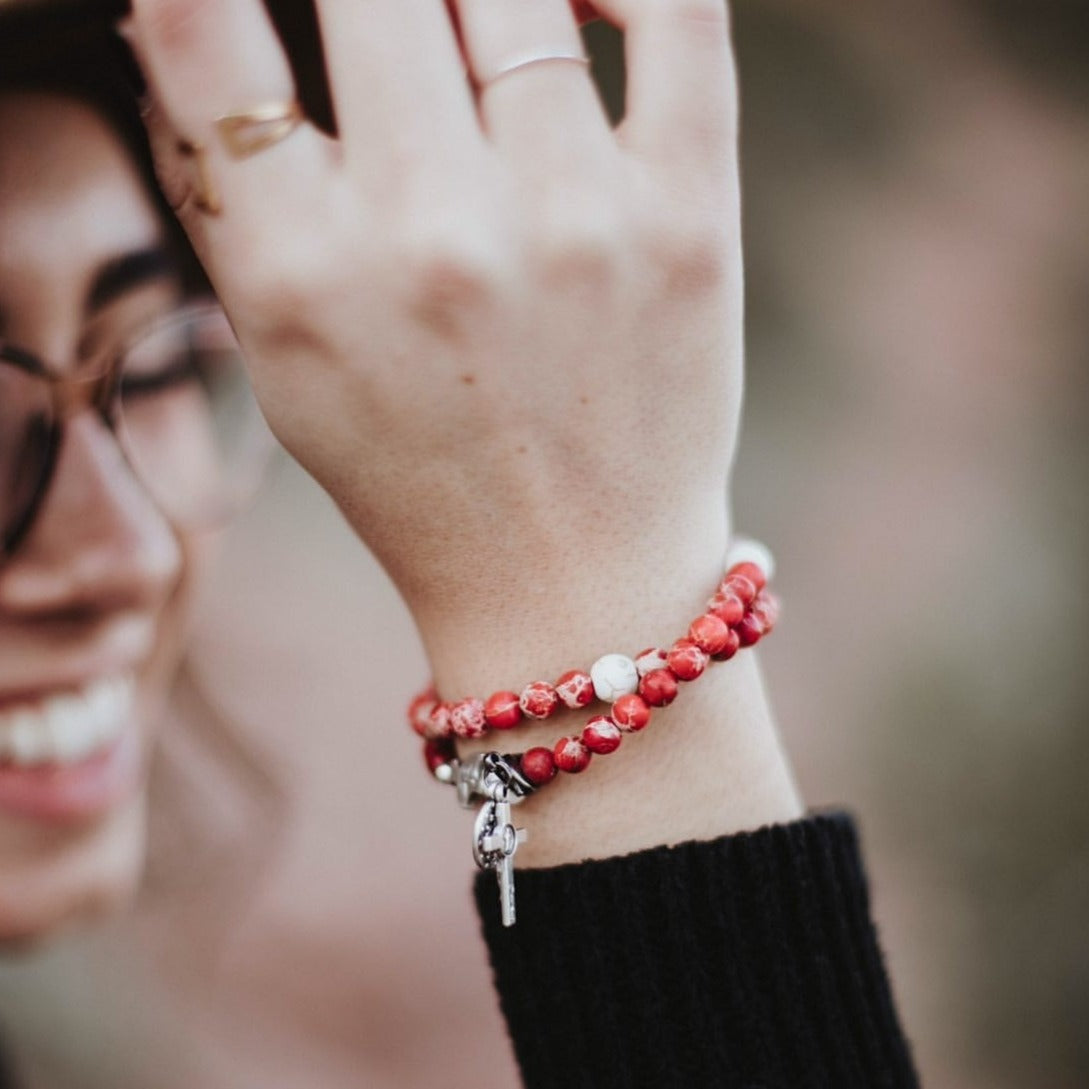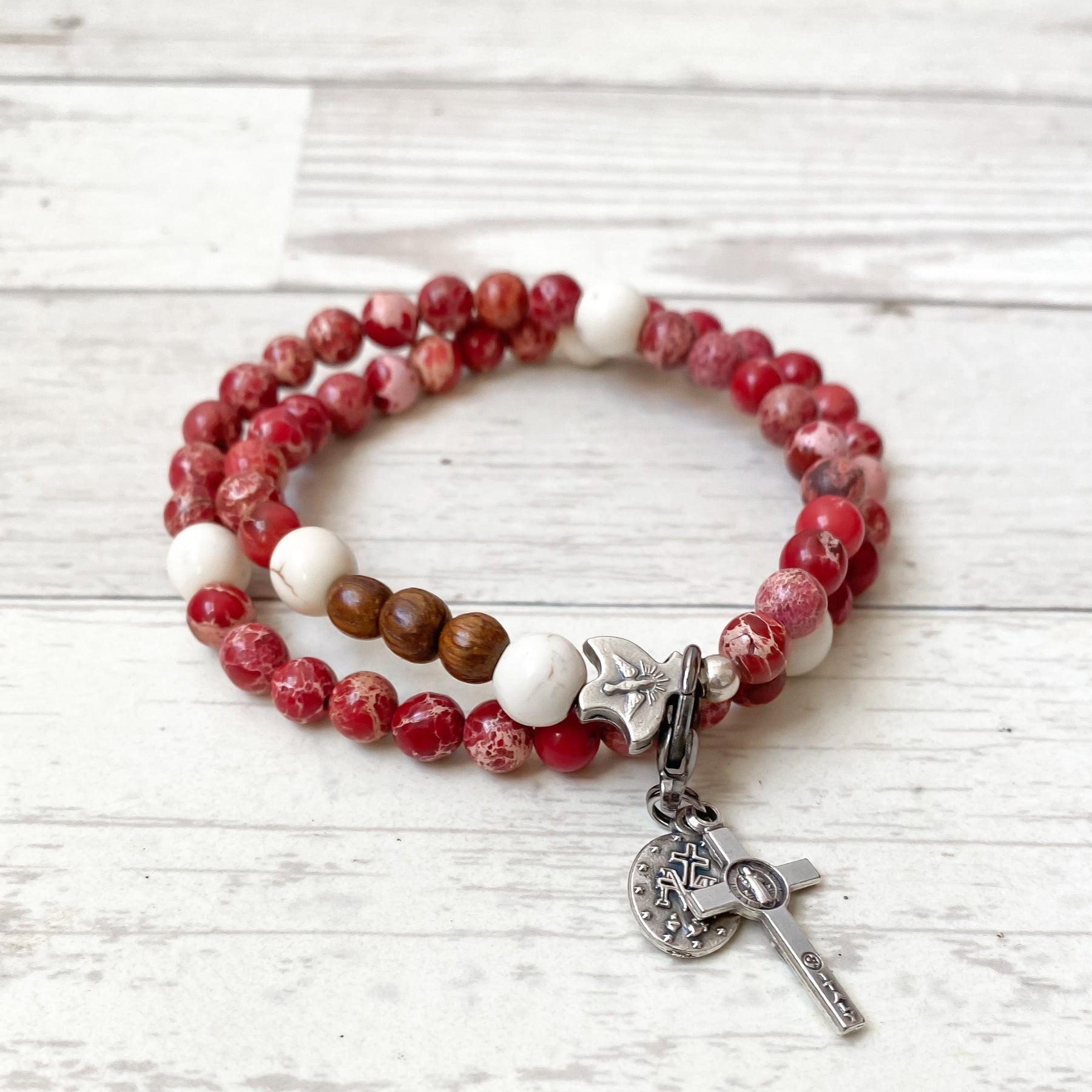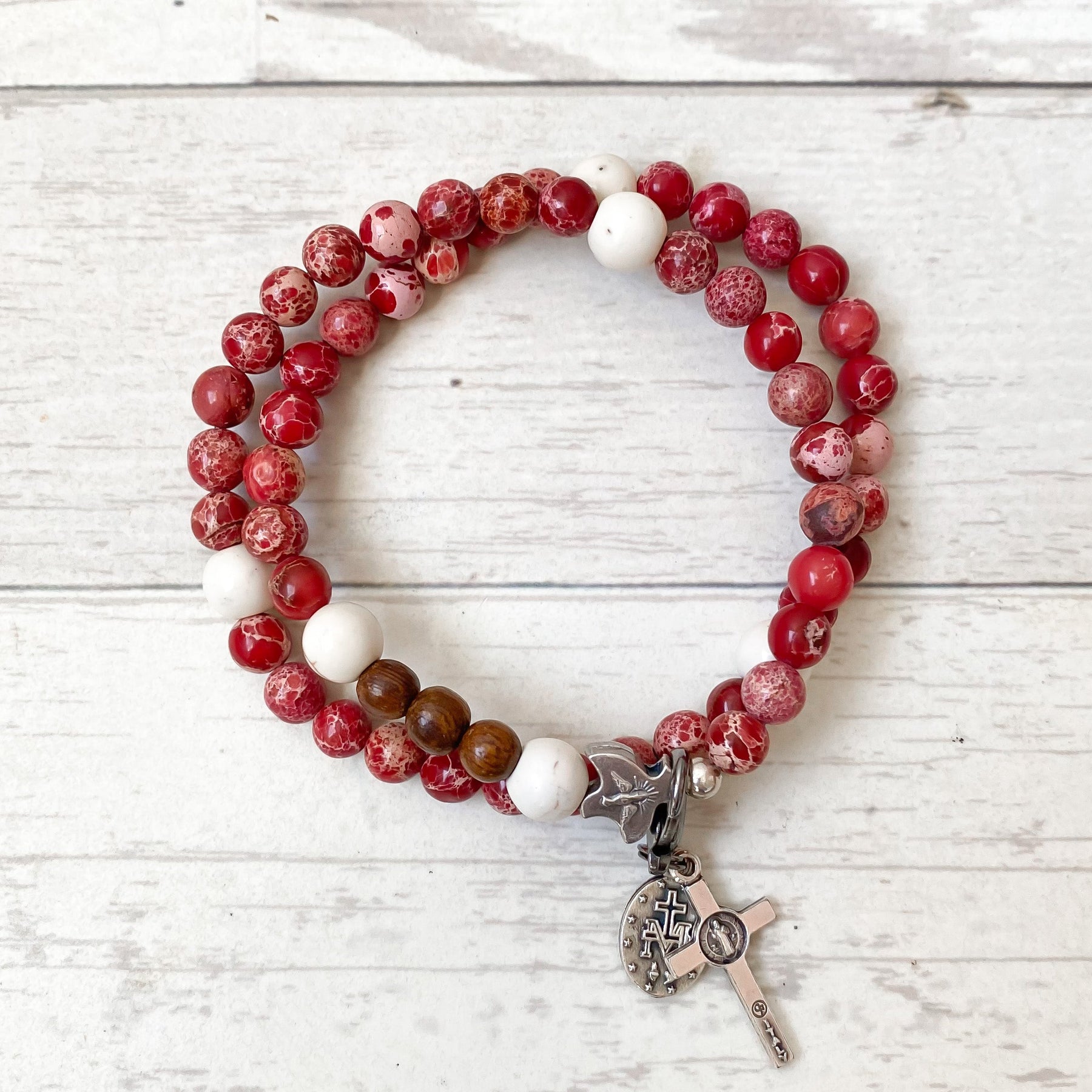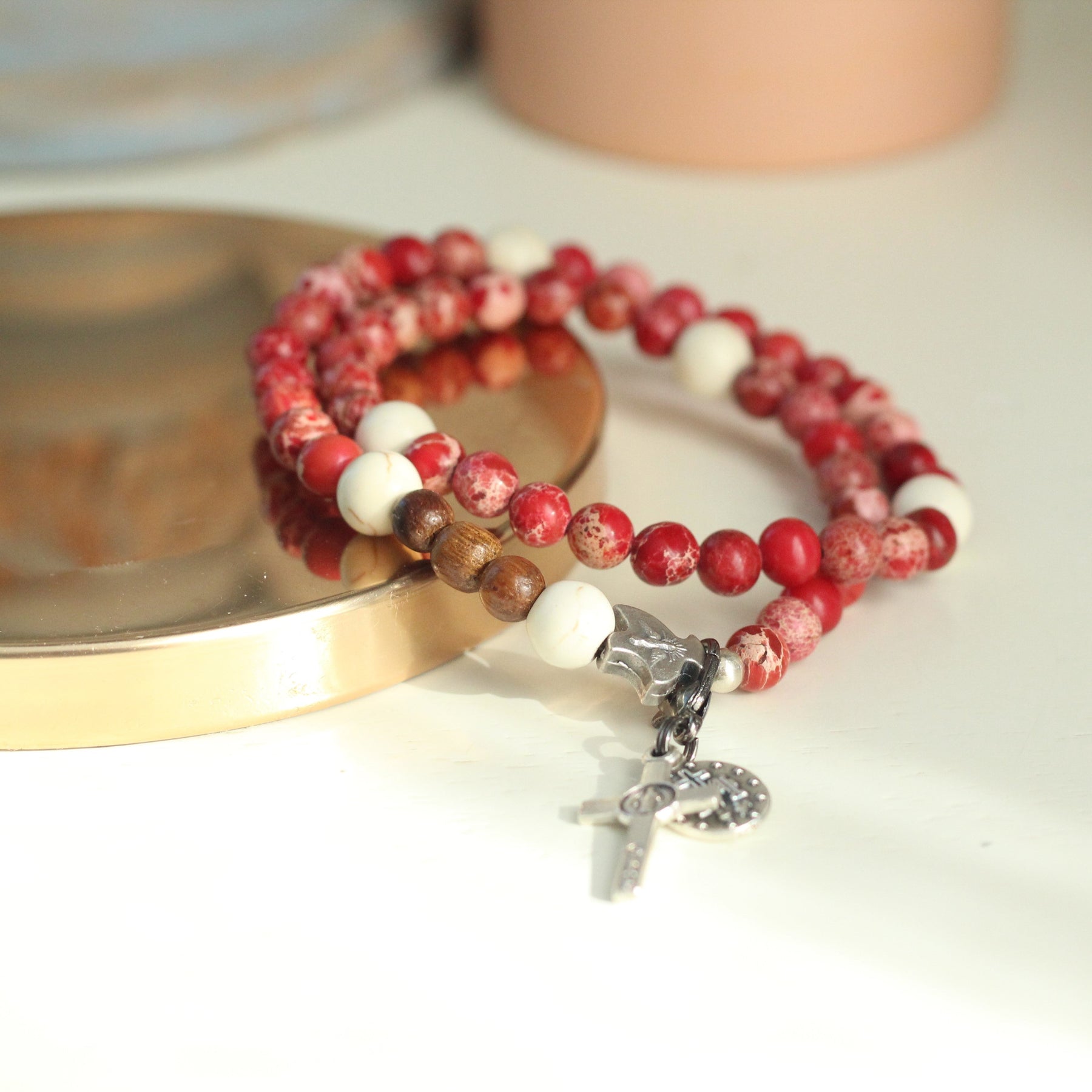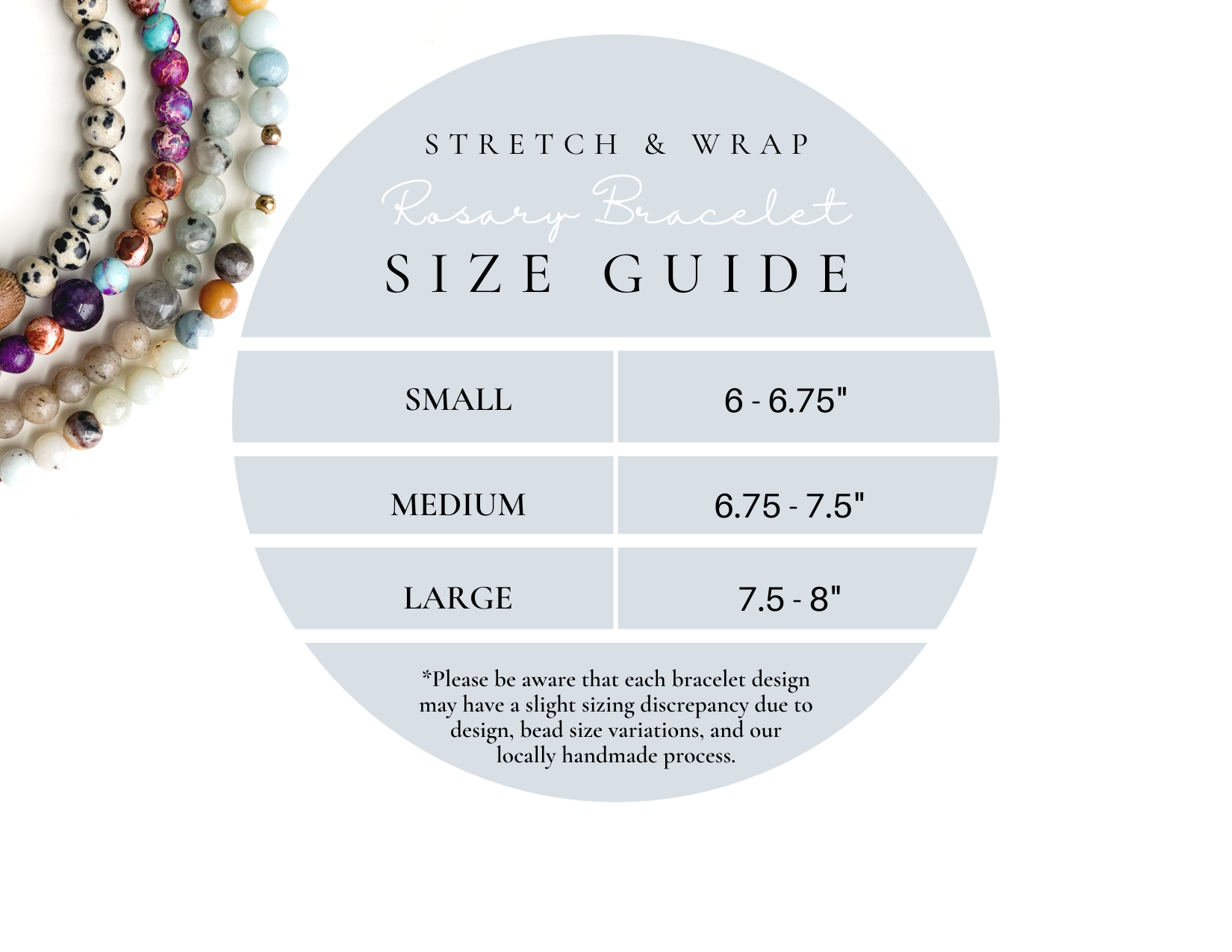 Spirit | Stretch & Wrap Rosary Bracelet | Small & Medium
See more Rosary Bracelets here.
This beautiful gemstone rosary bracelet features Magnesite beads as the paters and red Aquaterra beads as the aves. Each of our stretch and wrap rosary bracelets is a full rosary.  Small rosary bracelets do not include the first three aves. Each bracelet also includes a "bookmark" crucifix medal.  This medal is moveable and can help you keep track of where you are at in your rosary as you pray throughout your day.
Each bracelet is strung on durable elastic making it easy to stretch and wrap around your wrist without fear of snapping it.
This bracelet is named "Spirit" due its red color. The color red in the Church is commonly linked to the Feast of Pentecost and the sacrament of Confirmation. What do those two things have in common? The Holy Spirit! In fact, Pentecost is, in a sense, like the first Confirmation. It was at Pentecost that the Holy Spirit came down upon the Apostles in the form of tongues of fire. After receiving the fullness of the Holy Spirit, the Apostles had the grace to go and preach to all the nations. For us, we receive that same Holy Spirit when we are confirmed in the Church. The Holy Spirit comes down upon us and we are filled with His grace. This grace is meant to light a fire within us and aid us in making disciples.
Liturgically, the color red is also indicative of martyrdom and the Passion of Christ.
Let this bracelet not only be a daily reminder to pray the rosary, but also allow it to remind you of the graces given to you. Look at it and know that the fire of the Holy Spirit dwells within you. Allow it to move you and give you courage to share the Gospel.
Spirit | Stretch & Wrap Rosary Bracelet | Small & Medium
It broke
It fell apart. I will return for a replacement refund. Although it is beautiful! Thank you
Amazing
So pretty and such good quality though I do wish the hardware color had more gold options!
Gorgeous!!!
The Holy Spirit Rosary bracelet is perfect to wear as a fasting Friday reminder of Christ's ultimate red martyrdom for each of us. The Holy Spirit gently reminds me to make small sacrifices as an act of love 💕 at each glance.