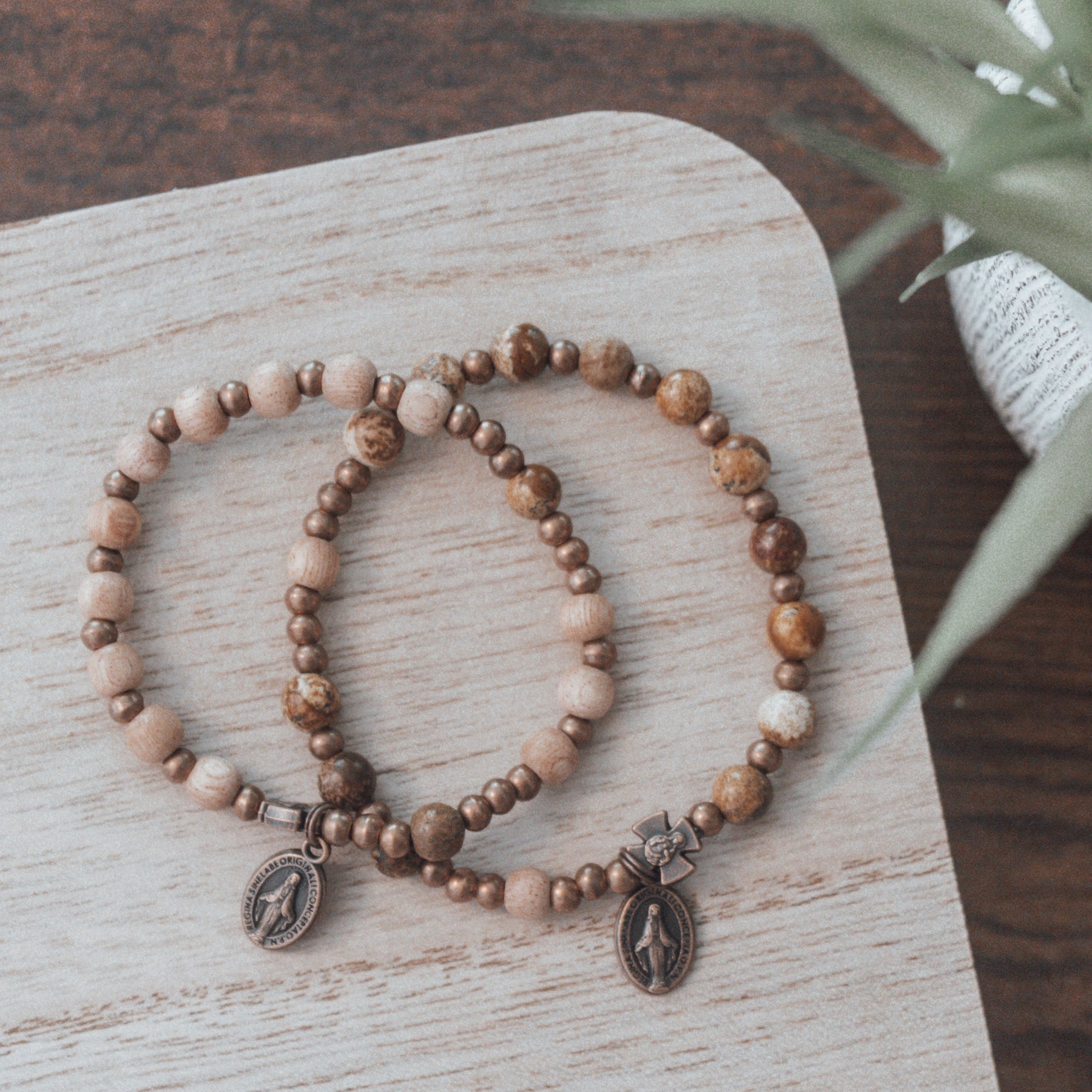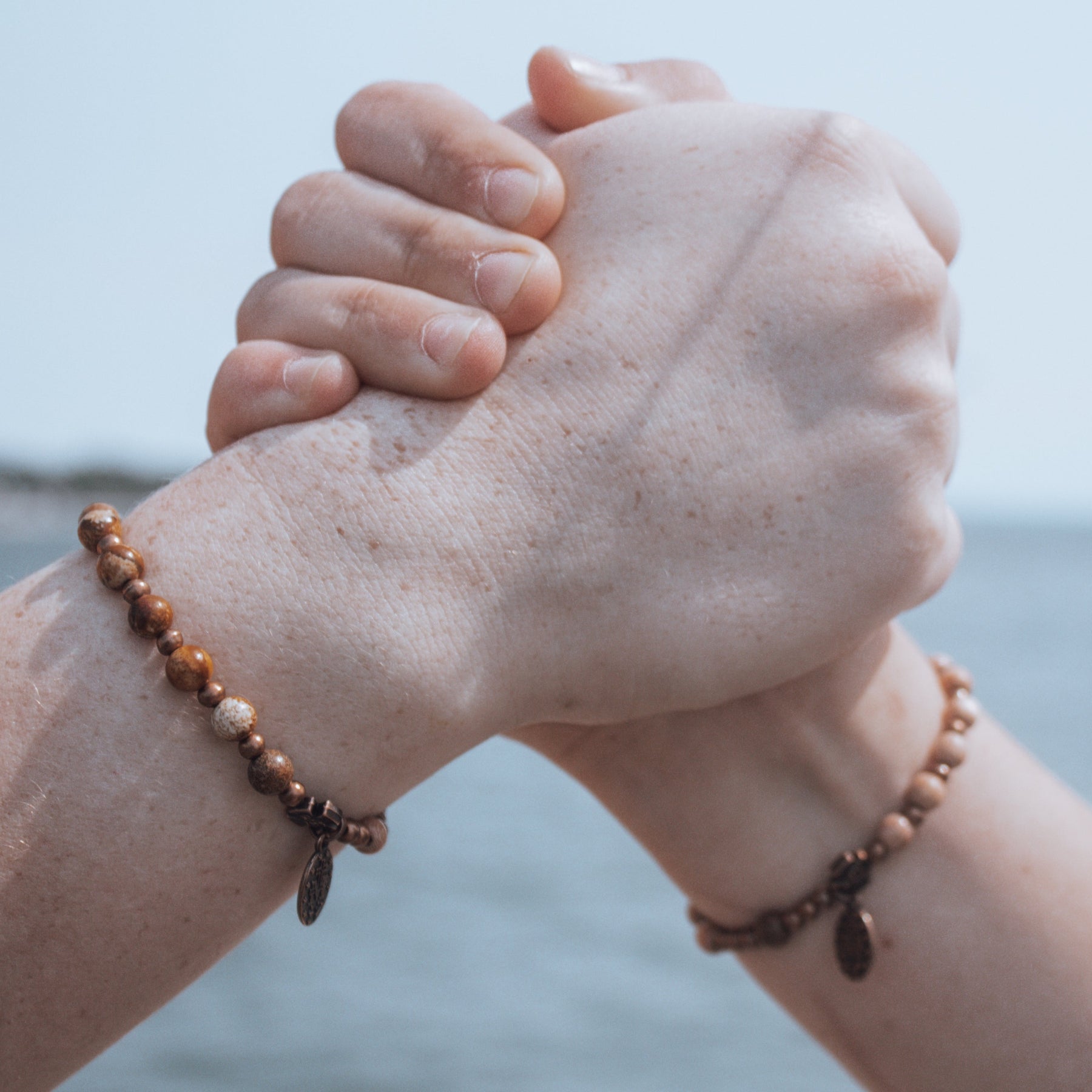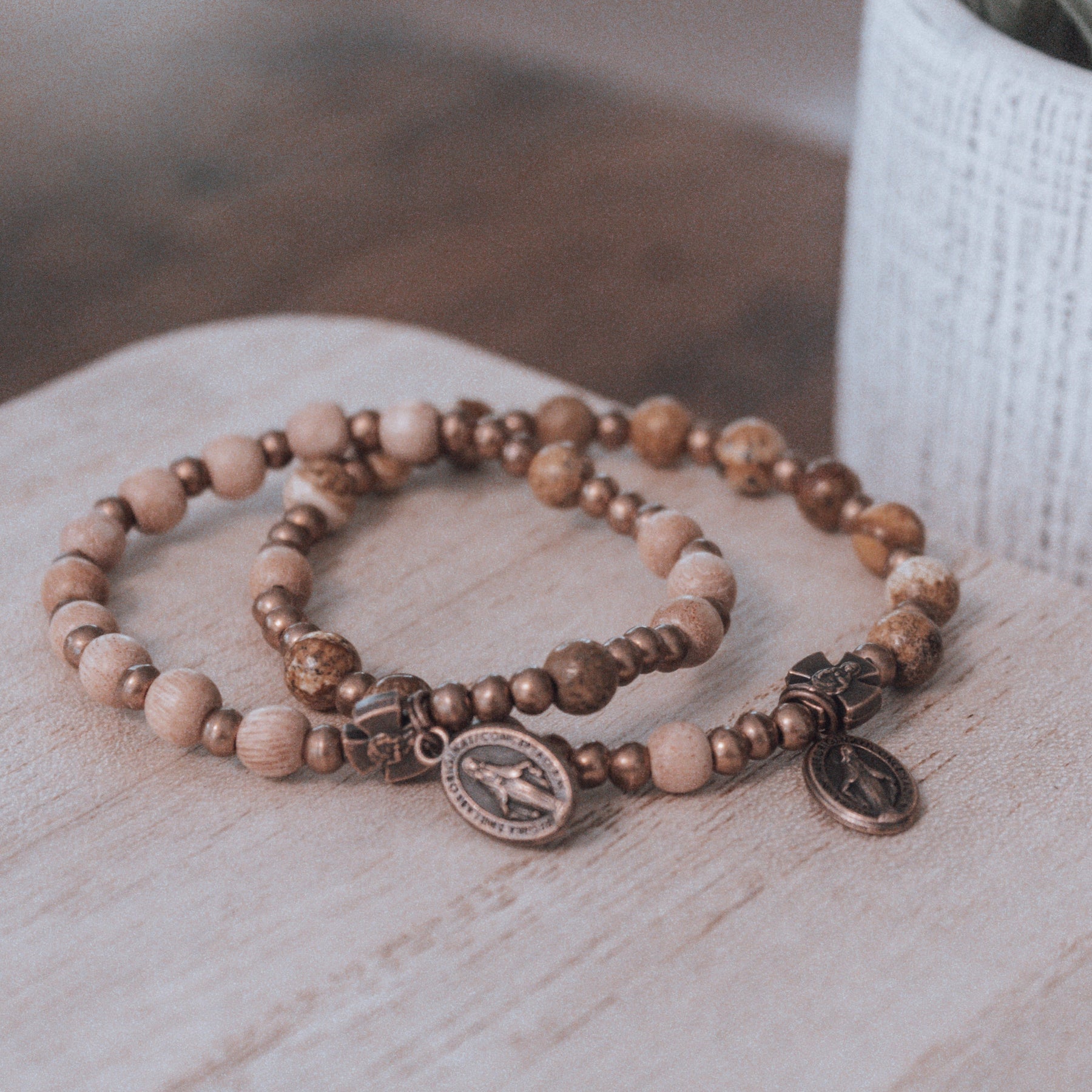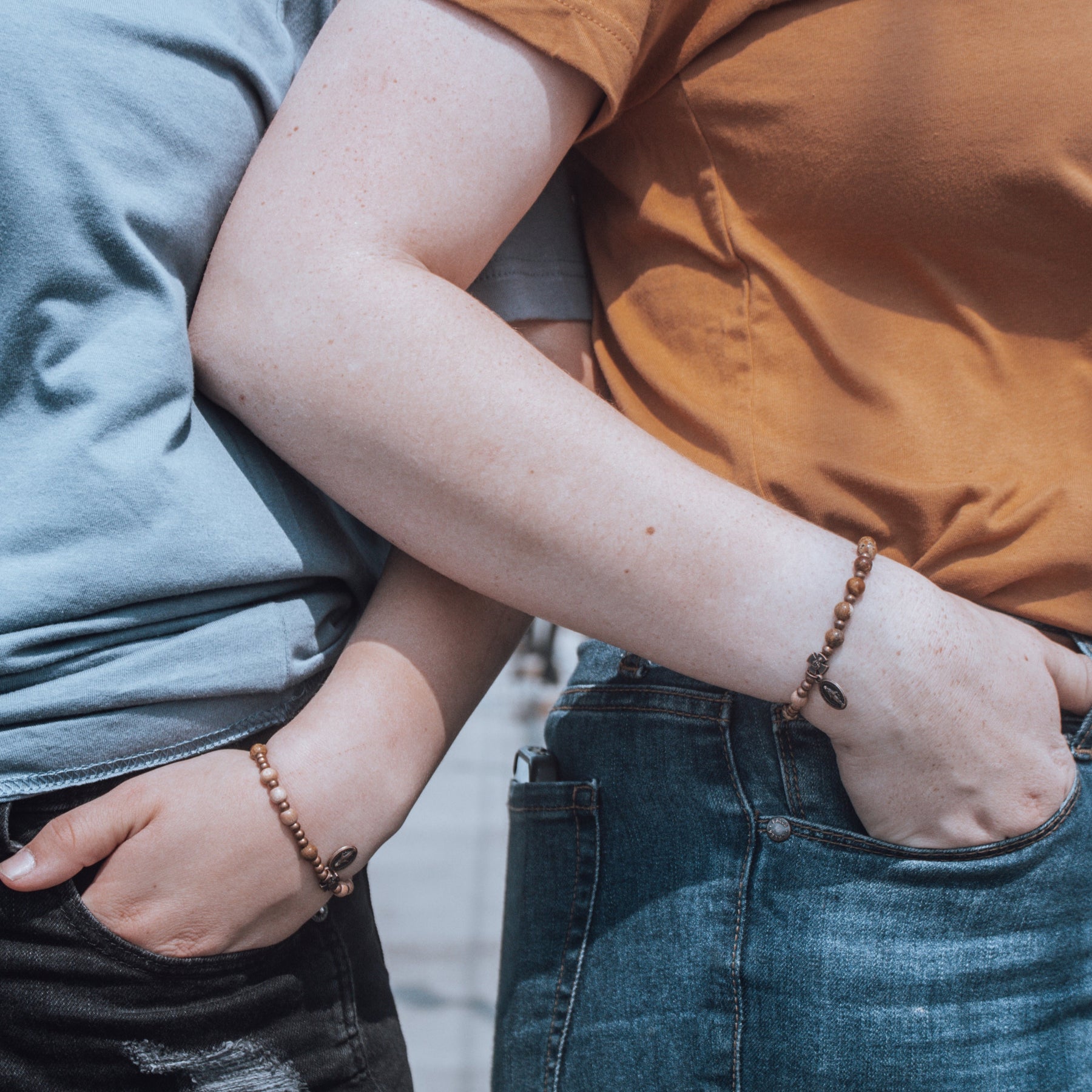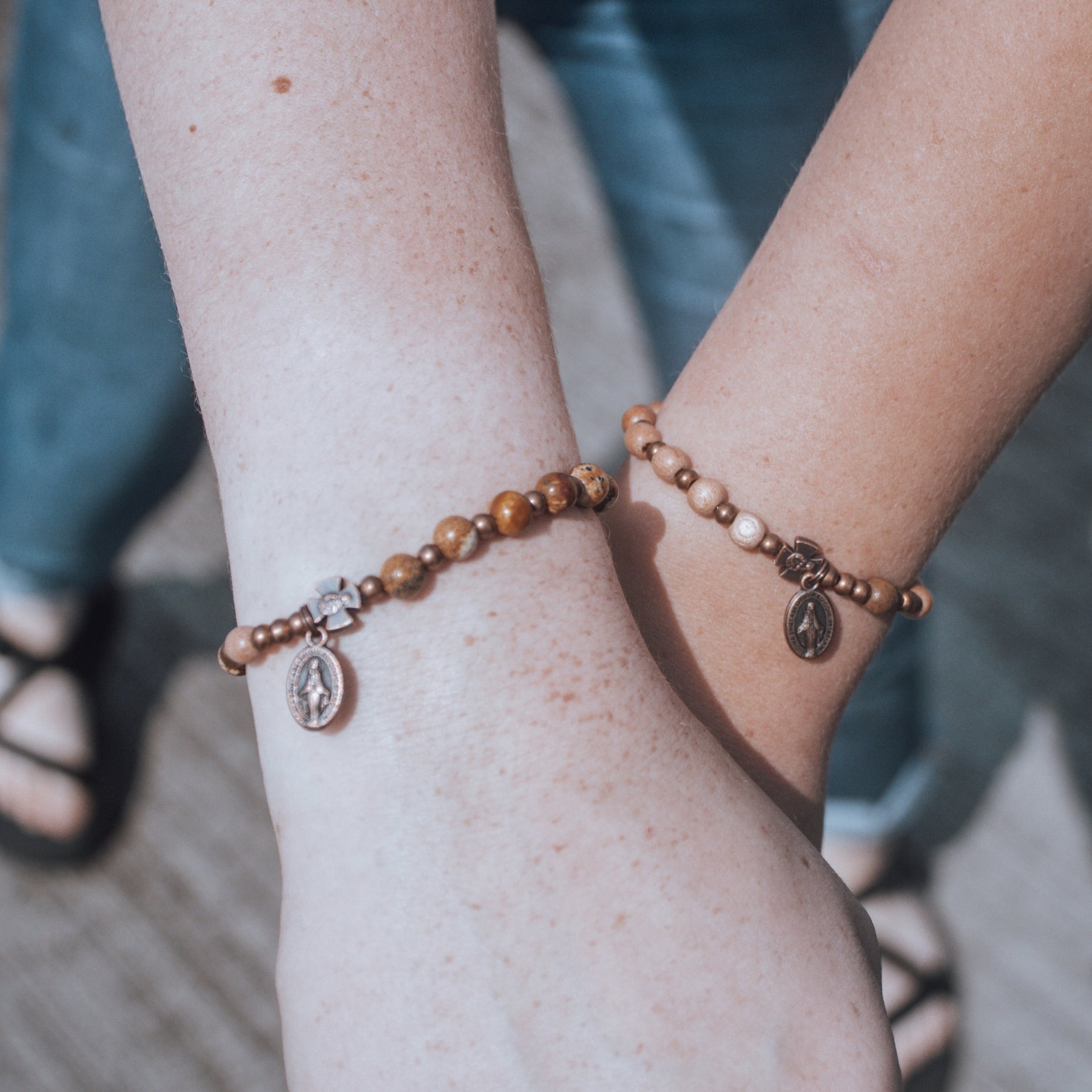 Sts. Ignatius of Loyola & Francis Xavier | Best Friend Decade Set
Inspired by Saints Ignatius of Loyola & Francis Xavier, these bands are the perfect take on Best Friend Bracelets. Designed using textured Picture Jasper beads, and dark wood beads, then accented with copper to give it an earthy feel! 
Wear one and Give one, then use it to pray for your bestie! 
St. Ignatius (gemstone band) measures approx. 6"-6.5"
St. Francis (wooden band) measures approx. 5.75"-6"


Known as the Visionary and the missionary, Saints Ignatius of Loyola and Francis Xavier couldn't be more different but their friendship was close as they worked together in growing the Society of Jesus, The Jesuit order. (They were even roommates!) They committed themselves to do all things for the ""greater glory of God'' which became the motto for the Jesuit order: Ad Majorem Dei Gloriam "A.M.D.G."

Because the main element of the Jesuits is evangelization, Ignatius sent Xavier to the missions in the Far East, they never saw each other again, but their love for each other remained strong. Xavier once wrote this to Ignatius:
"God our Lord knows how much my soul was consoled on receiving news of your life and health, which I cherish so highly…Your Holy Charity has written to me that you have a great desire to see me before you leave this life. God knows what an impression these words of great love made upon my soul, and how many tears they have cost me whenever I recall them; and it seems to me that I shall have this consolation since nothing is impossible to holy obedience."
Just what I wanted
Fits my small wrist and goes over my hand just right. Good product
Lovely
These are so lovely.
However, they are smaller than expected. I'm a little concerned that it may be too small to fit the wrist of the friend I was planning to share it with.
Ignatius and Francis
I love the Sts. Ignatius and Francis best friends rosary bracelets. They are so different from any of my other ones. They run smaller so I am hoping they stretch out a bit.