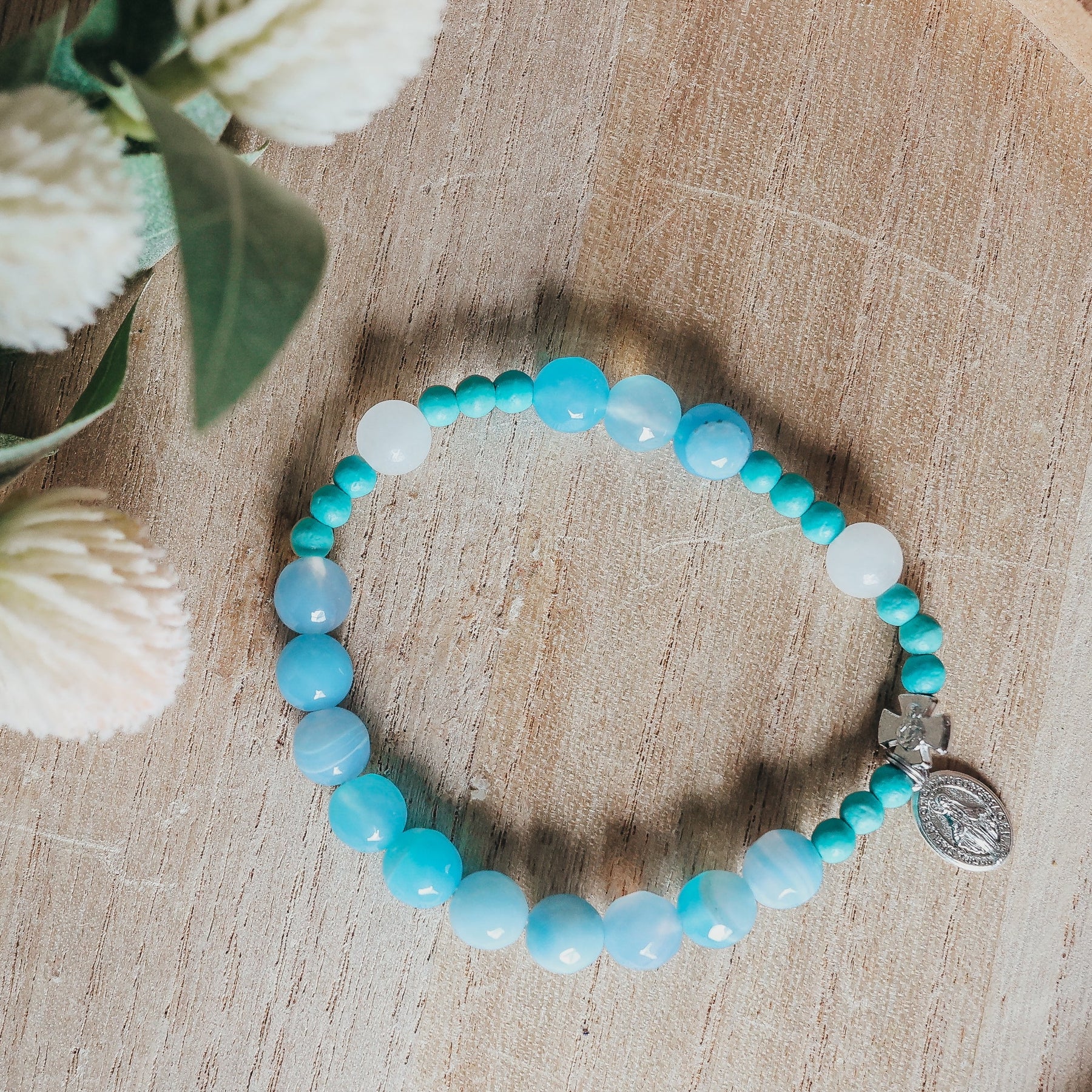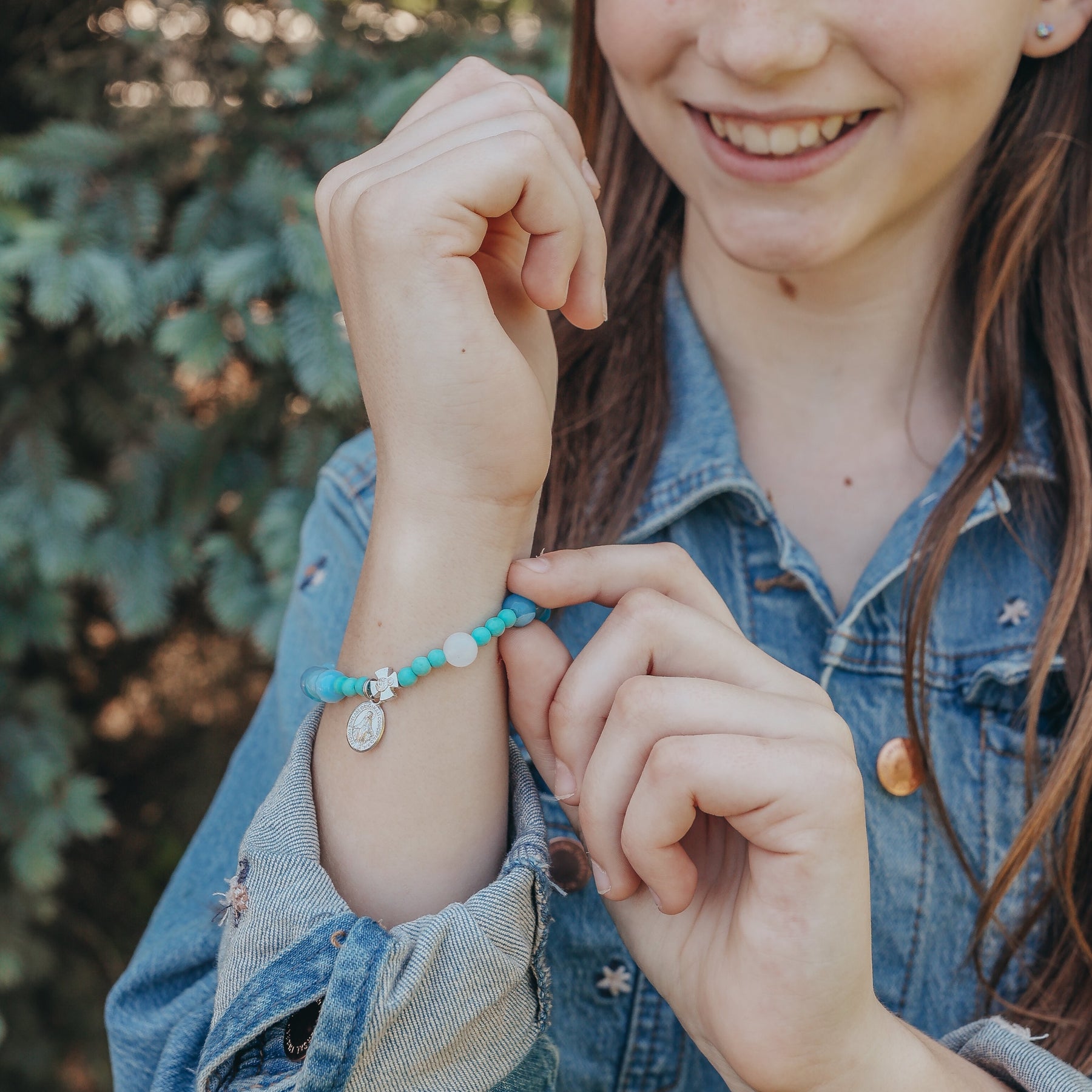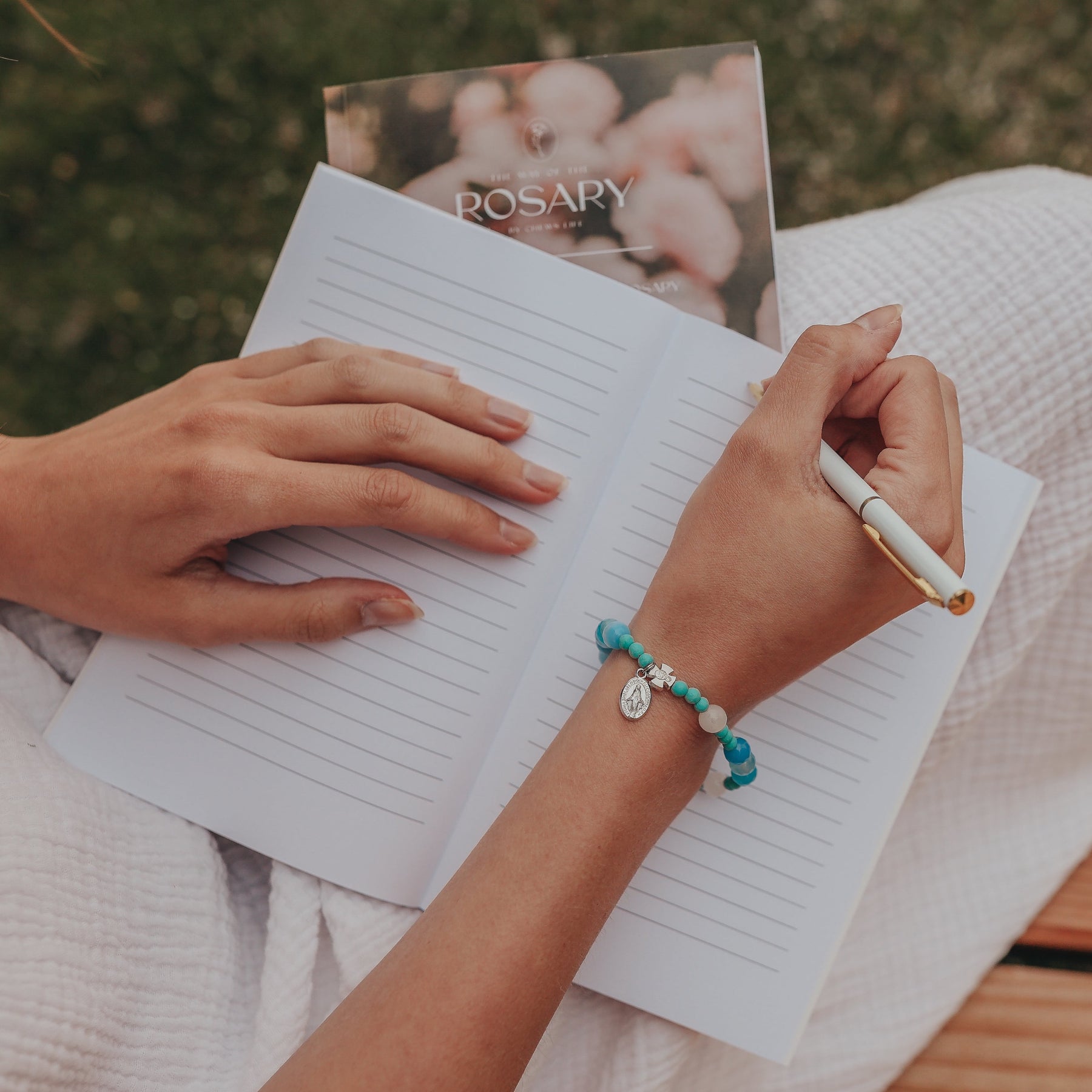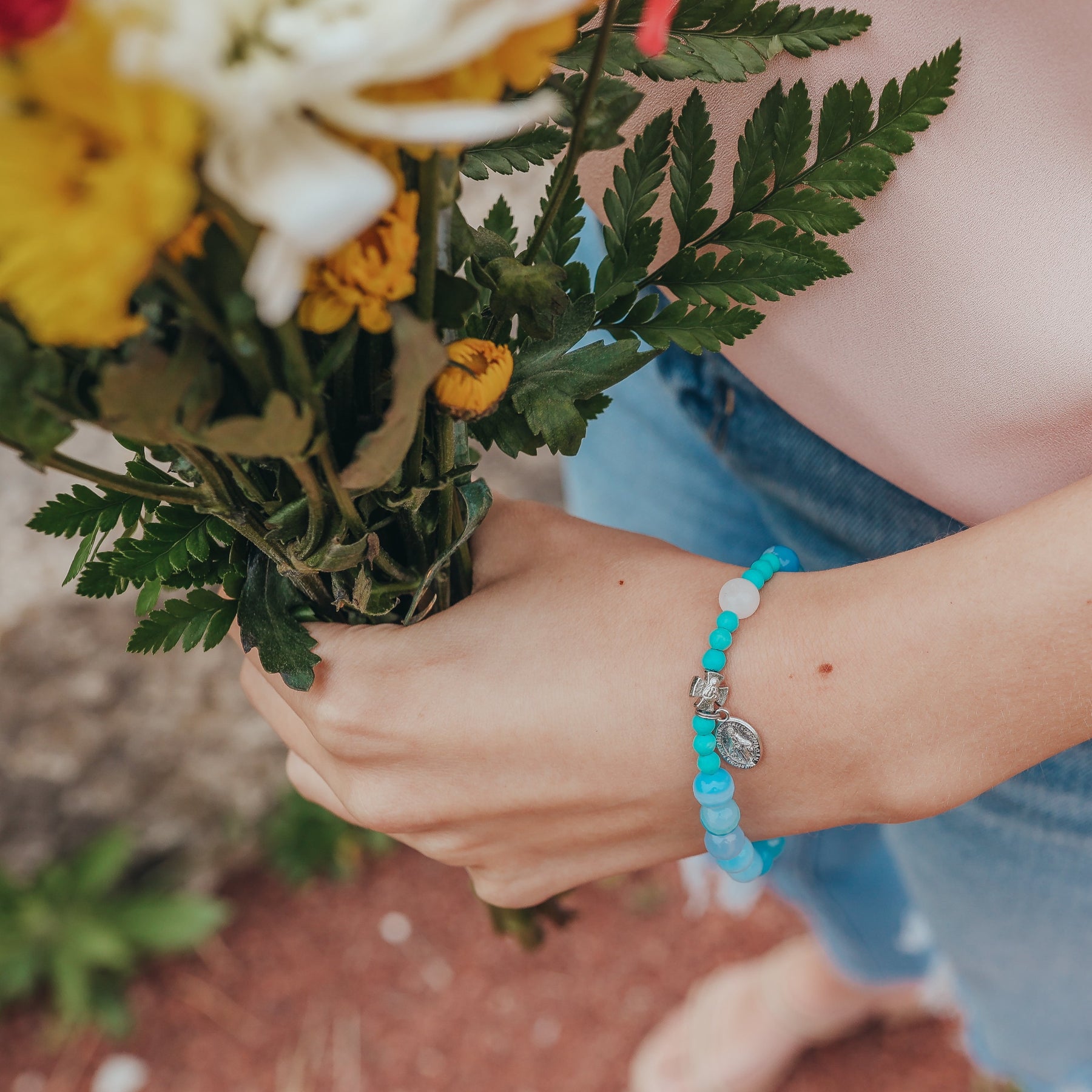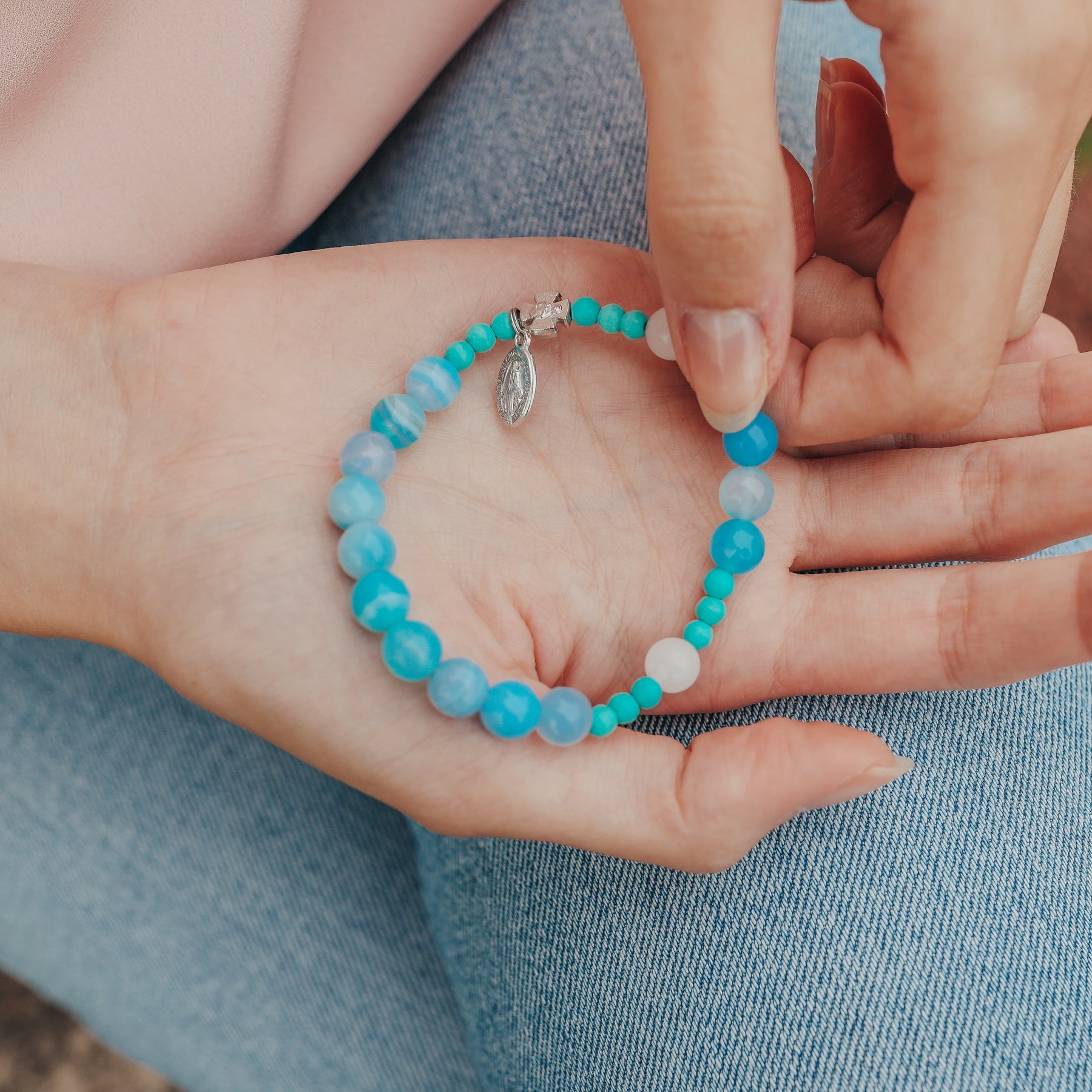 Bl. Conchita | Decade Bracelet | Summer Exclusive
This beautiful gemstone decade bracelet features bright Snow Quartz as the paters, soft Sardonyx beads as the aves and cool turquoise spacer beads. Each of our stretch and wrap rosary bracelets is a full rosary. Each bracelet also includes a "bookmark" crucifix medal. This medal is moveable and can help you keep track of where you are at in your rosary as you pray throughout your day.
Each bracelet is strung on durable elastic making it easy to stretch and wrap around your wrist without fear of snapping it.
Sizing is as follows: 
SMA: 6.5"
MED: 7-7.25"
About Bl. Conchita de Armida
Concepcion Cabrera de Armida more simply known as Conchita was born in Mexico in 1862 to her parents Octaviano and Clara. As a young child she frequently disobeyed her parents but she showed special love for the Holy Eucharist. In 1884 she married Francisco and together they had nine children. When she was only 39 her husband died leaving her to care for their nine children on her own. Living a life as a widow was complicated further by the Mexican Revolution from 1910-1921. Although chaos surrounded her, her writings reflected the peace and tranquility she found in the Blessed Sacrament. 
Although her children hardly ever witnessed her writing, her writings and meditations number over 60,000 written pages. As a mystic her writings spoke beautifully about Jesus and Mary. Her writings were even examined by Pope Pius X in 1913 where they were looked upon with favor. 
Conchita de Armida's Feast day is celebrated on March 3rd. She is the Patron of Apostleship of the cross, Religious of the Cross of the Sacred Heart of Jesus, and the Missionaries of the Holy Spirit
Conchita decade
Love the colors. Fits well on my wrist. The colors remind me of the beach.
Bl. Conchita
I love my new Bl. Conchita decade bracelet. I have lost count of how many Chews Life rosary bracelets that I have bought for both myself and gifts. The gift recipients have be very pleased with their bracelet or silicone rosary.